After Hours Theatre Company is currently presenting the new musical I Love You Because at the Hudson Backstage Theatre. New musicals are difficult and book writer and lyricist Ryan Cunningham and composer Joshua Salzman have created a good first draft. The work is subtitled "a modern day musical love story" and it delivers on that premise. The producer announced before the show that the average age of the cast and creative team was somewhere around 23 ½ years. They have given the show a young, fresh feel and is seems very much of today. The press notes gave the impression that it was going to be a modern twist of Jane Austen's Pride and Prejudice but the Austen roots are nowhere to be found in this rendition. But it works on its own merits.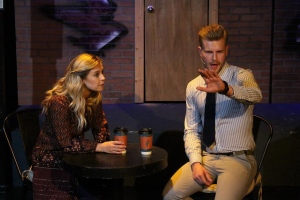 Aly French and Austin MacPhee (photos by Bryan Carpender)
Austin (the utterly charming and winning Austin MacPhee) is a button-down uptight Republican who considers the greeting cards he composes poetry. He walks in on his fiancé having sex with another guy and is suddenly taking rebound sex advice from his roommate brother Jeff (Nick Bredosky), a malapropism spouting horndog slacker. Meanwhile Diana (Shelley Regner), the zaftig and irrepressible party girl, is trying to explain the rules of the dating game to her roommate Marcy (Aly French). Marcy, a bohemian photographer, has just dumped her boyfriend of two years when she realized he hasn't bothered to learn anything about her.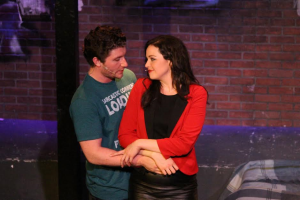 Nick Bredosky and Shelley Regner
Austin and Aly meet cute and are soon dating, just as friends because each has been warned not to get serious again for at least six months. Of course Austin screws it up by telling Aly he loves her after only two months. Her response is that she is just not ready. Meanwhile Jeff and Diana are having a wild sexual affair complete with handcuffs and feathers. The cast is personable and all possess strong voices. They are aided in telling the story by Harrison Meloeny and Reesa Marie as typical NYC bartenders, waiters and baristas.
Cunningham's book is lively and fun but this seems to be a show in need of more characters, more complications. The songs are serviceable if for the most part unremarkable. They fit their moment in the show. The standout is Diana's "The Actuary Song," a Sondheim like lyrical twister deliciously delivered by Regner. Rebeccan Kenigsberg's directorial touch is light and appropriate. Elmo Zapp's musical direction is top tier and the four piece band does a lovely job with the score.

Hudson Backstage Theatre, 6539 Santa Monica Blvd. in Los Angeles. Ends Aug. 7. www.plays411.com/iloveyoubecause