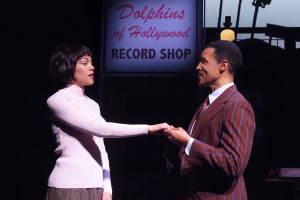 Jenna Gillespie and Stu James (all photos by Ed Krieger)
The musical Recorded in Hollywood tells a lesser known history of music in Los Angeles. Businessman John Dolphin, also known as Lovin John for his reputation as a Ladies' Man, tried unsuccessfully to open a record store in Hollywood after World War II. The realtors would not rent to a black man, fearing the loss of white tenants. Dolphin opened his store in 1948 in the jazz music hub of L.A. on Central Avenue. But he defied the bigots by naming his store Dolphins of Hollywood. After establishing his own record label and recording some local acts, his store innovated many firsts like "buy one get one free" where he would give a free copy of one of his records to promote his artists. He had an in store DJ and did live radio broadcasts. His store was open 24 hours every day of the week. The white establishment, especially the bigoted LAPD under Chief Parker, hassled Dolphin and his customers because of the free mixing of the races, unheard of even in L.A. before the Civil Rights Movement of the 1960s. It's a very compelling nugget of local history, this was more than a decade before Berry Gordy created the Motown Sound, and Dolphin deserves to be remembered. The City Council recently renamed the intersection of Central and Vernon Avenues as Dolphins of Hollywood Square.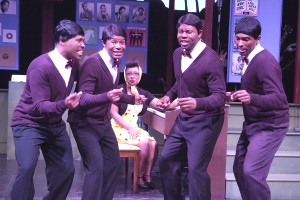 The Hollywood Flames
Unfortunately the book by grandson Jamelle Dolphin and Matt Donnelly tries to cram too much info and too many incidents and performing acts into their show. The result is just a script without much subtext. There are no greys in their telling—the characters are either really good or really evil. Denise Dowse's direction keeps the lengthy show moving sluggishly but doesn't allow for much variation. Stu James as Dolphin centers the show but he's pretty much a cardboard character. Jenna Gillespie as his wife Ruth shines but she also is hampered by her underwritten role. Matt Magnusson provides some strong energy as the rambunctious DJ Huggy Boy. Thomas Hobson as the legendary Sam Cooke also impresses.

Matt Magnusson as DJ Huggy Boy
The large cast is energetic and deliver the goods in Cassie Crump's period choreography. The singing voices are very fine. Andy Cooper is given sole credit for music and lyrics but the best songs in the show were hits written by others—"Nature Boy," "Jesus Gave Me Water," "Sixty Minute Man," "Earth Angel" and "Wheel of Fortune" among them. Cooper's songs are mostly character songs that just slow down the story's momentum, taking up time when a few lines of dialogue could have said the same thing.

Kirk Douglas Theatre, 9820 Washington Blvd. in Culver City. Ends Aug. 7. 213-972-4488 or www.recordedinhollywood.com