Composer Richard Rodgers and lyricist Lorenz (Larry) Hart met in 1919 while students at Columbia University where they wrote their first song together for an amateur club show. A Broadway producer was in the audience, purchased the song for one of his shows and the newly minted team of songwriters was on their way. Until Hart's death in 1943 they wrote over 500 songs for 28 stage musicals and about a dozen Hollywood films. As host Bruce Kimmel stated in his informative notes at the August 7 Kritzerland at Sterling's Upstairs at the Federal, When Rodgers Had Hart, the Rodgers who wrote music for Hart's lyrics was a totally different person than the Rodgers who wrote the music for his later collaborations with Oscar Hammerstein II. Starting with Oklahoma, Rodgers' scores became more serious, more ponderous, more spiritual and a lot less fun. The shows he wrote with Hart were noted for their lack of book, or at their best fairly nonsensical books, so the tunes were light and bouncy and oh so delightful. That delightful bounce was fully on display at the Kritzerland show where, to get as many examples of the duo's songs into the show as possible, Kimmel created perhaps a record-setting number of "put-togethers," a total of six, so many that Kimmel lost track of them at one point.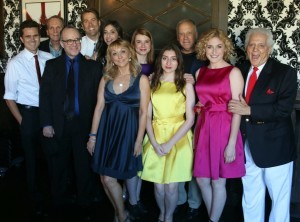 The talents involved in When Rodgers Had Hart (all photos by Karen Belasco Staitman)
It is because of those poor books for their shows that productions of Rodgers and Hart musicals are really rare events. This reviewer has seen two staged concert versions of Babes in Arms, a 99-seat theatre production of The Boys From Syracuse, and a major revival of Pal Joey which featured the legendary Elaine Stritch reprising her 1952 Broadway role as Melba and singing the show-stopping "Zip." There have been several revues of their songs, most especially the 1975 Westwood Playhouse production of Rodgers and Hart which featured star performances by Constance Towers, Leland Palmer and Harve Presnell among others. Fortunately many of the songs are part of the Great American Songbook and are sung by cabaret singers everywhere and comprise shows like the Kritzerland outing.
The Kritzerland cast was exemplary and they were aided by the expert musical direction and accompaniment of pianist Alby Potts. The show started with a fun duet of "Dear Old Syracuse" by Roger Befeler and Will Collyer. Befeler returned later and really showed his versatility with his aw-shucks rendition of "Way Out West" coupled with the classic paean to NYC, "Manhattan." Collyer got to deliver that fun first song from 1919 when he sang "Any Old Place With You" which probably had some audience members Googling to check out some of the far off exotic locales mentioned in the tune. Collyer later shined with the "put-together" of "There's a Small Hotel" and "Thou Swell."
Nonagenarian (he's 91 folks) Special Guest Star Bill Hayes charmed the room with his playful antics as he sang the rarely heard "I Need Some Coolin' Off" from 1928s She's My Baby. Jenna Lea Rosen was a late addition to the cast but she proved to be as real trouper and nailed her two numbers—a haunting rendition of the melancholic "Little Girl Blue" and the "put-together" of the lilting waltzes "Over and Over Again" and "Falling in Love With Love."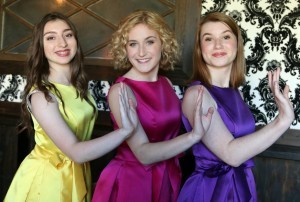 Trilling songbirds Samantha Rosenberg, Sami Staitman and Sierra Morgan
This 69th Kritzerland edition marked the first time amazing vocalist and song stylist Christina Saffran appeared on its stage but hopefully far from the last. Her voice and acting chops were the perfect match for the quartet of ballads–"My Romance," "Isn't It Romantic?." "Where or When" and "Bewitched, Bothered and Bewildered". Saffran bewitched her audience but she couldn't possibly bother or bewilder them. Sixteen year-old Sami Staitman became a full-fledged cast member with this outing. She was first joined by her friends Sierra Morgan and Samantha Rosenberg for some wonderful harmonizing on "Sing For Your Supper." She later proved to be a teenager with an old soul with a heartfelt "My Funny Valentine." She closed out the show by belting "Johnny One-Note" to the rafters. There was nothing one-note about this Best of All Possible Kritzerlands.