Playwright Evelina Fernandez has written a trio of plays about the Mexican American experience. Faith dealt with a family in Jerome, Arizona during World War II. Hope explored some members of that family living in Phoenix in the early 1960s and experiencing the Cuban Missile Crisis and the assassination of President Kennedy. Charity found some descendants in Los Angeles in 2005 dealing with the death of the beloved Pope John Paul II. The Latino Theater Company is currently presenting all three plays under the umbrella title of A Mexican Trilogy: An American Story at the Los Angeles Theatre Center. The plays are divided into parts A (Mexican Revolution to Cuban Missile Crisis) and B (assassination of JFK to Pope John Paul II). Jose Luis Valenzuela directed a dozen actors playing various roles throughout the nearly century of storytelling.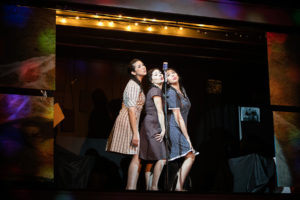 Olivia Cristina Delgado, Ella Saldaña North and Esperanza America
(all photos by Grettel Cortes Photography)
The family saga begins during the Mexican Revolution in 1915. Young Esperanza confesses her love for the parish priest and he returns her ardor. To avoid scandal they flee across the border. The time shifts to 1940's and the copper mines of Arizona. Silvestre (Sal Lopez), the former priest, is now a union organizer while his wife (Lucy Rodriguez) strictly raises their three teenage daughters. The daughters stage a rebellion of their own as they want to participate in a radio talent show, singing like their idols The Andrew Sisters. The oldest, Faith (Esperanza America) is the most rebellious and runs off to Los Angeles to pursue her dream as a singer. Charity (Ella Saldana North) becomes an unwed mother when her soldier boyfriend is killed in action. After Silvestre is forced to return to Mexico by the mine owners, Esperanza and Charity move to Los Angeles to be with Faith. Youngest daughter Elena (Olivia Cristina Delgado) marries Charlie (Xavi Moreno). The trio sounds great and the songs are seamlessly intertwined into the story. It's an interesting look at the assimilation of Mexican immigrants into American society.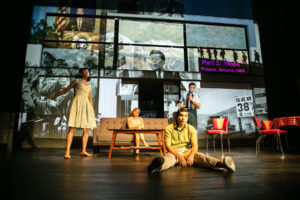 Olivia Cristina Delgado, Esperanza America, Kenneth Miles Ellington Lopez, Julio Macias
Hope unfortunately comes across as a really bad TV sitcom. Elena and Charlie (now played by Geoffrey Rivas) are living in Phoenix and raising four unruly, wise-cracking teenagers. Charlie is a philanderer and it is an unhappy home. Daughter Betty (Olivia Cristina Delgado) has a crush on JFK and fantasizes phone calls with him and Fidel Castro as she negotiates an end to the Cuban Missile Crisis. The cast perform some early 1960s rock and roll numbers but here they don't really fit into the action; rather they seem to take the place of TV commercials. The writing degenerates to very unfunny sitcom situations. The only Mexican element is Charlie's election as president of the local Mexican organization in Phoenix.

Los Angeles Theatre Center, 514 S. Spring St. in Los Angeles. Ends Oct 9. 866-811-4111 or www.thelatc.org