Arthur Miller's A View from the Bridge started life on Broadway in 1955 as a one-act verse drama. It was not a success and Miller rewrote it as a two-act play which premiered in London in 1956. The two-act version finally appeared on Broadway in 1983 and has been revived three times since, including twice in the past six years. The 2010 version had a strictly limited 14-week run and featured the Broadway debut of Scarlett Johansson who won a Tony Award for her performance. The Young Vic production which closed on Broadway earlier this year won Tony Awards for Best Revival and for its director, Ivo Van Hove. That is the production that is currently on view at the Ahmanson Theatre, but with a new cast. It's a cut down version minus seven characters, mostly neighbors who acted as a Greek Chorus to the unfolding tragedy, and performed without an intermission in just under two hours.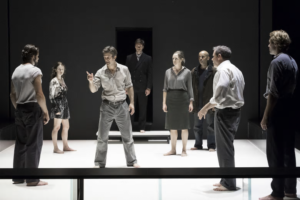 The cast (all photos by Jan Versweyveld)
Miller's story is a Greek Tragedy, set in a working class Italian neighborhood in the Red Hook section of Brooklyn in the early 1950s. Eddie Carbone (Frederick Weller) is a dockworker, living with his wife Beatrice (Andrus Nichols) and Beatrice's orphaned niece Catherine (Catherine Combs). They welcome into their home two of Beatrice's cousins from Sicily, two brothers Marco (Alex Esola) and Rodolpho (Dave Register), illegal immigrants. The solid, muscular Marco hopes to work for a few years, earning enough money to support his wife and three children and return home to them. The slighter, blonder Rodolpho hopes to stay in America and become a singer. When Catherine and Rodolpho begin to date, Eddie goes ballistic, making intimations that not only is Rodolpho a homosexual, he just wants to marry Catherine to become a citizen. The tragedy ratchets up from there to the inevitable blood soaked finale. The tale is told by the neighborhood lawyer, the older, wiser long-time immigrant Alfieri (Thomas Jay Ryan).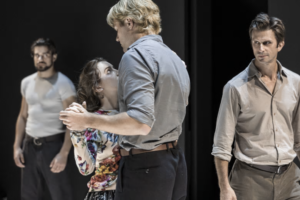 Alex Esola, Catherine Combs, Dave Register and Frederick Weller
This reviewer has seen the play twice before. The first time was in 1974 (my second show ever in the recently approved Equity Waiver scene in Los Angeles), a still memorable production by The Onion Co. at the Zephyr Theatre. Martin Benson directed a stellar production for South Coast Repertory in 2005. This reviewer is not a fan of this latest revival. The program gives no hint of the time or place—Jan Versweyveld's scenic design is a wrestling arena with audience seating stage left and right in bleachers while An D'Huys costumes are unspecific—yet the dialogue is definitely 1950s era. Versweyveld's lighting is bright and harsh and gives everything a bleached-out look to it. The padded, white floor has the actors barefoot throughout except for one instance where Miller's dialogue calls for Catherine to wear high heels.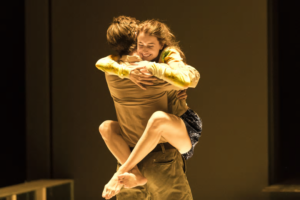 Frederick Weller and Catherine Combs
I've never seen Catherine played with such ferocious sexuality—she jumps on her uncle and straddles his waist every time she sees him. No wonder he lusts after her. And a young girl in an Italian American household of that era would never be permitted to wear a mini skirt. Catherine is a recent high school graduate, 17 going on 18 and attending stenographer school which Eddie is willing to pay for so she can get a good job in Manhattan. He objects when she wants to quit school and take a job at a local plumbing supply company. Beatrice encourages Catherine to take the job and to date Rodolpho because she begins to realize her husband's unnatural attraction to her niece. Her fears are expressed when she berates Eddie for not making love to her in over 3 months at the play's beginning.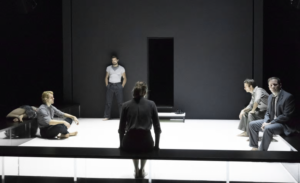 The cast
The tight, cramped playing space adds to the palpable tension in the script. Unfortunately this production leaches the characters of their ethnicity. Even though the dialogue is peppered with Old World Italian phrases such as "kiss my hand," "show me respect," "give me your blessing" there is no flavor of an accent, even from the newly arrived immigrants. Alfieri, the lawyer and narrator of the tale, is allowed to scream and rant and rave which is totally out of character for him. He is the sane, sensible voice of reason and law. The cast is strong but they seem hampered by the director's vision. In one strategic scene, Van Hove has them say their dialogue one sentence at a time with a long pause between each line, which causes laughter from the audience. But it is uncomfortable laughter, not because the dialogue is full of funny one-liners. This scene ultimately works because of the incessant beat of a drum in Tom Gibbons's sound design, probably the show's major asset.

Ahmanson Theatre, 135 N. Grand Av. In Los Angeles. Ends Oct. 16. www.centertheatregroup.org