Robert O'Hara's Barbecue at the Geffen Playhouse is an outrageous, laugh-a-second joyride musing on race and class in Middle America for one act. Unfortunately it is a two-act play. Set in the pavilion of a neighborhood park, the work is about addictions and interventions. The play goes seriously off its meds in act two and could use a healthy dose of intervention itself.

Elyse Mirto, Frances Fisher, Dale Dickey and Travis Johns (all photos by Jeff Lorch Photography)
A white trash family headed by oldest sister Lillie Anne (Frances Fisher) is meeting to try to convince out of control Barbara (Rebecca Wisocky) to voluntarily enter rehab (featuring yoga and horses) in the wilds of Alaska, far from her usual enablers. Even though Barbara is the worst of them, all the family has their addiction problems. Lillie Anne is a control freak, Adlean (Dale Dickey), with cancer in her titty, is a pill popper, James T (Travis Johns) is hooked on weed and beer while youngest sibling Marie (Elyse Mirto) smokes crack and imbibes heavily from a humongous bottle of Jack Daniels she never lets out of her grip.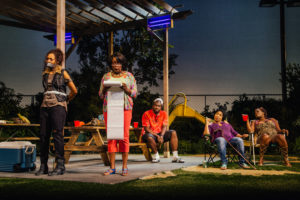 Cherise Booth, Yvette Cason, Omar J. Dorsey, Kimberly Hebert Gregory and Heather Alicia Sims
The first act scenes alternate with an African American family with the same names and addictions (Yvette Cason as Lillie Anne, Cherise Boothe as Barbara, Kimberly Hebert Gregory as Adlean, Omar J. Dorsey as James T and Heather Alicia Simms as Marie). It's a very clever piece of writing, well-staged by director Colman Domingo. The cast is first rate and ably delivers the laughs fast and furiously. It's not until the Act One blackout that we realize the black family is really a cast of actors filming the memoir of white Barbara and her family.

Rebecca Wisocky and Frances Fisher
The tepid second act takes some mild swipes at Hollywood, memoirs, secrets and lies. A black Movie Star/Singer (along the lines of a Whitney Houston or Beyonce) wants her studio to buy Barbara's story so she can write, direct, produce, star, sing on the soundtrack and take home a bushel full of Oscars. It's up to Barbara to get her family to enter rehab as she said they did in her story so they can all share in the movie money. This viewer really wished they had all just stayed at the original barbecue.

The Geffen Playhouse, 10886 Le Conte Ave. in Westwood. Ends Oct 16. www.geffenplayhouse.org or 310-208-5454.