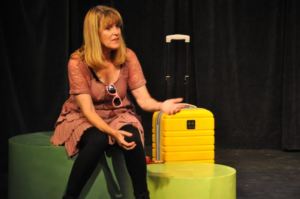 Leslie Caveney (photo by Garry Kluger
Leslie Caveney is an Emmy winning writer/producer whose early plays Love of a Pig and Impact This! were first produced at Theatre West. She has returned to their stage with her latest work One Woman Gone Wrong. Caveney had the capacity opening night audience in hysterics throughout her 75-minute deconstruction of the solo show genre. An actress appears in front of a series of slides as she begins to tell her very personal memory play but her memory soon deserts her and the lines between stage and life, actress and writer blur, mesh and spin out of control. Is that her mother in the audience or is it an actress (Sheila Shaw) hired to play the part of her mother? Then is the other woman (Seemah Wilder) in the audience really her mother? Has the lighting tech (Frank Gangarossa) deliberately put on the wrong dimmer and has he left the theatre mid show? Is the stage manager (Anne Leyden) ever going to cue the actress with the correct next line and get to sing her solo? Caveney rants and rages about men, casting directors, mothers. therapy and more. There are even some musical numbers including the angriest "Que Sera, Sera" as well as a group finale ode to breakfast. Maria Burton has economically directed the show and the few props–sunglasses, an umbrella, a cell phone are well used. Caveney's writing, besides being very funny, is also very insightful and filled with everyday observations and truths. Caveney's acting perfectly brings out the humor and pathos in the script. It's difficult to write a detailed review of such a show without giving away all the best bits and ruining the laughs for future audiences, so I'll just strongly advise you to see One Woman Gone Wrong for yourself. You won't go wrong.

Theatre West, 3333 Cahuenga Blvd West in Los Angeles. Sundays only at 7 p.m., ends Nov. 27. 323-851-7977 or www.theatrewest.org.