On Sunday, September 25 at Glendale's Alex Theatre, Musical Theatre Guild launched their 21st season of staged concert versions of musicals with the rarely seen Burt Bacharach/Hal David's Promises, Promises. The show, a musicalization of the Oscar winning Billy Wilder film The Apartment, premiered on Broadway in 1968 and received 8 Tony Award nominations including Best Musical but surprisingly not one for Best Score, although the score is one of the best of that era. It did win Tony Awards for leading man Jerry Orbach and Featured Actress Marian Mercer and racked up 1281 performances. An ill-thought revival in 2010 lasted only 289 performances. This reviewer first saw the show and became a fan of the infectious Bacharach/David tunes when the National Tour played the Ahmanson Theatre in 1970. I managed to see a production at Valley Community Theatre in the mid 1970s. I was ecstatic when Reprise!, Los Angeles's answer to NYC's Encore series, began life in 1997 with a sterling concert revival that featured Jason Alexander and Jean Smart. I have begged local musical producers to stage the show over the years to no avail.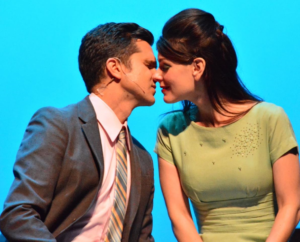 Will Collyer and Shannon Warne (all photos by Alan Weston)
MTG has finally mounted a solid if not always exciting production of this neglected gem. The score sounded great with the seven-piece onstage band under the musical direction of Jennifer Lin. Unfortunately this show must have proved problematic to stage effectively in the bare 25 hours of rehearsal time allowed by the actors union. Director Richard Israel got his players from Point A to Point B but there wasn't much variation. There is only one big dance number in the show, but it is A Really Big One, probably in every Broadway aficionados Top Five dances . Choreographer Michael Bennett was at the top of his game when he staged "Turkey Lurkey Time" as the act one closer and his lead dancer and muse Donna McKechnie was one of a kind. Here choreographer John Todd and his dancers attempted to rekindle that frenetic energy but didn't quite achieve it.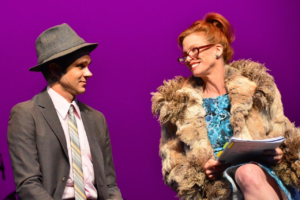 Will Collyer and Leslie Stevens
MTG always provides the best sung version of a score with their productions. Unfortunately they were undermined by a muddy sound system at the Alex. When they could be heard clearly, the voices were very pleasant on the ears. Seeing the show again after 19 years, one of the big surprises was just how good the book by Neil Simon is. He created some great one-liners and comic scenes and this cast nailed it. Will Collyer had the boyish charm necessary to make his Chuck Baxter character likable, even as he hands over his apartment key to higher up executives in his insurance firm in order to advance his career. His love struck mooning and frequent lapses into dreamlike conversations was delightfully done. His rendition of the title song was stellar. Shannon Warne did a lovely job as the object of Chuck's affection, although she is the mistress of a married man. Warne made each of her numbers a top notch effort, especially "Knowing When to Leave." Her duet with Collyer on "I'll Never Fall in Love Again" was nirvana. Kevin Symons made his married philander understandable but not smarmy. And speaking of philanderers, the merry quartet of Glenn Rosenblum, Tom G. McMahon, David Holmes and Jeffrey Markle brought down the house with their horny married men ditty "Where Can You Take a Girl?" And speak of making a big impression with one scene/one song, Leslie Stevens was an absolute joy to watch as barfly/easy pickup in an owl coat Marge MacDougall. The role won Tony Awards for both the original's Marian Mercer and the revival's Katie Finneran. Unfortunately L.A. does not have its own Tony Awards but hopefully Stevens will collect some hardware, and future roles, for her truly winning performance. The talented Kim Huber didn't get a solo in this show but her bitter, acid-tounged secretary Miss Olson blistered the stage. Next up for MTG is the off-Broadway musical The Spitfire Grill on November 13.