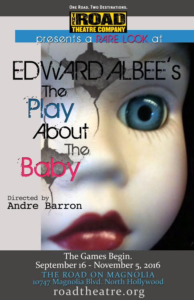 The Road Theatre Company is currently presenting Edward Albee's The Play About the Baby, a 2001 finalist for the Pulitzer Prize. In his program notes, director Andre Barron states that Albee was just a few days old when he was adopted from an orphanage by the successful and influential Vaudeville couple, the Albees. He tried running away from home several times and never really felt a family connection. The playwright often stated he had a terrible relationship with his mother (he used his Pulitzer Prize winning Three Tall Women to exact his revenge). The feeling of family, love and loss is clearly revealed in The Play About the Baby and director Barron and his stellar cast and design team really bring the raw emotions to the surface. The playwright had a marvelous time writing his verbal gymnastics—the topics range from love at first site to posing nude for art, from a blind tour group encouraged to fondle the sculptures in a museum to fortune-telling and baby-stealing Gypsies and include a few snippets of vaudeville song and dance. The talented cast revels in the wordplay but director Barron makes sure they stay on track, even when the antics get out of hand. It's a puzzling and yet mesmerizing piece of theatre.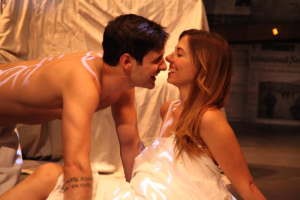 Philip Orazio and Allison Blaize (all photos by Michele Young)
The young Girl and Boy (Allison Blaize and Philip Orazio) are very much in love and lust (they run around the stage nude at one point). They revel in their youth and innocence and delight in talking about their newborn baby. Then the mysterious and slightly sinister older Man and Woman (Sam Anderson and Taylor Gilbert) arrive on the scene and innocence is slowly lost. Is this a memory play? Is the older couple actually the younger couple in their unsullied youth? Or are they really villains here to steal the baby? Are they Gypsies even though they don't have mustaches or fedoras as the Boy says Gypsies do? Not all questions will be answered but you will leave thinking about all the questions raised.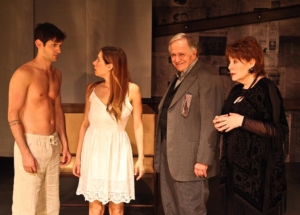 Philip Orazio, Allison Blaize, Sam Anderson and Taylor Gilbeert
Blaize and Orazio have a pure and natural feel to their youthful enthusiasm for life and each other. As the play turns darker, they mature and make the audience feel their pain. Anderson and Gilbert delight in their lengthy monologues and in their byplay with the audience. These two pros know exactly how to hold the stage and enthrall an audience. Sarah B. Brown's simple yet perfect scenic design, brilliantly lighted by Lily Bartenstein, presents the perfect setting for the action.

The Road on Magnolia, 10747 Magnolia Blvd. in North Hollywood. Ends Dec. 10. 818-761-8838 or www.roadtheatre.org