On Monday, September 19, a week before the first Presidential Debate of the current election cycle, Mostly Musicals presented their 19th outing, Up For Debate, at Vitello's E Spot Lounge. Even though I am sure the vitriol was probably less than between the actual candidates, the wordplay was probably a whole level above and the musicality was a real winner. Gregory Nabours provided amazing accompaniment on the grand piano as 18 singers and debaters (that last item is still up for debate) took the stage to deliver mostly showtunes on the subject. Mark Jacobson and Emily Clark got the evening off to a fun political slant with the comic "I'm Just a Bill" from Schoolhouse Rock. Caitlin Gallogly bravely made her way through "The Voting Song," listing the 180 plus countries whose voter turnout is higher than it is in the USA.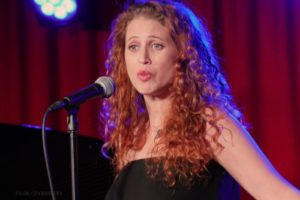 Rena Strober (all photos by Amy Francis Schott)
Angry, bitter feuding tunes dominated the evening with such entries as My Fair Lady's "Show Me," Mamma Mia's "Winner Takes It All" and "Let's Call the Whole Thing Off" from Shall We Dance sung by Amber Hurst-Martin, Rebecca Mason-Wygal and Rhett George, respectively. Clark returned to the stage with Jeff Scot Carey to battle through Irving Berlin's "Anything You Can Do," complete with flubbed lyrics. Why we love live theatre! Really impressing with their solos were Louis Pardo with "Heaven on Their Minds" from Jesus Christ Superstar and Rena Strober with "Nobody's Side" from Chess. Big Belters Both!!Chad Dorek delightfully tried to mend fences with "We Can Work It Out."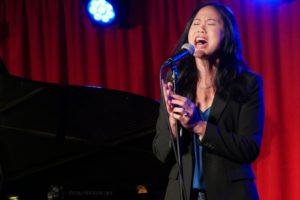 Deedee Magno Hall
Jonathan Lee did a lovely job with "Mama Look Sharp," the courier's heartbreaking song from 1776 while Deedee Magno Hall sang the lovely "That Would Be Enough" from Broadway's current political phenom , Hamilton. Amanda Kruger got personally political with a lively "Harper Valley PTA."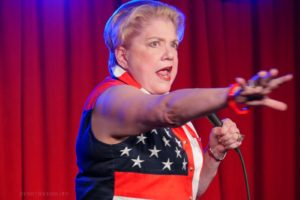 Sharon McNight
Three cast members (Michael Shaw Fisher, Lauren Van Kurin and Gregory Guy Gordon) from the upcoming musical Skullduggery gave us a taste of this musical prequel to Hamlet. Cooper Howell did justice to Jason Robert Brown's forceful "King of the World." Sharon McNight, resplendent in her American flag attire, ended the show with the satirical (I hope) "Political Science," urging the dropping of "the big one." The entire cast took the stage for a rousing curtain call of Woody Guthrie's "This Land is Your Land," with the uncensored, original lyrics. Did the rousing evening put the audience in a political mood? That's debatable until November 8. As usual, the food at Vitello's was very tasty and plentiful.