Patrick Marber's play Closer premiered in London in 1997 with Clive Owen and Ciaran Hinds in the cast. Hinds was joined on Broadway in 1999 by Rupert Graves, Natasha Richardson and Anna Friel. A production at the Mark Taper Forum in 2000 featured Maggie Gyllenhaal and Rebecca DeMornay. Mike Nichols directed a star-studded movie version in 2004 with Julia Roberts, Jude Law, Natalie Portman and Clive Owen. There are no big name stars in Macha Theatre's current production, just a quartet of good solid actors who have mastered Marber's complicated characters and blistering dialogue under the tight, controlled direction of James Paradise. London's Evening Standard newspaper awarded it Best Comedy. Those crazy Brits! The audience may have chuckled occasionally but Closer is no laugh out loud comedy. It actually comes closer to Greek Tragedy with a lot of sexual repartee replacing the bloody violence.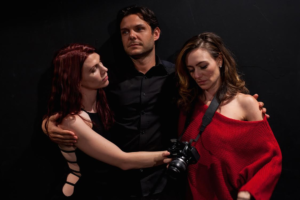 Stephanie Noel Garrison, Hamish Sturgeon and Natalie Mitchell (all photos by Kevin Warnecke)
The action is set in various locales in London over a period of four years and its characters are desperately on the search for love and sex, mostly the latter, mostly the men. Dan (Hamish Sturgeon), an obituary writer for a newspaper, and Alice (Stephanie Noel Garrison), a former stripper, meet cute when he takes her to a hospital after she was hit by a cab. Alice, with no belongings, has just returned from the USA and she soon convinces Dan to skip work and spend the day with her. After a year of living together, Dan's novel, a fictionalized account of Alice's stripper past, is about to be published. He is being photographed by Anna (Natalie Mitchell), an up and coming photographer, and falls instantly in love with her. But Anna refuses to give in to his charms. Still obsessing over Anna, months later he inadvertently plays Cupid in an adult chat room, pretending to be Anna while leading dermatologist Larry (Randy Vaquez) into some heated online sex. Dan takes the joke even further offering Anna to meet Larry in person the next day. To his surprise, Anna actually happens to be at the place of the rendezvous and soon she and Larry become a couple, they even marry. More surprisingly, Anna begins an affair with Dan before and during her marriage.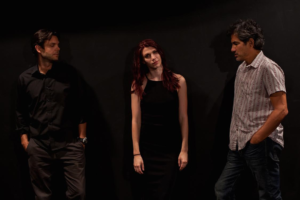 Hamish Sturgeon, Stephanie Noel Garrison and Randy Vasquez
The couples change partners about as frequently as people change their wardrobes from Spring to Fall. All four characters have a need to tell the truth, no matter how much it hurts. Marber's dialogue is scorching and raw; when these people fight no verbal holds are barred. The men are unrelenting in their love/hate relationships with the women in their lives. Alice, a stripper by trade, is more open with her feelings and sexuality while Anna tends to hide behind her camera. Closer is an intimate, scathing look at the battle of the sexes, sort of Les Liaisons Dangereuses for the millennium. If you have never seen Closer and love good writing and strong acting, you must see this production. If you have seen it before, do yourself a favor and see it again. Get Closer.

Macha Theatre, 1107 N. Kings Rd. in West Hollywood. Ends Oct. 9. 323-960-4420 or www.closertheplay.com