Mark Twain is quoted as saying "Write what you know." Playwright Ken Levine has really taken that advice to heart with his latest play, Going Going Gone, receiving its World Premiere at the Hudson Guild Theatre in Hollywood. For over 30 years, Levine has been an Emmy/Peabody/Humanitas award winning writer/director/producer, working on such television sitcoms as M*A*S*H, Cheers, Wings and Almost Famous. For over 20 years, he has also been a major league baseball announcer for the Baltimore Orioles, Seattle Mariners and San Diego Padres. His new play incorporates the trivia minutiae of his baseball announcing career with the razor sharp wit and comic finesse of his TV writing. The result is a fun night out at the ballpark, er, intimate theatre.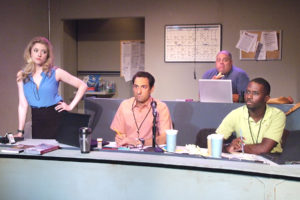 Annie Abrams, David Babich, Troy Metcalf and Dennis Pearson (all photos by Ed Krieger)
The scene is the press box at Dodger Stadium (well detailed by set designer Gary Lee Reed) as the home team takes on their hated rivals, the San Francisco Giants. In the booth are newspaper writers Dennis (David Babich) and Mason (Dennis Pearson) as well as internet scribe Big Jim (Troy Metcalf). Their male camaraderie is well honed with jibes at Big Jim's size, Mason's skin color and Dennis's insecurities. Into their male haven they have to welcome TV color interviewer Shana (Annie Abrams). Dennis, in a bad marriage made worse by his wife's constant nagging to bid on a house in Mar Vista, is instantly smitten by the sparkling Shana. She's used to men fawning over her because of her looks and she quickly puts them at ease but also in their place. Adding to Dennis's insecurities, for the first time he is made the official scorer of the game which of course becomes a no-hitter broken up in the top of the ninth inning by a hit or was it an error. His ruling gets instant hate from the crowd in the ballpark as well as online. But he is soon vindicated when the Giants tie and score and the game goes into extra innings, 19 and counting. No amount of Xanax can seem to keep Dennis calm for long. Big Jim is busy shoveling food—hot dogs, churros, etc.—into his mouth as he plots his Virtual Farm on his computer. Mason is stressing over the constant cutbacks at his paper, fearing his job is on the line. Shana is a bit dismayed when her affair with one of the home team's players is discovered. There is much more action and a helluva lot more fun going on in the booth than on the field which the press corps glances at occasionally.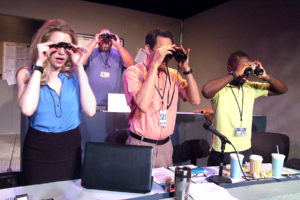 Annie Abrams, Troy Metcalf, David Babich and Dennis Pearson
Levine really knows the milieu, from the lousy singing of the National Anthem to the baseball fanatic's grasp of trivia. He has created characters true to the scene and the cast does a fine job of bringing their comic charms to the batter's box. Managing the whole evening with a keen eye and a sure hand is director Andrew Barnicle, who never lets the pace slacken like it sometimes does in a real ballgame. You don't need to know what "The Infield Fly Rule" is to enjoy Going Going Gone, but you will laugh heartier if you do.

Hudson Guild Theatre, 6539 Santa Monica Blvd. in Hollywood. Ends Nov. 20. 323-960-5521 or www.plays411.com/gone.