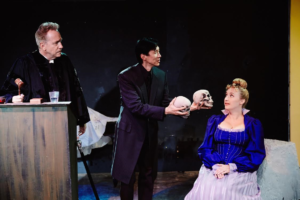 The Trial of Lizzie Borden (all photos by Rick Rose)
Question of the day? Should bad theatre still be considered bad theatre if it kept you laughing uproariously from start to finish, kept you talking about it for hours afterwards and kept you extolling its outrageous gaffes to everyone you saw? The answer is definitely "yes" when all the laughs are unintentional as they are in Katrina Wood's new musical Spindle City: The Lizzie Borden Musical, receiving its World Premiere at North Hollywood's Secret Rose Theatre. Lizzie Borden may have been acquitted for the murder of her parents but Ms. Wood will receive no judicial leniency here. She is guilty of egregious crimes against theatregoers for the mayhem she has created with her book, lyrics and music. Her accomplice in this crime is Trace Oakley, taking credit as Director, but then not even the mad genius of the late Ron Link could have turned this pig's ear into an edible slice of ham.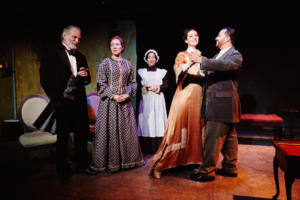 The unbelievable flamenco dance
From the beginning scene at the trial, which contains a potpourri of accents among the inhabitants of Fall River, MA in 1892, to the jazzy and jazz hands opening number, you know you are in for something that has no idea what it wants to be. It's like a bowl of rising dough that can turn into bread, or rolls or numerous other confections. Instead this dough falls flat. Ms. Wood has taken a fact from Column A and paired it with a fabrication from Column B and created a hodgepodge of confusion. In her program notes she states "I know Lizzie Borden well. Yet she remains an enigma to me." She remains an enigma to the viewing audience as well. Ms. Wood introduces a Broadway actress, Nance O'Neil, into Lizzie's small time life, leading to a probable lesbian affair and another reason for Lizzie's patricide. But the fact is Lizzie and Nance did not meet until years after the murders. Ms. Wood also has the family championing John Morse in pursuit of Lizzie's hand in marriage. Referred to as Uncle John, Morse was in fact Lizzie's maternal uncle and it's doubtful the family would have encouraged inbreeding. Then there are the mysterious men in monk like robes with hoods, wearing V for Vendetta masks skulking about. It's easy to assume they are representative of Lizzie's dark feelings. However her father notices them walking down the street shortly before his murder. Then the entire cast is dressed like that, complete with masks and a tiny red hatchet, for his death scene. The demise of Lizzie's stepmother is not shown although her hatred for the woman seemed to be her main motive.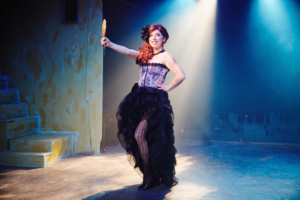 Broadway star does Burlesque
The score is all over the place, not much in the period at all, there is even a rap number. Lizzie's stepmother and uncle do am improbable flamenco dance while mill superintendent Tommy Thompson has the 11 o'clock number about his desire to "wear a suit." The latter number seems to have been stolen from Gypsy's Tulsa. Oakley's direction is of no help. Stage crew come in during the end of songs or scenes and start moving the minimal chairs and tables around, annoying to the audience as well as I am sure to the performers. In a song about the plight of the mill workers, when singing about a mother of six who threw the baby out of the window, a baby doll was thrown across the stage. The Broadway actress in introduced as having a new show opening in five days and then is shown performing a burlesque number in a hotel. The cast creates a bucket brigade to put out a mill fire, only to reappear two scenes later when someone is talking about the casualties of the fire. For a tea party of at least three people, there are only two teacups. I could go but I'm still laughing at these remembrances. I can't fault the cast because a job, even a non-paying job, is a job.I just won't name them to save them from embarrassment. Unfortunately for most of them, their talents range the gamut from A to B.
Someone needs to take an ax
Give this play forty whacks
When the job is done
Give it another forty-one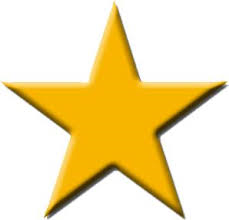 Secret Rose Theatre, 11246 Magnolia Blvd in North Hollywood. Ends Nov. 5. 323-960-7780 or www.plays411.com/spindlecity.