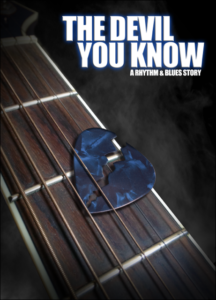 The new musical The Devil You Know a rhythm & blues story is receiving its World Premiere at Arena Stages in Hollywood. It is an overly ambitious endeavor with 18 songs plus several reprises and a cast of 11. The first hint of impending trouble is when the program notes songs as "Lounge Version," "Acoustic," "Master Mix" and "Hep-Cat Version." Actually the score, music and lyrics by Larry Poindexter, is the show's best asset. But the show surrounding the songs, as directed by Darin Anthony, is just one big mess. It's one of those times when one wishes instead of a stage show this was just a concept album. But that would not really work here since the songs themselves don't tell a story. They are very good songs and really well delivered by Poindexter, Sasha Sloan and the Jubilee Trio consisting of Trevon Davis, Harrison Killian-White and Niles Rivers, who unfortunately also serve as an R&B Greek Chorus. Perhaps just a concert version? The audience viewing the show with me were certainly in the mood for a raucous evening, hooting and hollering at most anything that happened on stage.
The plot, book by David Carey Foster & Poindexter, is so pedestrian it dares not stray out of its designated crosswalk. Bobby (Poindexter) and Rochelle (Sloan) were together for 10 years and fronted the band Devereaux. When they got their big chance with a record deal, Bobby's over attention to detail and his affair with Denise (Alexis Krause), a record executive, killed the release and ended the marriage. Five years later Bobby is playing a lounge act four times a night in Laughlin while Rochelle sings the Great American Songbook in concert dates around the country. Bobby plots to bring Rochelle and the band together, finish the album and heal all wounds. Of course his libido and ego get in the way once again.
The second act is so packed with needless filler that secondary characters–keyboardist Richie (Braxton Molinaro) and young sound mixer Bree (Julia Harriman)–perform a Karaoke version of "Total Eclipse of the Heart." I'm not joking! As for totally "you got to be kidding" moments there is record producer Handsome's (Gildart Jackson) "Bad Love" which follows the Karaoke scene. Most of the songs are just sung with fever and purpose straight out by the singers backed by the great band (musical direction by Brad Ellis) of Molinaro, James Patrick Stuart on drums and Bill Watterson on bass along with Poindexter on guitar. There are a couple of perfectly awful staged (director Anthony and choreographer Angela Lopez) production numbers. Denise is given one called "Perfect" in Act One and it has to be seen to be disbelieved. Denise is back at it in Act Two with "Hidden," a face-off, diva-off with Rochelle. And can we talk about the interminable intermission scene change that consisted of unplugging all the band's instruments and speakers and moving them from one side of the stage to the other, then re-plugging them all in and making sure everything is AOK. Just rethink your staging! The Devil has definitely put his curse on this production.