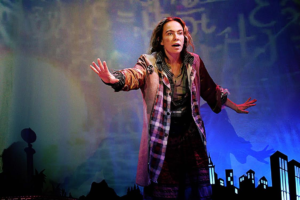 Charlotte Gulezian as Trudy (all photos by Ken Sawyer)
Jane Wagner wrote a one-woman show in 1985 for her partner Lily Tomlin which won Tomlin a Tony Award for playing 12 varied characters over the course of two plus hours. It was a tour-de-force performance which Tomlin filmed in 1991 and revived for a short tour in 2000. Wagner has now reworked the script for 12 actors to portray the various characters once enacted by Tomlin. Ken Sawyer has directed a tour-de-force production of The Search for Signs of Intelligent Life in the Universe Revisited at the LA LGBT Center. Watching this cast of talented performers work their way through the show, it's amazing to recall that Tomlin had the talent, stamina and chutzpah to do it on her own.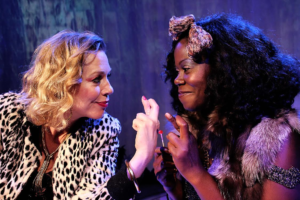 Rachel Sorsa and Julanne Chidi Hill as Brandi and Tina
That is not a knock at the current cast; they are all very talented and under Sawyer's deft direction they clearly bring all the wonderfully nuanced characters vividly to life. The play, though feeling and sounding a bit dated at times, is a fascinating time capsule of the 1980s and the state of feminism. In this era of Trump, hear these women roar. Charlotte Gulezian deliciously inhabits the off-kilter bag lady Trudy, who is currently acting as a guide to a group of aliens who are studying our species. There is not quite Six Degrees of Separation from Trudy and the other characters as they go about their lives in the city that never sleeps. Probably the most laughs are generated by Brandi (Rachel Sorsa) and Tina (Julanne Chidi Hill), two hookers with a world weary but insightful view of life on the streets that they generously (for the usual fee) share with a writer. Angus Angst (Sasha Pasternak) is an angry teenaged Goth performance artist who befuddles her long married and comfortable grandparents (Joe Hart and Kimberly Jurgen). Chrissy (Julia Aks) is the aerobics obsessed inept job holder. Ann Noble has fun with the role of Kate, a woman with money and time on her hands but bored by it all. Jeremy Luke plays Paul, a soft-hearted boxer.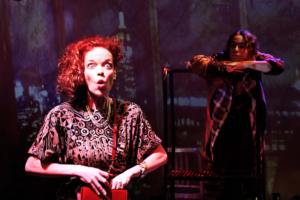 Ann Noble as hair stylist challenged Kate
A large chunk of the play's second act is a journey through the lives of three women friends who were determined to have it all. It's reminiscent of the later penned The Heidi Chronicles by Wendy Wasserstein. Kristina Johnson excels in the main role of Lyn who goes from political activist to wife, mother, career woman and divorcee. Bellina Logan and Anny Rosario are her two friends, Marge and Edie.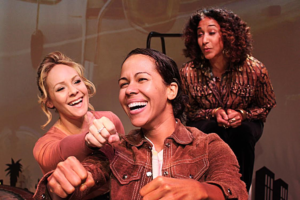 Kristina Johnson, Anny Rosario and Bellina Logan
There are a lot of laughs in the evening but Wagner also gives you a lot to think about after leaving the theatre. Stephanie Kerley Schwartz provided the trippy scenic design, Paula Higgins the period and character perfect costumes, Matt Richter & Adam Earle the dazzling lighting effects. Ken Sawyer's sound design and Nicholas Santiago's projections make this an aural and optic delight. If you have seen Signs previously, you need to see it again for the joy it will bring you. If you have never seen it, you really must see it for the important piece of theatrical history that it is.

LGBT Center, 1125 N. McCadden Pl. in Hollywood. Ends Dec.11. 323-860-7300 or www.lalgbtcenter.org/theatre