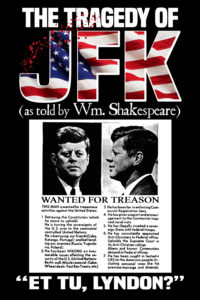 Amazon.com lists at least 40 books dealing with the assassination of President John F. Kennedy. Everything from naming Vice President Lyndon B. Johnson as the mastermind behind the plot to a secret love affair between First Lady Jacqueline Kennedy and First Brother Bobby as the reason they didn't raise objections to the Warren Commission Report. There is a consensus that America truly lost its innocence on November 22, 1963, and has never been the same since. Stephen King's 11.22.63 and the resultant Hulu mini-series deftly explored this theme. One of the most powerful moments in Stephen Sondheim's musical Assassins is the lengthy, non-musical scene with Lee Harvey Oswald in the Texas Book Depository building. Nearly 53 years after that fateful day in Dallas, the populace, especially Americans, are still fascinated by the subject. The Blank Theatre's Founding Artistic Director Daniel Henning has been studying the assassination for over 20 years and has spoken as an "expert" on the subject. He has finally put all his research and thespian skills to use by conceiving, adapting (from The Tragedy of Julius Caesar) and directing The Tragedy of JFK (as told by Wm. Shakespeare). It is a bold, daring, brash, audacious and sure to be controversial piece of theatre. The show is receiving its World Premiere at the Skylight Theatre in the Los Feliz area of Hollywood.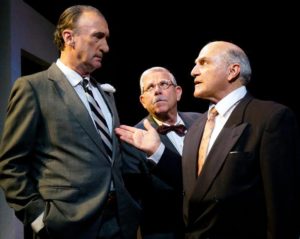 Time Winters, Bruce Nehlsen and Tony Abatemarco
It is easy early on to see how Henning made the connection of JFK's assassination to that of Caesar's nearly 2000 years earlier and deftly converted Shakespeare's characters and dialogue to fit that of the 1960s political arena. The charismatic JFK (Ford Austin) seamlessly wears the mantle of Caesar with RFK (a dynamic Chad Brannon) effortlessly subbing as his loyal supporter Marc Anthony. The truly tragic figure here is the Brutus surrogate, the doubt-filled LBJ (a powerful Time Winters). Tony Abatemarco is evil incarnate as the slimy, secret-obsessed J. Edgar Hoover. The other conspirators in the assassination plot include Texas oilman Clint Murchinson (Cris D'Annunzio), former CIA Director Allen Dulles (Bruce Nehlsen) and Mafia don Carlos Marcello (Jerry Della Salla).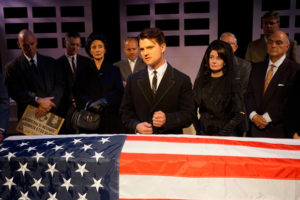 Chad Brannon as Robert F. Kennedy
Their group assassination of Kennedy is well staged and Brannon's speech at JFK's funeral (friends, countrymen, lend me your ears) is a highlight. Winters and Abatemarco blister the air with their resultant fight full of bitter recriminations and rising doubts. Shakespeare's war between Marc Anthony and the conspirators is here transferred to Dr. Martin Luther King's March from Selma to Montgomery and the standoff at Pettus Bridge. JFK's ghost even appears to LBJ warning him of impending defeat, causing him to bow out of the 1968 presidential primaries. Turning JFK's loyal secretary Evelyn Lincoln into the soothsayer and Oswald into a LBJ servant don't work as well, but these are minor quibbles. For the most part, Henning has adroitly managed the feat of transforming the tragedy of Caesar into the tragedy of JFK. His direction is sure and the pacing is swift in this 100 minute intermission-less theatrical triumph. The large cast of 17 is exemplary, even if some of them are reduced to basically being spear carriers in the Shakespearean plot. But they carry those spears with great pride and dedication.

Skylight Theatre, 1816 ½ N. Vermont Ave. in Hollywood. Ends Nov. 20. www.theblank.com