Norwegian playwright Henrik Ibsen is often called "the father of realism" and one of the founders of Modernism in theatre. Norwegian American playwright Phil Olson isn't challenging Ibsen with his output of Don't Hug Me musical comedies and with his Minnesota set Nice Family plays. His A Nice Family Gathering premiered in 2000 and dealt with the death of his father. His latest, A Nice Family Christmas receiving its World Premiere at Group Repertory Theatre, deals with his mother's cancer diagnosis. But Olson doesn't aim for much realism in his family comedy. Rather he aims to be a Norwegian Neil Simon or a lutefisk version of Del Shores, only his jokes and characters don't have their polish and depth. His humor is more burlesque or stand-up comedy riffing. He manages to bring low brow humor to a new low. It's funny and you laugh but you are often also groaning.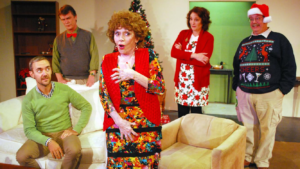 Greg D. Barnett, Patrick Burke, Marcia Rodd, Belinda Howell and Fox Carney (all photos by Doug Engalla)
It is Christmas Eve and the "don't hug, don't kiss, can't say I love you" family is gathering in Mom's (Belinda Howell) condo in a Minneapolis suburb for Christmas Eve dinner. The three children, Dr. Michael (Patrick Burke), recently separated from his wife Jill (Rebekah Dunn), journalist Carl (Greg D. Barnett) and lesbian Stacey (Truett Jean Butler) are all surprised to see Grandma (Marcia Rodd), recently escaped from boring retirement in Florida. Another unexpected guest is Uncle Bob (Fox Carney), brother to the kids' late father. He has been absent from their lives for three years but has finally come-a-courting his former girlfriend, his brother's widow. Bob has one speed—horny. Grandma is without a filter and has a smart ass comeback or an inappropriate sex drenched memory for nearly every line uttered by the rest of the family. (Not even Sophie Petrillo had that many one-liners and it's a tribute to stage vet Marcia Rodd that she gets them all out, gets your laughs and doesn't make you hate her. The only thing missing from her expert delivery is an on stage drummer doing rim shots.) Carl is a whiner and Michael spends too much money on collector plates due to his OCD. Stacey is the stable member of the family and as such is mostly invisible to the others. Mom has a secret but a phone call from her doctor on Christmas Eve that is answered by Michael spills the beans on the cancer diagnosis. It's difficult to build much sympathy or empathy for the characters' plights when there was no foundation to their characters except joke upon joke. Everything is tidily wrapped up in a bright big happy bow by the ending.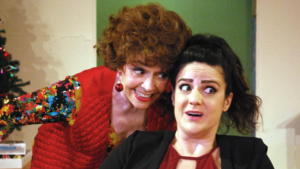 Marica Rodd and Truett Jean Butler
Rodd excels at what she does with the script she's been given and the rest of the cast soldiers through it solidly. Director Doug Engalla sets a fast pace and the actual play barely runs 90 minutes but does come with an intermission. It's slight and breezy and doesn't carry the scent of lutefisk about it. This production's best asset is Chris Winfield's well-appointed set design.

Group Repertory Theatre, 10900 Burbank Blvd. in North Hollywood. Ends Dec. 18. 818-763-5990 or www.grouprep.com