Eugene O'Neill, a four-time recipient of the Pulitzer Prize, is the only American playwright to receive the Nobel Prize for Literature. This might be heresy to some, but as a reviewer I have always had a problem staying awake while viewing O'Neill's plays, except for his masterpiece, Long Day's Journey Into Night; even a production which starred Charlton Heston kept me riveted. I even nodded off through big chunks of Hughie twice, which is barely 40 minutes in length. I have always found O'Neill's writing to be overly florid as well as lengthy. He wrote long, rambling monologues that might read well on the page, but as talk between characters on a stage is a bit unbelievable. O'Neill could have used a good editor, someone like Maxwell Perkins, to take a red pen to his writing. Yet I am always willing to give his legacy another try. Such an opportunity has arisen with Pacific Resident Theatre's current production of the rarely seen, at least on Southern California stages, A Touch of the Poet. The play was written in 1942 but did not receive its Broadway premiere until 1958. That production only ran 284 performances and the three Broadway revivals since didn't amass that many performances in total. Poet was the first of a planned nine-play cycle A Tale of Possessors Self-Dispossessed. O'Neill only managed to finish a second draft of the second play, More Stately Mansions, which received its World Premiere when it was the inaugural production at the Ahmanson Theatre in 1967.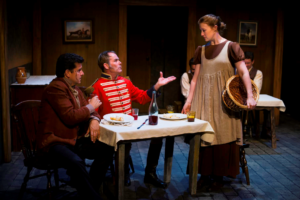 Brendan Ferrell, Matt McKenzie, and Julia McIlvaine (all photos by Vitor Martins)
Poet takes place on July 27, 1828, on the cusp of Andrew Jackson's winning the presidency and signaling a change in the American class system. The setting is the dining room of a tavern outside of Boston run by Irishman Cornelius "Con" Melody (Matt McKenzie), a former Major in the English army whose best years were spent fighting Napoleon's armies in Spain. Now the braggart and alcoholic is reduced to riding a mare to impress the local Yankees and to dressing in his uniform once a year to celebrate his military past. He may have been born in a castle, but he is in debt now and his wife and daughter struggle to run the tavern and pay the bills. Wife Nora (Julia Fletcher) still moons over her husband and defends his every word and action, even though he tends to denigrate her very existence. He says he only married her because she was pregnant and rues the choice he made. Their daughter Sara (Julia McIlvaine) is determined to escape her life of poverty by marrying the son of a wealthy merchant whom she is nursing back to health in an upstairs bedroom. Although he is the topic of a lot of conversation, including that of his doting mother (Dalia Vosylius) and a lawyer (Anthony Foux) sent by his father, Simon is a character akin to Godot; talked about but never seen. That is the main problem of this play, most of the action takes place off stage and then is related to the other characters (and the audience) by a character who was involved in the action—Sara's seduction, Con's brawl with the police etc.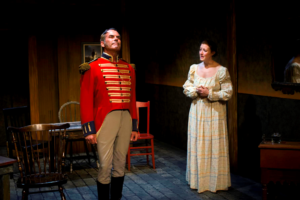 Matt McKenzie and Julia McIlvaine
Director Robert Bailey has managed to keep a fast pace going through all the speechifying in this four act play (one intermission) that runs three hours. The three leading players are really invested in their characters and pull the audience into their orbit. McIlvaine shines as the daughter whose love/hate relationship with her father causes her to take bold action. Fletcher's Nora maintains her dignity amid a torrent of abuse and the love she still carries for her husband is palpable. McKenzie dominates as he struts and pontificates like a peacock whose plumage is a bit weathered, but he still intends to flaunt it. If you are an O'Neill aficionado or just interested in seeing a theatrical rarity, this may be your one chance to experience A Touch of the Poet.

Pacific Resident Theatre, 703 Venice Blvd. in Venice. Ends Jan. 29. 310-822-8392 or www.pacificresidenttheatre.com