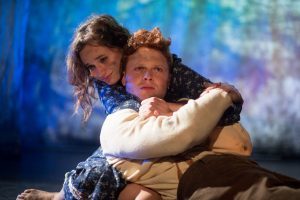 Caleb Foote and Angela Giarratana (all photos by Cooper Bates)
The 24th Street Theatre specializes in TYA, Theatre for Young Adults which is distinctly different from children's theatre. They don't dumb it down or pander to the youngsters; they expect them to be able to accept a more grown up approach to the stories they tell. The adults in the audience will also appreciate the literate and solid story telling. Their latest offering is the classic Grimm Fairy Tale of Hansel & Gretel, only updated to Appalachia America during the Great Depression. Bryan Davidson's Hansel & Gretel Bluegrass is an inventive take on the story, beautifully envisioned by director Debbie Devine and her talented crew of tech artists (Keith Mitchell's scenic design, Matthew G. Hill's video design, Chris Mocatiello's sound design and Dan Weingarten's lighting design). The Get Down Boys perform a bluegrass score, firmly setting the mood of the piece.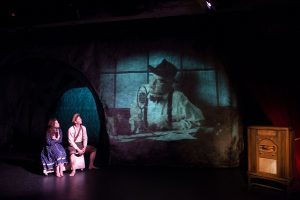 Angela Giarratana, Caleb Foote and Bradley Whitford
The story unfolds as a cautionary tale told on the radio by The Duke (Bradley Whitford in a video cameo appearance). When the father of teenage siblings Hansel (Caleb Foote) and Gretel (Angela Giarratana) loses his job at the company mine, he takes his children on a trek into the wild, telling them relatives in a neighboring county will take care of them until he can get back on his feet. But there are no relatives and he abandons his children, hoping they will survive on their own. A blind old Mountain Woman (Sarah Zinsser) takes them in, feeds them and basically keeps them unknowing prisoners. In return for her kindness, all she asks is Gretel sing for her. The naïve and starving children see what they want to see, not what really is, and fall under her spell until a final day of reckoning. Devine keeps the action moving in this tight 60-minute piece and her actors deliver solid and empathetic performances.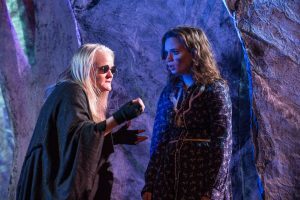 Sarah Zinsser and Angela Giarratana
24th Street Theatre, 1117 W 24th St. in Los Angeles. Ends May 21. 213-745-6516 or www.24thstreet.org.