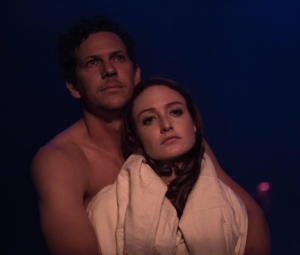 Jeremy Mitchell and Fayelyn Bilodeau (all photos by Darrett Sanders)
The Stand-In, receiving its World Premiere at the Bootleg Theater, has an intriguing subject matter—the filming of the classic film noir Double Indemnity, written by mystery writer Raymond Chandler and director Billy Wilder. The film starred Fred MacMurray as a wise-cracking insurance salesman done in by femme fatale Barbara Stanwyk. The script receives a stellar production thanks to director Patrick Murphy and his tech crew—David Offner (scenic design), Dan Weingarten (lighting), Hana Sooyeon Kim (projections), Kerry Hennessy (costumes) and Aaron Lyons (sound). All the action is set on a movie sound stage with the crew and off camera cast watching the scenes. The look of the show is stellar. The cast is solid—Chris Schultz as the manic Wilder, Paul Dillon as the pragmatic Chandler, Fayelyn Bilodeau as the mysterious Kasia and Jeremy Mitchell as the stalwart Max.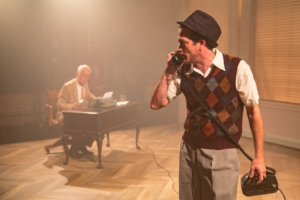 Paul Dillon and Chris Schultz
Max is the cinematographer on the film who finds Kasia washed up on the Pacific beach. The year is 1944 and Kasia is Polish. Their affair starts immediately and soon Max gets Kasia a job as Stanwyk's stand-in on the film. From there she is soon auditioning for a role in a Marlene Dietrich film and even sooner being courted by the bisexual star. There are flashback scenes to Kasia and her mother under the Nazi regime in Poland. But how Kasia managed to wash up on the California beach all the way from Poland is never explained. There are scenes of Chandler and Wilder fighting over the dialogue and character motivation in the script, but a few of these go a long way. There are fun scenes from the film re-created as if they were being filmed now. Then suddenly Wilder is brought into the real world by news of his family's deaths in the concentration camps. The play feels like it was written by two different people and it was, Alicia Adams (also playing Marlene and Mother) and Peter Monro. The play feels like they each wrote scenes for their particular characters but never met to discuss how to put it all together. The play remains unfocused and lost.

Bootleg Theater, 2220 Beverly Blvd. in Los Angeles. Ends Nov. 5. www.bootlegtheater.org or 213-389-3856.