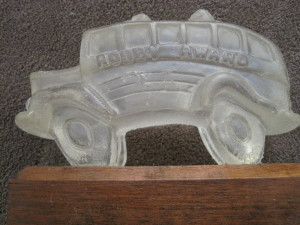 The 2016 Theatre Year is over and done. It's time for most reviewers to come up with their Best of the Year lists. In my case, it's time to announce the nominees for the 31st Robby Awards. Out of 98 shows reviewed during the year, 57 shows (58%) received at least one nomination in one of 29 categories. Theatres with 99 seats or less received a total of 88 nominations (39%) with larger theatres accounting for 137 nominations or 61%. Three different cabaret venues also received nominations. McCoy Rigby Entertainment led in total nominations for the second year in a row, receiving 34 nominations for four of their musicals. Center Theatre Group received a total of 19 nominations for four of their productions at the Mark Taper and Ahmanson Theatres. Antaeus Theatre Company led the 99 seat scene with 10 nominations while the Hollywood Fringe Festival collected 17 nominations for five various productions.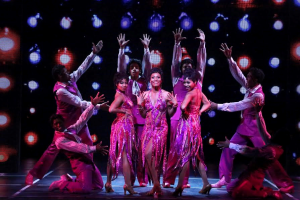 Dreamgirls (photo by Michael Lamont)
As usual, given my penchant for seeing them, musicals dominated with 24 productions receiving 119 nominations. The Little Mermaid and The Hunchback of Notre Dame, both produced by McCoy Rigby Entertainment, led all shows with 10 nominations each. CTG-Ahmanson's A Gentleman's Guide to Love & Murder and Chance Theatre's Dogfight each received nine. South Coast Repertory's revival of Amadeus led all drama productions (15 in all) with nine nominations followed by International City Theatre's Doubt: A Parable and Antaeus Theatre Company's Hedda Gabler each with seven. Thirteen different comedy productions received nominations with A Noise Within's The Imaginary Invalid leading with eight and Los Angeles LGBT Center's The Search for Signs of Intelligent Life in the Universe Revisited following with seven. There were also five cabaret shows nominated in their category.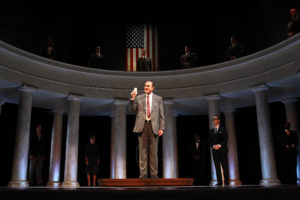 All The Way (photo by Debora Robinson)
BEST MUSICAL PRODUCTION
Alien Vs. Musical, Hollywood Fringe
The Boy From Oz, Celebration Theatre
Bumpersticker The Musical, Asylum @ Hollywood Fringe
Disney The Little Mermaid, McCoy Rigby Entertainment
Dogfight, Chance Theater
Dreamgirls, McCoy Rigby Entertainment
A Gentleman's Guide to Love & Murder, Ahmanson Theatre
The Hunchback of Notre Dame, McCoy Rigby Entertainment
L.A. Now and Then, LA City College Theatre Academy & Kritzerland
Merrily We Roll along, The Wallis
Return to the Forbidden Planet, Rubicon Theatre Company
The Toxic Avenger Musical, Good People Theater Company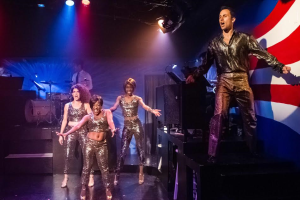 The Boy From Oz (photo by Casey Kringlen)
BEST DIRECTOR OF A MUSICAL
Michael Arden, Merrily We Roll Along
Glenn Casale, The Hunchback of Notre Dame
Glenn Casale, Disney The Little Mermaid
Bruce Kimmel, L.A. Now and Then
Robert Longbottom, Dreamgirls
Matthew McCray, Dogfight
Janet Miller, The Toxic Avenger Musical
Michael A. Shepperd, The Boy From Oz
Michele Spears, Bumpersticker The Musical
Darko Tresnjak, A Gentleman's Guide to Love & Murder
Matthew Tyler, Alien Vs. Musical
Kirby Ward, Return to the Forbidden Planet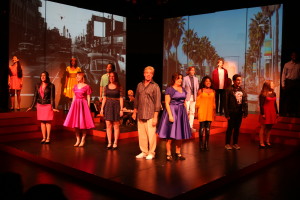 L.A. Now and Then (photo by Karen Staitman Photography)
BEST ACTOR IN A MUSICAL
Andrew Bongiorno, The Boy From Oz
Wayne Brady, Merrily We Roll Along
Will Collyer, Promises, Promises, Musical Theatre Guild
Kevin Earley, Empire The Musical, McCoy Rigby Entertainment
Zachary Ford, Bumpersticker The Musical
Mark Jacoby, The Hunchback of Notre Dame
Jose Llana, The King and I, Hollywood Pantages Theatre
Kevin Massey, A Gentleman's Guide to Love & Murder
Kevin McMahon, Children of Eden, Cabrillo Music Theatre
John McGinty/ Dino Nicandros, The Hunchback of Notre Dame
Larry Raben, A Funny Thing Happened on the Way to the Forum, Cabrillo Music Theatre
John Rapson, A Gentleman's Guide to Love & Murder
>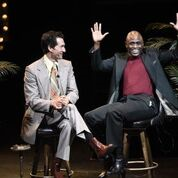 Aaron Lazar and Wayne Brady (photo by Dan Steinberg)
MICHELLE NICASTRO AWARD FOR BEST ACTRESS IN A MUSICAL
Moya Angela, Dreamgirls
Misty Cotton, Children of Eden
Kim Dalton, The Toxic Avenger Musical
Stephanie Gibson, Empire The Musical
Rebecca Ann Johnson, Return to the Forbidden Planet
Ashley Arlene Nelson, Dogfight
Cassie Simone, The Hunchback of Notre Dame
Donna Vivino, Merrily We Roll Along
Shannon Warne, Promises, Promises
Michole Briana White, When Jazz Had The Blues, CEK Productions
Alison Woods, Disney The Little Mermaid
Rachel York, Grey Gardens, CTG-Ahmanson Theatre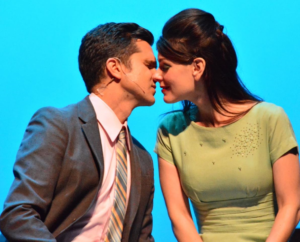 Will Collyer and Shannon Warne (photo by Alan Weston)
BEST SUPPORTING ACTOR IN A MUSICAL
Gilbert Glenn Brown, When Jazz Had The Blues
Ryan J. Driscoll, Children of Eden
Jason Graae, Return to the Forbidden Planet
Caleb Horst, Return to the ForbiddenPlanet
David LaMarr, Dreamgirls
Matt Magnusson, Recorded in Hollywood, Kirk Douglas Theatre
Michael McCormick, Empire The Musical
Jamie Torcellini, Disney The Little Mermaid


Matt Magnusson as DJ Huggy Boy (photo by Ed Krieger)
BEST SUPPORTING ACTRESS IN A MUSICAL
Joan Almedilla, The King and I
Betty Buckley, Grey Gardens
Kim Dalton, Dogfight
Shirley Anne Hatton, The Toxic Avenger Musical
Kelly Lester, The Boy From Oz
Tracy Lore, Disney The Little Mermaid
Bess Motta, The Boy From Oz
Leslie Stevens, Promises, Promises
Natalia Vivino, Children of Eden
Kristen Beth Williams, A Gentleman's Guide to Love & Murder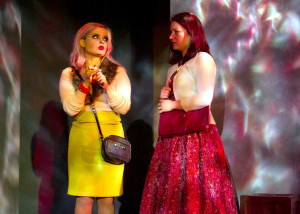 Kim Dalton and Ashley Arlene Nelson (photo by Doug Catiller, True Image Studio)
DOM SALINARO AWARD FOR BEST CHOREOGRAPHY
Cheryl Baxter, L.A. Now and Then
Roger Castellano, The Real Housewives of Toluca Lake The Musical, Falcon Theatre
Cassie Crump, Recorded in Hollywood
Gabe and Mindy Copeland, Office Beat, Tap Overload
Marcia Milgrom Dodge, Empire The Musical
Janet Roston, The Boy From Oz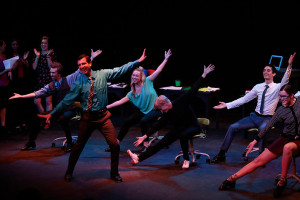 Office Beat
BEST MUSICAL DIRECTION
Bryan Blaskie, The Boy From Oz
Dennis Castellano, Dreamgirls
Dennis Castellano, The Hunchback of Notre Dame
Rahn Coleman, When Jazz Had The Blues
Colin R. Freeman, Disney The Little Mermaid
Corey Hirsch, The Toxic Avenger Musical
David O, Bumpersticker The Musical
Taylor Stephenson, Dogfight
Gerald Sternbach, Closer Than Ever, International City Theatre
Adam Wachter, Merrily We Roll Along
Trevor Wheetman, Return to the Forbidden Planet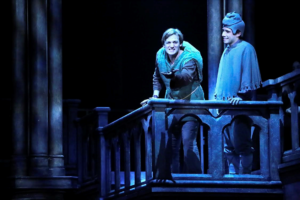 The Hunchback of Notre Dame (photo by Michael Lamont)
BILLY BARNES AWARD FOR BEST MUSIC & LYRICS
Joe DiPietro and David Bryan, The Toxic Avenger Musical
Robert L. Freedman and Steven Lutvak, A Gentleman's Guide to Love & Murder
Benji Pasek & Justin Paul, Dogfight
Erik Przytulski, Alien Vs. Musical
Larry Poindexter, The Devil You Know, Devilish Theatricals
Gary Stockdale & Spencer Green, Bumpersticker The Musical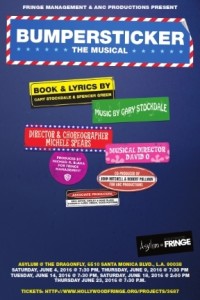 NAN MARTIN AWARD FOR BEST DRAMA PRODUCTION
All the Way, South Coast Repertory
Amadeus, South Coast Repertory
The City of Conversation, The Wallis
Closer, Macha Theatre/Films
Dancing at Lughnasa, Actors Co-Op
Disgraced, CTG-Mark Taper Forum
Doubt: A Parable, International City Theatre
Hedda Gabler, Antaeus Theatre Company
The Play About the Baby, The Road Theatre Company
The Tragedy of JFK (as told by Wm. Shakespeare), Blank Theatre Company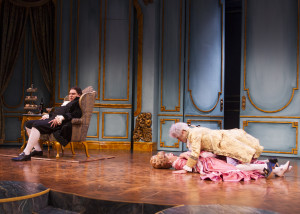 Amadeus (photo by Debora Robinson)
MARTIN BENSON AWARD FOR BEST DIRECTOR OF A DRAMA
Andre Barron, The Play About the Baby
Heather Chesley, Dancing at Lughnasa
caryn desai, Doubt: A Parable
Daniel Henning, The Tragedy of JFK
Marc Masterson, All the Way
Kent Nicholson, Amadeus
James Paradise, Closer
Steven Robman, Hedda Gabler
Kimberly Senior, Disgraced
Michael Wilson, The City of Conversation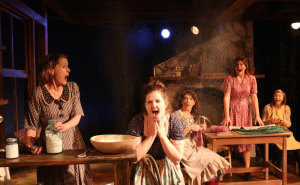 Dancing at Lughnasa (photo by Lindsay Schnebly)
BEST ACTOR IN A DRAMA
Tony Abatemarco, The Tragedy of JFK
Hugo Armstrong, All the Way
Marco Barricelli, Amadeus
JD Cullum, Hedda Gabler
Hari Dhillon, Disgraced
Seamus Mulcahy, The Revisionist, The Wallis
Time Winters, The Tragedy of JFK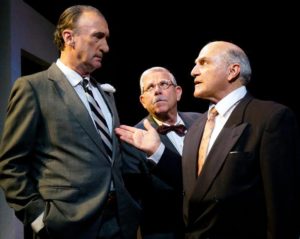 Time Winters, Bruce Nehlsen and Tony Abatemarco
BEST ACTRESS IN A DRAMA
Nike Doukas, Hedda Gabler
Deanna Dunagan, The Revisionist
Erica Flor, Bloody Beautiful, Proboscis Theatre Company
Georgia King, The City of Conversation
Christine Lahti The City of Conversation
Julia McIlvaine, A Touch of the Poet, Pacific Resident Theatre
Eileen T'Kaye, Doubt: A Parable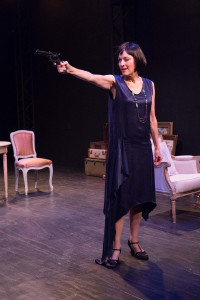 Nike Doukas as Hedda Gabler (photo by Facet Photography)
BEST SUPPORTING ACTOR IN A DRAMA
Chad Brannon, The Tragedy of JFK
JD Cullum, All the Way
Asher Grodman, Amadeus
Michael Polak, Doubt: A Parable
Jason Ritter, The City of Conversation
James Sutorius, Hedda Gabler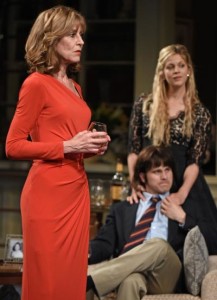 Christine Lahti, Jason Ritter and Georgia King (photo by Kevin Parry)
BEST SUPPORTING ACTRESS IN A DRAMA
Julia Fletcher, A Touch of the Poet
Lynn Milgrim, Hedda Gabler
Elyse Mirto, Forever House, Skylight Theatre Company
Dale Raoul, Forever House
Tamika Simpkins, Doubt: A Parable
Erin Anne Williams, Doubt: A Parable
Liesel Allen Yeager, Amadeus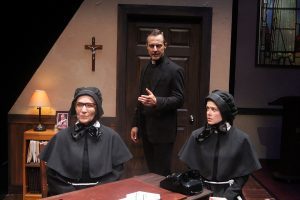 Eileen T'Kaye, Michael Polak and Erin Anne Williams (photo by Tracy Roman)
CAROLE COOK AWARD FOR BEST COMEDY PRODUCTION
Cloud 9, Antaeus Theatre Company
The Engine of Our Ruin, The Victory Theatre Center
Go Back To Where You Are, Odyssey Theatre Ensemble
The Imaginary Invalid, A Noise Within
The Search for Signs of Intelligent Life in the Universe Revisited, Los Angeles LGBT Center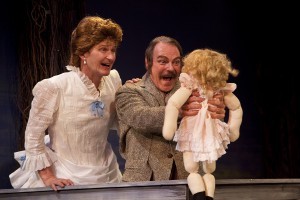 Cloud Nine (photo by Geoffrey Wade Photography)
RON LINK AWARD FOR BEST DIRECTOR OF A COMEDY
Bart DeLorenzo, Go Back To Where You Are
Maria Gobetti, The Engine of Our Ruin
Julia Rodriguez-Elliott, The Imaginary Invalid
Ken Sawyer, The Search for Signs of Intelligent Life in the Universe Revisited
Casey Stangl, Cloud 9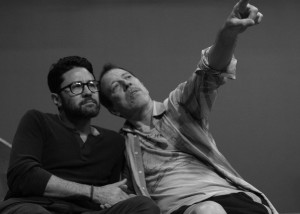 Go Back To Where You Are
BEST ACTOR IN A COMEDY
Apollo Dukakis, The Imaginary Invalid
John Fleck, Go Back To Where You Are
Graham Hamilton, One of the Nice Ones, The Echo Theater Company
Sean Hayes, An Act of God, CTG-Ahmanson
Charles Shaughnessy, Act 3, Laguna Playhouse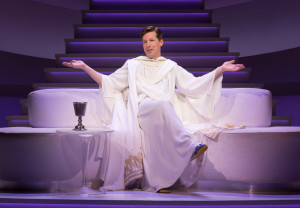 Sean Hayes (photo by Jim Cox)
LU LEONARD AWARD BEST ACTRESS IN A COMEDY
Leslie Caveny, One Woman Gone Wrong, Theatre West
Charlotte Gulezian, The Search for Signs of Intelligent Life in the Universe Revisited
Kristina Johnson, The Search for Signs of Intelligent Life in the Universe Revisited
Marcia Rodd, A Nice Family Christmas, The Group Rep
Rita Rudner, Act 3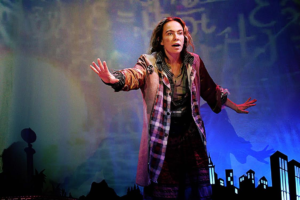 Charlotte Gulezian as Trudy (photo by Ken Sawyer)
ALBERT LORD AWARD FOR BEST SUPPORTING ACTOR IN A COMEDY
Todd Babcock, Waiting for Grace, Grace Productions
James Gleason, An Act of God
Steve Hofvendahl, The Engine of Our Ruin
Chris Lanehart, Den of Thieves, 2Cents Theatre Company
Josh Odsess-Rubin, The Imaginary Invalid
Richy Storrs, You Never Can Tell, A Noise Within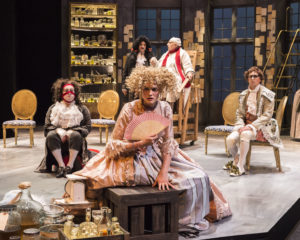 The Imaginary Invalid (photo by Craig Schwartz)
DEE CROXTON AWARD FOR BEST SUPPORTING ACTRESS IN A COMEDY
Kimberly Alexander, The Engine of Our Ruin
Truett Jean Butler, A Nice Family Christmas
Kelsey Carthew, The Imaginary Invalid
Pamela Dunlap, Waiting for Grace
Paulina Gamez, Den of Thieves
Tara Karsian, One of the Nice Ones
Erika Soto, You Never Can Tell
Deborah Strang, The Imaginary Invalid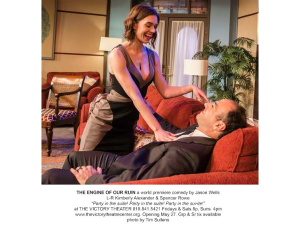 MICHAEL DEVEREAUX AWARD FOR BEST PLAYWRITING
Ayad Akhtar, Disgraced
Leslie Caveny, One Woman Gone Wrong
Anthony Giardina, The City of Conversation
David Greenspan, Go Back To Where You Are
Daniel Henning, The Tragedy of JFK
David Javerbaum, An Act of God
Patrick Marber, Closer
Robert Schenkkan, All the Way
John Patrick Shanley, Doubt: A Parable
Jason Wells, The Engine of Our Ruin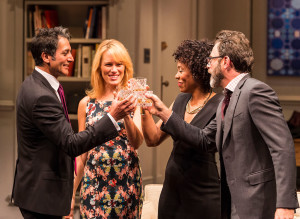 Disgraced (photo by Craig Schwartz)
BEST SCENIC DESIGN
Angela Balogh Calin, The Imaginary Invalid
Jeff Cowie, Grey Gardens
Kenneth Foy, Disney The Little Mermaid
David Gallo, Empire The Musical
Stephen Gifford, The Hunchback of Notre Dame
John Iacovelli, Amadeus
Christopher Scott Murillo, Dogfight
Michael Yeargan, The King and I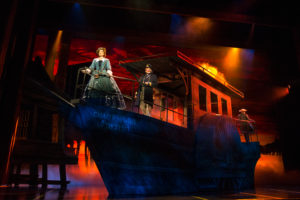 The King and I (photo by Matthew Murray)
BEST PROJECTION DESIGN
Tesshi Nakagawa and Vern Yonemura, L.A. Now and Then
David Gallo and Brad Peterson, Empire The Musical
Aaron Rhyne, A Gentleman's Guide to Love & Murder
Howard Werner, Dreamgirls
Nicholas Santiago, The Search for Signs of Intelligent Life in the Universe Revisited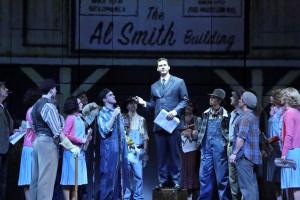 Empire The Musical (photo by Michael Lamont)
BEST LIGHTING DESIGN
Ken Billlington, Dreamgirls
Lap Chi Chu, Amadeus
Thomas S. Giamario, Return to the Forbidden Planet
Donald Holder, The King and I
Charlie Morrison, Disney The Little Mermaid
Philip S. Rosenberg, A Gentleman's Guide to Love & Murder
Jared A. Sayeg, The Hunchback of Notre Dame
KC Wilkerson, Dogfight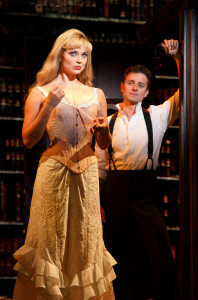 A Gentleman's Guide to Love & Murder (photo by Joan Marcus)
BEST COSTUME DESIGN
Angela Balogh Calin, The Imaginary Invalid
Linda Cho, A Gentleman' Guide to Love & Murder
Amy Clark & Mark Koss, Disney The Little Mermaid
Mary Froehlich, The Hunchback of Notre Dame
Paula Higgins, The Search for Signs of Intelligent Life in the Universe Revisited
Alex Jaeger, Amadeus
WillIam Ivey Long, Dreamgirls
David Kay Mickelsen, The Real Housewives of Toluca Lake The Musical
Taylor Moten and Steve Troop, Alien Vs. Musical
Michael Mullen, The Boy From Oz
Leah Piehl, Hedda Gabler
Catherine Zuber, The King and I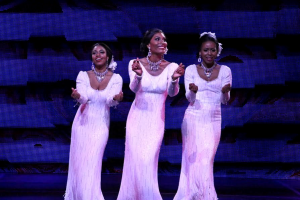 Dreamgirls (photo by Michael Lamont)
BEST SOUND DESIGNx
John Bessom, The Hunchback of Notre Dame
Ryan Brodkin, Dogfight
Jonathan Burke, Return to the Forbidden Planet
Julie Ferrin, Disney The Little Mermaid
Ken Sawyer, The Search for Signs of Intelligent Life in the Universe Revisited
Darron L. West, Amadeus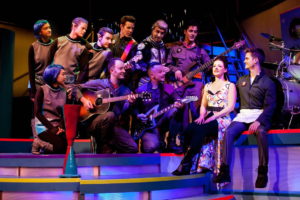 Return to the Forbidden Planet (photo by Ronnie Slavin)
BEST ENSEMBLE PERFORMANCE
Stephanie Noel Garrison, Natalie Mitchell, Hamish Sturgeon, Randy Vasquez, Closer
Kevin Bailey, Katheryne Penny, Valerie Perri, Adam von Almen, Closer Than Ever
John Allee, Gigi Bermingham, Bill Brochtrup, David DeSantos, Abigail Marks, Adam J. Smith, Joanna Strapp, Cloud 9
Mark Bramhall, Tannis Hanson, Michael Knowles, Nan McNamara, Rory Patterson, Maurie Speed, Lauren Thompson , Stephen Van Dorn, Dancing at Lughnasa
Hunter Garner, Rob Nagle, Deborah Puette, Rachel Seiferth, Please Don't Ask About Becket, Electric Footlights
Sam Anderson, Allison Blaize, Taylor Gilbert, Philip Orazio, The Play About the Baby
Anita Barone, Jenna Coker-Jones, Cynthia Ferrer, Marc Ginsburg, Meredith Patterson, Adrienne Visnic, The Real Housewives of Toluca Lake The Musical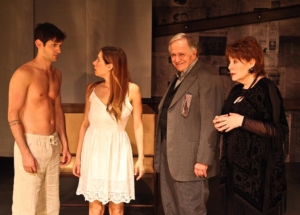 The Play About the Baby (photo by Michele Young)
JOHN RAITT AWARD FOR BEST CABARET PERFORMANCE
Peisha McPhee and Sergiu Tuhutziu, Chopin to Broadway, Catalina Bar & Grill
Adriana McPhee, Let's Fall in Love, Rockwell Table & Stage
John Boswell, Carly Bracco, Amy Gillette, Marc Ginsburg, Bruce Kimmel, Maegan McConnell, Jenna Lea Rosen, Samantha Rosenberg, Carly Shukiar, Sami Staitman, Robert Yacko, Take Me to the World, Kritzerland at Sterlings Upstairs at the Federal
Richard Allen,Paige Befeler, Roger Befeler, Brittney Bertier, Jenna Gillespie, Kim Huber, Bruce Kimmel, Hadley Belle Miller, Cathy Rigby, Nick Tubbs, Times Like This, Kritzerland, Sterlings Upstairs at the Federal
Roger Befeler, Will Collyer, Bill Hayes, Bruce Kimmel, Sierra Morgan, Alby Potts, Jenna Lea Rosen, Samantha Rosenberg, Christina Saffran, Sami Staitman, When Rodgers Had Hart, Kritzerland at Sterlings Upstairs at the Federal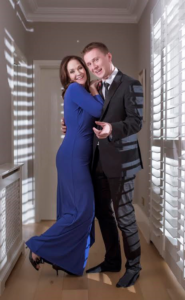 Peisha McPhee and Sergiu Tuhutziu (Alecsandra Dragoi Photography)