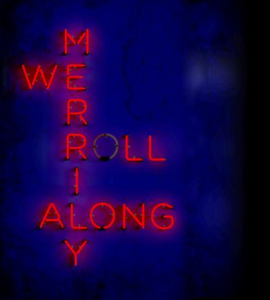 Merrily We Roll Along has always been considered a "problem musical" as well as one of the biggest Broadway flops for composer Stephen Sondheim. The original 1981 production did its out of town tryout on Broadway (running through 52 previews which included a change in leading man as well as choreographer and a change that had the characters' names imprinted on their sweatshirts to help the audience keep track of who was who since they were all dressed alike) before opening, receiving mostly negative reviews and closing after a mere 16 performances. The book by George Furth was based on a Kaufman and Hart play with the same title from 1934. The story followed three friends backwards from 1980 to 1957 and from their bitter, disillusioned middle aged lives to their young, hopeful beginnings. Blame was assigned to the book—too confusing with its backward storytelling, to the casting—young performers weren't able to convey the middle aged angst of the characters, to the direction by long time Sondheim collaborator Hal Prince. No one assigned blame to the composer and the score remains one of his most intricate yet beloved works. But the show would not stay dead—original cast member Lonny Price has just released a documentary—Best Worst Thing That Ever Could Have Happened—about that original production. I was lucky enough to see the L.A. Premiere of the show at the Roland Dupree Dance Studio on Third Street in 1983. Helmed by first time director Bonnie Hellman and featuring a talented troupe of performers, led by Michael G. Hawkins, David Eric and Linda Nichols, who were more age appropriate and able to play 40 as well as 20, the show was a smash hit, playing for nearly six months and winning several awards.
Sondheim and Furth, working with director James Lapine, did a major revision of the show at the La Jolla Playhouse in 1985 and other changes to the book and score have been made over the years as the show has received productions off-Broadway, in London, at Washington's Kennedy Center and other theatres around the country. But the revisions are what this reviewer finds to be an even bigger problem with the show. Gone is the envelope of the high school graduation in which the now unsuccessful film producer/former composer/former valedictorian Franklin Shepherd advises the students to compromise their dreams, to sell out and they angrily reproach him. That causes him to start the flashbacks through his life and friendships until he realizes what he has lost and in the original denouement caused him to decide to find the two friends who meant so much to him and that he had abandoned. Most productions now have Franklin sitting at a piano, staring at a vase of flowers and then remembering his past. Without that sense of redemption, we are now left knowing these plucky young kids on the rooftop are going to end up as bitter drunks and philandering husbands and basically friendless.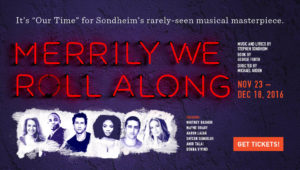 In the latest revival. in the Bram Goldsmith Theater of Beverly Hills' Wallis Annenberg Center for the Performing Arts, director Michael Arden has tweaked the show enough to give it a bit more clarity and hopefulness. The show begins with the fortyish Franklin (Aaron Lazar) coming up the stairs to that symbolic rooftop (?) and as he enters the mist or fog of memory he begins to see his life in scenes from the past. He's a viewer as well as a participant and this concept is aided by Dane Laffrey's mirrored scenic design along with the exposed lighting grid giving it a very theatrical look. Arden also keeps his non-participants in a scene on stage watching the action. And in the finale, the always glorious "Our Time," Franklin looks at that youthful trio with a sense of understanding and renewed hope. At least that is this viewer's interpretation.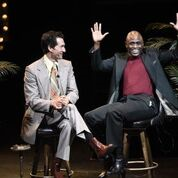 Aaron Lazar and Wayne Brady (photo by Dan Steinberg)
Arden has done a great job of casting. His actors easily portray their older, bitter selves as well as being able to youthen and play livelier. The singing voices are strong and become angelic when the chorus joins in such numbers as the oft repeated title song. Arden's insightful direction also has made the book come across stronger as his cast fleshes out their characters, giving them the depth they need. I have seen many productions of the show in the past three decades and this is by far the best since that memorable 1983 production. Lazar carries the show and although he really doesn't have a standout solo, he is an integral part to many of the show's songs. Wayne Brady is really a marvel as Franklin's best friend and lyricist Charlie. He provides many shadings to his character and his live TV interview nervous breakdown "Franklin Shepard, Inc" is a highlight. Donna Vivino is a real find as Mary, a key part of the trio of friends, whose unrequited love for Franklin is heartbreakingly revealed first in "Like It Was" and then devastating reshown in the second act reprise of "Not a Day Goes By." That song is knocked out of the park in Act One by Whitney Bashor as Beth, Franklin's first wife. Saycon Sengbloh gives strong support as Broadway star and husband stealer Gussie Carnegie. She and Lazar really strike sparks in the seductive "Growing Up." The score sounds amazing as played by twelve piece band under the baton of Matt Gould and musical direction by Adam Wachter.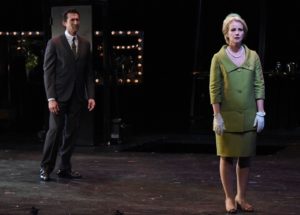 Aaron Lazar and Whitney Bashor (photo by Kevin Parry)
Although Arden has done some amazing work with this problem show, not all his ideas work all the time. He has created younger versions of the three leads (Max Chucker, Doran Butler and Jennifer Foster) and have them dancing around the main trio during some scenes and transitions until they finally replace their elder selves on that fabled rooftop for the final choruses of "Our Time." They really don't seem to serve much of a purpose except to hire choreographer Eamon Foley for a decidedly non dance musical. They actually become more annoying as the show progresses. There are also some times when it is not really plausible for Franklin's memories to help him change costumes (well down period designs also executed by Laffrey) during transitions. But these are minor quibbles in a really strong production that brings this marvelous score to a new audience.

Wallis Annenberg Center for the Performing Arts, 9390 N. Santa Monica Blvd. in Beverly Hills. Ends Dec. 18. 310-746-4000 or www.thewallis.org.