Billy Strayhorn was a jazz composer, pianist, lyricist and arranger best known today for his work with the Duke Ellington Orchestra and for his influence on the career of the legendary Lena Horne. He composed "Take the 'A' Train," which became Ellington's theme song, and the bluesy ballad "Lush Life." Small in stature but large in talent, Strayhorn was usually overshadowed by the larger personalities around him. As a young gay man in Pittsburgh, he was physically abused by his father. He met Ellington, impressed him with his arrangements, ended up moving to New York and working with Ellington for nearly 30 years. He and Lena Horne had a passionate, loving yet platonic relationship. She knew he was gay and living with a lover, pianist Aaron Bridgers, but Horne repeatedly asked Strayhorn to marry her and he always graciously turned her down. All of this and much more is dramatized in Carole Eglash-Kosoff's new and very lush musical biography of Strayhorn, When Jazz Had The Blues, receiving its World Premiere at the Matrix Theatre.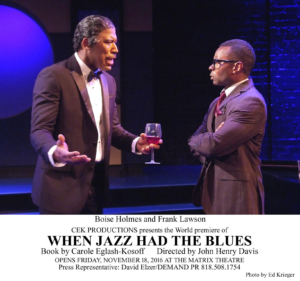 The playwright has packed a lot into her 17-scene, two hour plus show, directed at a swift and sure pace by John Henry Davis. There is a five piece on stage band led by musical director Rahn Coleman that really makes all the big hit songs sound new and fresh. The strong cast really sells the numbers as well as the dramatic scenes. They are all wonderful singers and really give these songs the delivery they deserve. Frank Lawson is the heart of the show as the diminutive Strayhorn, luxuriating in his silk shirts and the openness of his love for his man, while chafing at the lack of recognition he receives from his mentor Ellington. Boise Holmes is a commanding presence as Ellington and it is easy to see why people give in to him so easily. Gilbert Glenn Brown brings a quiet strength to his role as Bridgers. All three men also spend time tinkling the keys of the baby grand piano and augmenting the jazz quintet.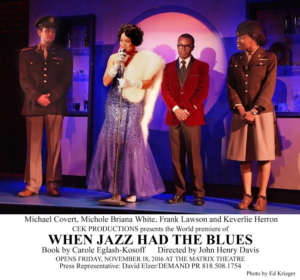 The standout and true star power of this production is Michole Briana White in the role of Lena Horne. She is the center of attention even when she is merely quietly sitting in a chair off on the sidelines. Her acting is top notch and her singing is even more so. And she wears Michael Mullen's costumes, especially the furs, as if she was born in them. Katherine Washington adds some much needed comic relief as Trixie, Elllington's long suffering mistress. The other six cast members play a variety of characters and add background vocals as well as knocking out Cassie Crump's really lively choreography (especially Darian Archie, Keverlie Herron and Chris Smith).
As was probably true in real life, Strayhorn is overshadowed by Ellington and especially by Horne in this storytelling. In a very forceful scene, Horne's civil rights activist comes to the fore during a WW II USO tour. Her Hollywood career troubles are brought to the forefront as is her marriage to MGM music honcho Lennie Hayton, a white man she had to marry in Paris in 1947 because of the ban on interracial marriages in most of the USA at the time. But Horne's story has already been well told in Stormy Weather, a musical biography that starred Leslie Uggams and played the Pasadena Playhouse in 2009.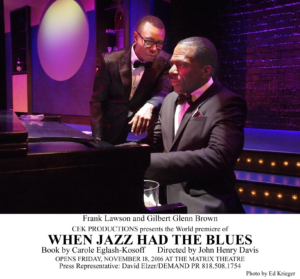 Even though I really enjoyed spending time with this talented cast, I feel like this show should come with a disclaimer—Based on a true story but liberties have been liberally taken to tell it. For some reason, the playwright starts the action in 1935 with Strayhorn first meeting Ellington when the official Strayhorn website sets the meeting in 1938. There are other such time warps in the tale, the most noticeable being Horne's receiving news on New Year's Eve 1955 that she lost the role of Julie to Ava Gardner in the film Show Boat, when MGM actually released the film in 1951. The Broadway musical Ellington and Strayhorn collaborated on, Beggar's Holiday, actually opened on December 26, 1946 and had a fairly decent run of 111 performances. It did not close overnight in the Spring of 1945 as depicted here and the big splashy production number shown here, "It Don't Mean a Thing," was not even in the score. Eglash-Kosoff deserves kudos for presenting an honest and loving gay relationship that is accepted and acknowledged by Strayhorn's peers. You should really see When Jazz Had The Blues for the music and the performers, just don't expect to get an accurate history lesson.

Matrix Theatre, 7657 Melrose Ave. in West Hollywood. Ends Dec. 18. 323-960-77756 or www.plays411.com/jazzblues