I have always been fond of Irish playwrights from Oscar Wilde's wicked wit to George Bernard Shaw's political take on the battle of the sexes. It's the whimsical Irish with their gentle and/or raucous tales of opposites attracting and striking romantic sparks that resonate most with me. From John Millington Synge's The Playboy of the Western World which premiered in 1907 to John Patrick Shanley's more recent Outside Mullinger and including Brian Friel's bittersweet plays Dancing at Lughnasa and Translations and even factoring in Brendan Behan's The Hostage, the Irish are a lovable and loving part of humanity. Add playwright Christian O'Reilly to that list with his gentle 90 minute two-hander Chapatti, currently on stage at the Laguna Playhouse.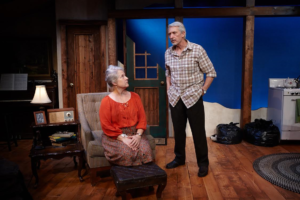 Annabella Price and Mark Bramhall (all photos by Aaron Rumley)
Dan is a lonely man who lives with his dog, a mongrel terrier he named Chapatti after the Indian flat bread he used to feed it when they first met. Dan visits the vet regularly, not because Chapatti is in ill health, but because Dan misses human contact. He visits the grave of his recently departed loved one daily and has decided to join her. He packs up his belongings in big garbage bags and posts an ad to find Chapatti a new home. One day at the vets he runs into Betty, a widowed woman with 19 cats, including the nine kittens she drops on the vet's floor when Dan bumps into her. Betty takes care of an elderly woman whose only reason for getting out of bed every day is to feed and care for her 16 year old cat Prudence. Betty and Dan keep bumping into each other frequently as a series of pet adventures and misadventures draw them together. Again I don't want to spoil the play's surprises by giving a blow by blow of the plot points. Suffice it to say you will gently laugh and be enveloped by the warmth provided by these two sweet, charming Irish characters as they navigate their way through life.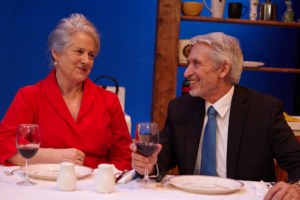 Annabella Price and Mark Bramhall
Mark Bramhall and Annabella Price shine in the roles of Dan and Betty. The first third of the play is told mostly in monologues and these two skilled actors draw you into their world and captivate you with their characterizations under the unobtrusive direction of David Ellenstein. Bramhall's character has the biggest transitions to make and he effortlessly accomplishes his task. Price has an infectious laugh and you can't help but smile at Betty's cheerful demeanor. These two actors are so consummate at times you can almost see a gaggle of pets on the stage with them. Marty Burnett has devised a clever set that encompasses their separate homes as well as an easily combined playing space.

Laguna Playhouse 606 Laguna Canyon Rd. in Laguna Beach. Ends Jan. 29. www.lagunaplayhouse.com or 949-497-2787.