There are just a few two-handers in theatre that feature two women of a certain age talking and bonding over the similarities and/or differences in their lives. John Ford Noonan's A Coupla White Chicks Sitting Around Talking clearly states its purpose. Jack Heifner's Patio/Porch is two one-acts about Texan women—sisters in Patio and a mother and daughter duo in Porch. But in both cases the women were given life by a male playwright. Now young, female playwright Jen Silverman has added her The Roommate to the canon. Martin Benson has skillfully directed his two formidable actresses in a very funny yet touching, fast-paced 100 minute play on the Julianne Argyros Stage at South Coast Repertory.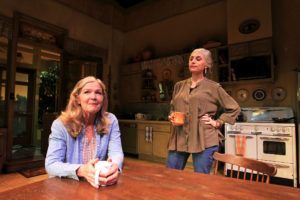 Linda Gehringer and Tessa Auberjonois share coffee
(all photos by Debora Robinson)
Sharon is a 54 year old divorcee who is having trouble living alone in her big house in Iowa City. Her not-gay clothing designer son has fled the small Midwestern town for the bright lights and busy lifestyle of New York City and her constant phone calls can't get him to visit or agree to have her visit him again. She rarely leaves the house except for the weekly meeting of a book reading group and to shop for groceries. Her ad for a roommate has resulted in Robyn moving to Iowa from the scary confines of the Bronx. Robyn, a vegan as well as a lesbian, is estranged from her daughter and hoping to make a break from her life of petty crime in the big city. Little by little Sharon unearths Robyn's past adventures in scamming seniors, stealing cars, selling pot, etc. Instead of being shocked and outraged, Sharon is increasingly intrigued and asks for details, even lessons. Silverman's play takes a lot of unexpected and surprising twists and turns and I don't want to deny you the pleasure of discovering them yourself. Suffice it to say you will be laughing a lot.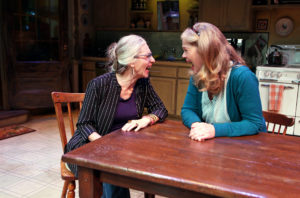 Tessa Auberjonois and Linda Gehringer share a laugh
Tessa Auberjonois has grace and charm and steadfastness to her Robyn. She isn't the typical lesbian or pothead stereotype. She is a fully realized character both in the writing and the performance. Linda Gehringer is an absolute delight as Sharon and she has you on her side from the opening moments. You watch in glee as Sharon giddily gives her boring, staid life over to new experiences, from drinking almond milk and smoking medicinal herbs to ever escalating misadventures. The two women are a great team and it is an absolute joy to watch them slowly reveal their similarities and embrace their differences. John Iacovelli has designed the very detailed and spacious kitchen setting for the action. This might be The Roommate you were looking for to spice up your quiet life.

South Coast Repertory, 655 Town Center Dr. in Costa Mesa. Ends Jan. 22 www.scr.org or 714-708-5555.