33 Variations starring Jane Fonda appeared on Broadway in 2009 and played the Ahmanson Theatre in 2011. Now Actors Co-Op in Hollywood is offering the area's first intimate production. In 1819 Vienna, music publisher Anton Diabelli (Stephen Rockwell) composes a short innocuous waltz and invites 50 of the greatest living composers of the time to write a variation of his work. He plans to publish a book, boasting the work of not one famous composer, but 50. German composer Ludwig Van Beethoven (Bruce Ladd) at first says no to this invitation, even though he is in desperate need of money. But soon he becomes intrigued with the tune and suggests he would write seven or eight variations on the waltz. His friend and assistant and later biographer, Anton Schindler (John Allee) negotiates a deal with Diabelli because the maestro is not only out of money, but out of paper and ink. Over the next three years Beethoven composers his Mass as well as his Ninth Symphony and is so obsessed with the variations he ends up composing 33 of them including a march, a fugue, a polka and an elegant version of the waltz. At the same time Beethoven completely loses his hearing and is evicted from residence after residence.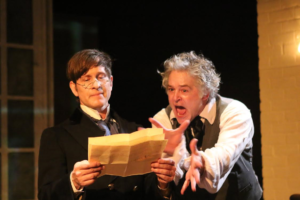 John Allee and Bruce Ladd (all photos by Lindsay Schnebly)
In the present day, New York musicologist Dr. Katherine Brandt (Nan McNamara) has decided to devote her time completing her next monograph on the reason behind Beethoven's variations. Brandt has been diagnosed with ALS and is racing the clock as her own body begins to atrophy. Against her estranged daughter Clara's (Greyson Chadwick) wishes, Katherine goes to Bonn, Germany to study the original music sketches at the Beethoven Library. There she meets the cold and officious Dr. Gertrude Ladenburger (Treva Tegtmeier) who considers herself the special custodian and guardian of Beethoven's papers. Katherine is disappointed in her daughter's ambivalence in finding an appropriate career (former rock band member, current costume designer and future scenic designer). Her new boyfriend Mike (Brandon Parrish) was actually her mother's nurse during a recent exam and even though Clara tries to discourage him, Mike doggedly pursues her. As the young couple become closer, they end up joining Katherine in Bonn where she hopes to complete her work before her body shuts down completely.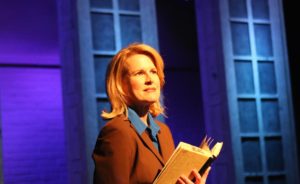 The incandescent Nan McNamara
Moises Kaufman has written a masterful tale of obsession and relationships, about illness and divine inspiration. The play unfolds in 33 scenes and features a live pianist playing many of Beethoven's variations to underscore both the composer's fight to create the work and the professor's work to unearth the truth behind the mystery. There are moments of sheer brilliance in the writing, often nearly musical in tone. There is also much humor as well as raw emotion. Thomas James O'Leary has done a splendid job of directing his septet of actors. McNamara truly dominates the piece, etching a heartbreaking performance. The further Katherine is compromised by her illness, the more McNamara takes on an incandescent glow, as if lit by a heavenly source. Ladd skillfully creates a portrait of a majestic genius who is driven by his art. Great support is given by the other cast members. Tegtmeier's Gertrude becomes a close confidant and a rock that Katherine really comes to rely on. Allee provides the same support and encouragement to his master, Beethoven. Chadwick and Parrish make a very believable young couple, feeling their way through a new relationship while dealing with a parent's illness. Rockwell is solid as Diabelli.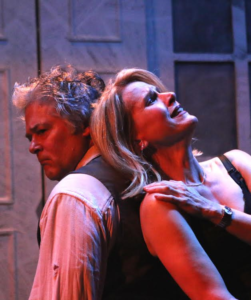 Bruce Ladd and Nan McNamara
Nicholas Acciani provided the wonderfully simple yet very effective set design and his projections are integral to the mood. Dylan Price tinkles the piano's keys with assured aplomb. If you have never seen 33 Variations, don't miss this production. If you have seen previous productions of 33 Variations, you owe it to yourself to witness this intimate and very touching production.

David Schall Theatre, 1760 N. Gower Ave. in Hollywood. Ends March 19. 323-462-8460 or www.actorco-op.org.