Oscar Levant was a pianist, composer ("Blame It On My Youth"), actor (An American in Paris & The Band Wagon for starters), television personality (talk and quiz shows) and professional neurotic with an acid tongue and a quick retort for everything and everybody, including himself. Stan Freeman memorably brought Levant to life in 1989 at the Coronet Theatre in Joel Kimmel's one-man play At Wit's End. Now Dan Castellaneta has written a new play about Levant, For Piano and Harpo, which is receiving its World Premiere at the Falcon Theatre in Burbank. Such famous quotes as "I knew Doris Day before she was a virgin" keep the audience in stitches but Castellaneta delves beneath the fake tinsel of Levant's life to show the real demons that beset the genius. The action switches back and forth from an appearance on The Jack Paar Show in 1962 to Levant's stay in the Mt. Sinai psych ward in 1956 to his sojourn in Hollywood in 1935 when he was a constant guest at Harpo Marx's rented mansion. Director Stefan Novinski's seamless direction keeps the action moving smoothly between eras with the aid of his talented cast of actors who morph into a multitude of characters from disapproving parents to show biz celebrities like Fanny Brice and Dorothy Parker to fellow psych ward patients.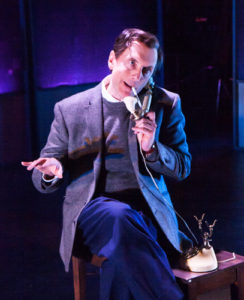 Dan Castellaneta as Oscar Levant (all photos by Sasha A Venola)
Playwright Castellaneta takes on the leading role of Levant and is never off stage as he is the ringmaster of his own mad circus of memories. He has Levant's mordant wit down perfectly but also shows us the scarred and scared man beneath the self-deprecating bravado. His taskmaster father was at the root of his neurosis but his sensitive nature made him averse to such everyday items as roses and lemons. He actually came up with a list of items that were not to be shown to him and a list of words never to be spoken in his presence. He presented such a list to the butler when he stayed with his friend Harpo Marx in Hollywood. It was during this time that Levant met June Gale who he would court until she finally gave in and married him. It was June who had Oscar committed to Mt. Sinai in 1956 after, in one of his drug addicted rampages, he nearly strangled her with his strong pianist hands.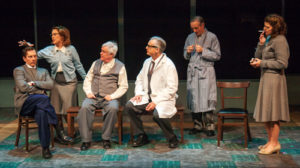 Levant and other patients in a group therapy session
Group therapy is no place for someone with an ego as large as Oscar's and instead of contributing to the sessions, Oscar's vicious humor causes even more disturbances among the patients. Oscar is lucky that his roommate Charlie is a trauma induced non speaker, leaving Oscar to carry on both sides of the conversation. Charlie also keeps Oscar supplied with drugs until the doctor and staff finally force him to go cold turkey. Oscar finally realizes that listening and helping others is a way to heal his own demons.

Going cold turkey brings on hallucinations of his fears
Castellaneta does a masterful job of conveying the full range of Oscar's moods. Strong support is given by JD Cullum doing double duty as Harpo and Charlie. Deb Lacusta, Gail Mattius, Phil Proctor and Jonathan Stark inhabit a bevy of roles with a minimum of effort. They are a stellar ensemble. David O and Jillian Risigari-Gai are the pianist and harpist playing for Oscar and Harpo throughout the show. For Piano and Harpo is a laugh-filled, angst-filled evening highlighting the genius of a nearly forgotten Hollywood legend. Treat yourself to it.

Falcon Theatre, 4252 Riverside Dr. in Burbank. Ends Mar. 5. www.falcontheatre.com or 818-955-8101.