Hallelujah, Baby! is probably one of the least known Tony Award winning musicals of all time. The show opened on Broadway in April, 1967 and closed 293 performances later in January, 1968, more than three months before the Tony Awards were given out. In today's Broadway, the show would be lucky to get any nominations at all after closing so early. Yet besides Best Musical, the show won three more awards for its score, leading lady and female featured performance. It was a turbulent period with the anti-war protests, civil rights protests, the official launch of the women's lib movement and more. Dr. Martin Luther King was assassinated a few weeks before the Tony Awards were presented. It's easy to see how Hallelujah, Baby! could have been Broadway's way of contributing to the social movements of the time. On Sunday, February 12, Musical Theatre Guild presented a staged concert production of the show at Glendale's Alex Theatre to honor its 50th Anniversary. Original star Robert Hooks was in the audience along with the show's choreographer Kevin Carlisle as well as Freda Payne, understudy to the show's star Leslie Uggams.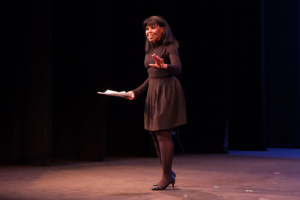 Sharon Catherine Brown (all photos by Stan Chandler)
The show, created by some of the theatre's biggest names of the time—composer Jule Styne, lyricists Betty Comden & Adolph Green and librettist Arthur Laurents–was an odd duck then and still is today. As carefully explained in Laurents' script, the leading character of Georgina (Sharon Catherine Brown) is 25 give or take and stays that age as the show progresses through 50 years of the Black Experience in America, starting in the 1910s. Georgina isn't satisfied to shuffle about and mop the floors like her Momma (Carol Dennia) for their white employers (embodied by Kelly Lester). She wants more and finds it when aspiring theatre impresario Harvey (Damon Kirsche) hires her to play a maid in the local theatre he manages. Momma and Georgina's boyfriend Clem (Trevon Davis) don't think much of the idea.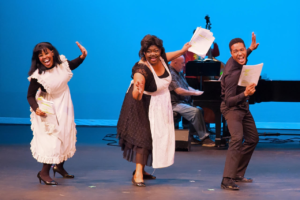 Sharon Catherine Brown, Carol Dennis and Trevon Davis
The show follows its characters through the stock market crash, breadlines and the WPA Federal Theatre Project, World War II and the beginning of the Civil Rights Movement. Along the way Clem dabbles in the communist party of the 1930s before becoming an activist in the 1950s. Harvey is a color blind liberal throughout and he also professes his love for Georgina who can't seem to decide between the two men in her life. On the way Georgina experiences racism in subtle and not so subtle ways like when she has to perform her USO show in Georgia twice, once for the white soldiers and once for the Negro soldiers. Momma is the voice of experience and common sense throughout. Even in the show's final decade, the 1960s, Georgina needs the help of a lawyer and Harvey to move into an all-white building in NYC with a great view of the river.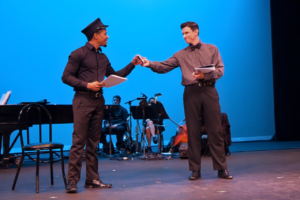 Trevon Davis and Damon Kirsche
Laurents' book is still pithy and spot on in its examination of race relations in the USA. The score varies from gospel and jazz to anthems and ballads, well played by Musical Director/pianist Gerald Sternbach leading a five-piece band. Director Gerry McIntyre keeps the action moving smoothly and clearly through all the various moods and periods of the show. The cast is in fine voice starting with Ms. Brown who easily belts out the act one closer, "Being Good Isn't Good Enough" after joyously envisioning a better life for herself in "My Own Morning" and leading the lively title tune dance number. Ms. Dennis steals her every scene as the "don't mess with me" Momma who has seen it all and ain't having any of it. Mr. Kirsche gives a lovely, nuanced performance as Harvey, but his good intentions don't always bring good results. Bringing shows like Hallelujah, Baby! to today's audiences is why Musical Theatre Guild is such a precious jewel in our local theatre scene.

Next up for MTG–Rodgers & Hammerstein's State Fair at the Alex Theatre in Glendale on May 7. www.alextheatre.org or 818-243-ALEX.