Well, dear readers, Kritzerland at Sterling's 74 was a wonderful show in every way. The kids stepped up to the plate and each one of them hit it out of the park. The most impressive thing for me personally was to see how they'd all addressed the notes from the stumble-through, and how much they'd all improved their already excellent performances. Too many highlights to go into any kind of detail, really, but little Hadley Miller stopped the show cold with Tchikowsky (and Other Russians). Sami Staitman really was terrific, Jenna Lea Rosen was her usual great self, Hayley Shukiar got a huge ovation for her opening number, Alexa Giraudon, Mackenzie Wrap, and Carly Shukiar did a beautiful job on my song Three Friends, as did Oliva Knox and Emilie LaFontaine on my song pals. Brooke Besikof and Jaidyn Young socked home their songs, Sam Herbert, our long boy, did a great job on his numbers, and Mandy Wolf did her grandpa proud (her grandpa being Richard Sherman) singing a Sherman Brothers song. Richard Allen did a fine job at the piano, and I don't believe we had one lyric flub. We were sold out, too. I am thankfully used to the audience for the young people show – a lot of my dry humor doesn't land as well as it does with our theatre savvy audiences – it used to freak me out, but now it doesn't bother me at all. In fact, there was a pocket of people in the middle of the room who were consistently laughing at all those kinds of jokes.
Aside from the Shermans, Kay Cole was with us, as was Lanny Meyers, plus several of our regulars, including Lydia Geissman with Grant's mom, neighbors Tony Slide and Bob Gitt. Several of our regulars run for the hills when we do this show – that is, of course, their loss. There's really little difference in the all young person show – the material is very adult and the usual Kritzerland fare – rare songs, classics, but nothing actually pandering to kids. Anyway, I could not have been more pleased and now onward to March and Rupert Holmes. Here's our merry troupe. Left to right it's Richard Allen, Alexa Giraudon, Mackenzie Wrap, Jaidyn Young, Emilie LaFontaine, Mandy Wolf (in the back), Brooke Besikof, Hayley Shukiar, Li'l Ol' Me, Sami Staitman, Hadley Miller, Jenna Lea Rosen, and Olivia Knox.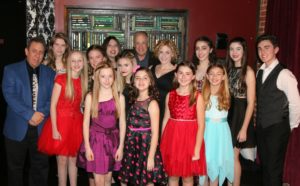 And here's Sami, me, and Jenna.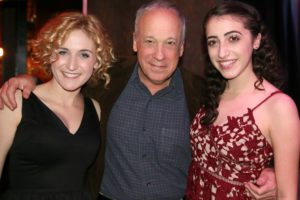 Prior to that, I was up at eight-thirty after seven hours of sleep but just stayed in bed doing stuff on the iPad until about ten-thirty. Once up, I answered e-mails and had some telephonic calls, then just relaxed until it was time to leave for sound check and the show.
After the show, some of us went to Little Toni's. I had my usual salad and sandwich. Then I came home to a really nice e-mail from proofer one, our very own JohnG. I'll let him tell you how he felt about the book, which, at least in the e-mail, didn't have any spoilers. So, I think there are only about four things that I need to discuss with Muse Margaret – the rest are very simple fixes – commas, typos, etc.
Today I have a noon o'clock meeting with Kay Cole. After that, I'll hopefully pick up some packages, but other than that I am taking the day off and no one can tell me otherwise. Tonight I'm seeing Witness for the Prosecution over at the Group Rep.
Tomorrow and Sunday, it's just planning the rest of the Rupert Holmes Kritzerland show and relaxing. Next week there are quite a few things happening, including getting the LACC Indiegogo campaign up on Monday morning.
Well, dear readers, I must take the day, I must do the things I do, I must, for example, have a meeting, eat, hopefully pick up some packages, relax, and see a play. Today's topic of discussion: It's Friday – what is currently in your CD player and your DVD/Blu and Ray player? I'll start – haven't a clew. Your turn. Let's have loads of lovely postings, shall we, whilst I hit the road to dreamland, happy to have had such a wonderful Kritzerland at Sterling's 74.