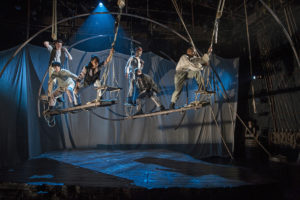 Sailors in the whaling boats (photo by Liz Lauren)
Has there ever been a work of classic literature, something that was on the reading list at your high school or college? Something you meant to read, maybe even started to read, but gave up soon into it? Well more and more classic literature is finding its way to the stage, often in musicals such as Les Miserables. James Joyce's The Dead has a stage version so his Ulysses is not out of the question. Now you can safely say "I always meant to read that but I've seen it on stage and really liked it so I can cross it off my "must read before I die" list. I can now take Herman Melville's Moby-Dick off my list. South Coast Repertory is presenting adapter/director David Catlin's and Chicago's The Lookingglass Theatre Company's production of Moby Dick (the hyphen got lost in the adaptation). The result is an amazingly theatrical telling of Captain Ahab's maniacal hunt for the great while sperm whale that had taken his leg in an earlier encounter. Melville's book was published in 1851 and embellished an actual event that happened to the whaler Essex and its crew in 1820. The novel has been adapted or represented in art, film, books, cartoons, television, and more than a dozen versions in comic-book format over the years. The most famous being the 1956 John Huston film version with a script by Ray Bradbury but there was also a silent film version in 1926 which starred John Barrymore as an Ahab that kills the whale and returns home to marry his fiancee.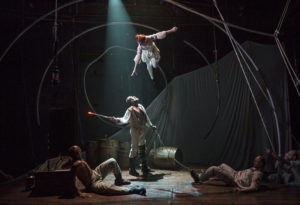 Captain Ahab and crew experience St. Elmo's Fire (photo by Liz Lauren)
Catlin has condensed Melville's 800 plus pages into a two-and-a-half hour piece of theatre and tells the tale in true Story Theatre style which is very effective. But the tech rules the day. Courtney O'Neill's spare scenic design adapts to many locales and provides the platform for much action. William C. Kirkham's lighting design and Rick Sims's sound design/composition is stellar. The aerial/acrobatic choreography by Sylvia Hernandez-DiStasi is reminiscent of Cirque du Soleil at times—artfully conveying the feel of the small whaling boats hunting their prey, a typhoon, a drowning, St. Elmo's fire and more. Sully Ratke's costume design is an imaginative blend of period and fanciful, including a skirt that unravels to become the ocean's waves, and hoop skirts join together to give the image of a whale. It's a stunning piece of theatrical magic, especially the second act which is almost non-stop spectacle. Catlin's direction skillfully blended all the various aspects into an unique whole.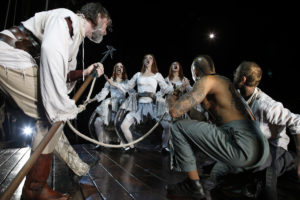 Captain Ahab faces the great white whale Moby Dick (photo by Debora Robinson)
The play gets off to a slow start, introducing the characters and making preparations for a three year expedition to sail the seas, kill whales and extract their precious stores of oil and whalebone. The shy Ishmael (Jamie Abelson) has set himself up to have an adventure by going to sea and it begins when he shares a room at an overbooked inn with the exotic Queequeg (Anthony Fleming III). At first wary of each other, they soon become comrades and seek out the Pequod and meet its varied crew, including First Mate Starbuck (Walter Owen Briggs). Christopher Donahue is madness personified as Captain Ahab. There are three women in the cast (Kelley Abell, Cordelia Dewdney and Kasey Foster) who provide a lot of the atmosphere of the piece, playing everything from the Fates to widows to whales as well as providing an eerie and haunting musical undertone to the proceedings. Don't miss sailing on this theatrical ride!


South Coast Repertory, 655 Town Center Dr. in Costa Mesa. Ends Feb. 19. www.scr.org or 714-708-5555.