Well, dear readers, I had a kind of funny posting exchange yesterday on the Facebook with someone named Quentin Tarantino who, so he says, is a fan of both my movies and my work on The Partridge Family. Isn't that funny? Who knew such a thing? Certainly not me. Certainly not I. So, that was fun. Here are some other fun things that happened yesterday. I got eight hours of sleep. I went to the ENT, who vacuumed my ears and then got a glob of guck that had gone down right onto my eardrum. It's still not quite up to snuff, but he said that might take a day. It definitely feels much less clogged than it did and I'm hearing music just fine.
We got good news on a Kritzerland CD project, so we're trying to get that on the fast track. I ate half of the tuna pasta salad, eight glorious ounces of it. I had the last of the See's candy (I believe I ate four ounces per day), and I continue to take all my preventatives so that I hopefully will not get sick.
There was a bit of miscommunication about the piano tuner, so he's actually coming today. Otherwise, I did work on the computer, began to get the packaging ready for this Kritzerland CD project that just got approved, which requires yet another set of liner notes. I had several telephonic calls throughout the day and evening, I listened to some music for the first time since the ear thing happened on Saturday, and I even sat on my couch like so much fish and closed my eyes for a while.
What I did not do is watch any motion pictures on Blu and Ray or on the Flix of Net. I just relaxed. I didn't do much of anything. I did read through the commentary, which is actually pretty good, I of course futzed and finessed, I took a hot shower, and that was about it.
I think we're just a few seats shy of selling out the Kritzerland show, so that's very comforting. I'm so looking forward to Rupert being here and I think this show will be quite unique for us. Oh, also got word that the new book went through content evaluation in less than an hour, so it's with the design team now and I really should see covers and galley next week. Once that happens, everything should proceed apace to getting books here.
Today, I must do a Costco run, I must have a piano tuned, I must hopefully pick up some packages, I must eat the other half of the tuna pasta salad and no See's candy, I may try to do a jog, and then I'll relax and perhaps watch a motion picture or two.
Tomorrow I'm seeing our very own Sandy Bainum's new nightclub show – going with Doug Haverty and Adryan Russ, and I'm sure that will be a very good time. I don't relish eating a meal there, so I'll forego the relish and perhaps just have some prosciutto and melon. We shall see. Don't know what's what on Saturday, but I believe Sunday is the Academy Awards, so we will, of course, have our Annual Oscar Bash right here at haineshisway.com. What fun we shall have. Then on Monday we begin the busy Kritzerland rehearsal week.
It occurs to me that I never share our show flyer in these here notes. I wonder why? Let's rectify that right this very minute. Here is our show flyer.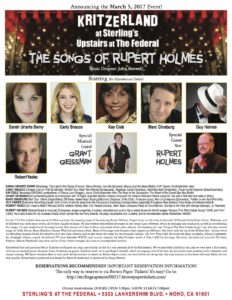 There, we have rectified it, oh, yes, we have rectified it.
Let's all put on our pointy party hats and our colored tights and pantaloons, let's all break out the cheese slices and the ham chunks, let's all dance the Hora and the Black Bottom, for today is the birthday of dear reader Druxy.  So, let's give a big haineshisway.com birthday cheer to dear reader Druxy.  On the count of three: One, two, three – A BIG HAINESHISWAY.COM BIRTHDAY CHEER TO DEAR READER DRUXY!!!
Well, dear readers, I must take the day, I must do the things I do, I must, for example, do a Costco run, I must have a piano tuned, I must eat, I must hopefully pick up packages, I perhaps may jog, and I'll relax. Today's topic of discussion: If you could suggest one Kritzerland show that we haven't done, what would it be? Let's have loads of lovely postings, shall we, whilst I hit the road to dreamland, happy there was a Facebook conversation between Quentin and me.