Well, dear readers, you all know I am one picky person about color in motion pictures. For me, not having correct color is the ruination of a transfer for me (or even a fading or faded print). I don't know why color isn't, for example, as important as sound to devotees of Blu-ray. They will scream if a 1940s movie has a lossy soundtrack, like anyone could tell the difference between it and lossless in a blind listening test – they could not, they'd just be guessing (not talking about modern sound). They will scream if they perceive the ratio is off a millimeter or if the top of hair is cut off at the top of the frame when that's most likely the way the shot was framed. But they will usually not say a word about color. This I will never understand. If a movie is a color film, then the color is part of that film's emotional landscape and is as important as every other element. So, yes, if a movie has off color then I am not involved in the film as I should be, I am at a distance, just as I would be with lousy sound, milky black-and-white, incorrect ratio, or whatever. So, what in tarnation am I talking about exactly? Well, I'll tell you what in tarnation I'm talking about, I'm talking about a motion picture entitled The Boy Friend, that's what in tarnation I'm talking about.
I was so excited when the laserdisc came out, and so disappointed in the color I could barely watch it, even though I was grateful to finally see the longer version. I have a long history with the film. I fell in love with it when I saw it on its opening night at the Picwood Theater in Westwood with not too many people in the audience, and I stayed in love with it on the six or seven subsequent viewings during its brief run there – I kept dragging everyone I knew to see it. Then the DVD of The Boy Friend came out and while it was better, the color was still way off, too brown, and nothing like the eye-popping color the film should have. In fact, I began to doubt my sanity about the color, and feared I'd never be able to have people finally say, "Gee, you were right." Well, I was. I also liked the film less and less with those brown viewings.
I sat on my couch like so much fish last night to watch the new Blu and Ray of this wonderful film and from the first shot, the close-up of Twiggy, I knew I was in for a treat, and I knew the film had absolutely perfect color, the same bold Technicolor-like color I'd seen back in 1971 at the Picwood. And as the film went on, I was suddenly and completely involved, completely enraptured – everything worked better because it looked RIGHT. I can't say enough about this perfect transfer. And the sound – the film was released in mono here and to hear this with glorious stereo is De Thrill, if you get my meaning. As to the transfer, the detail is incredible, the contrast is incredible, it's rock-solid, and sparkles like the diamond it is.
And today, the film absolutely looks like a masterpiece. Ken Russell's decision to make it a show within a movie was brilliant – in 1971 had MGM made a straight film of the musical people would have run from the theater screaming (sadly, the film that Russell did make was a box-office disaster here in the US, but did well elsewhere). His concept works beautifully. The cast is superb. Twiggy is so endearing and lovable and perfect as Polly and the ASM. Tommy Tune looks so impossibly young and is so charming and what a dancer. But the entire cast is incredible – you just don't have people like Max Adrian, Bryan Pringle, Murray Melvin or any of these kinds of actors, really. And then you get Glenda Jackson, whose cameo is hilarious.
But what really shines through are the unique and stunning arrangements/orchestrations of Peter Maxwell Davies – his work is simply stupendous (and his musical supervisor, Peter Greenwell, is hilarious as the pit pianist with the endless falling ashes) – and boy do they sound great on this Blu-ray. The costumes of Shirley Russell are fantabulous, and the sets of Tony Walton – I don't know that I've ever seen more inventive, breathtaking, and JOYFUL sets in a movie. He should have won an Oscar. But then he would have to have been nominated. The film should have been up for everything that year – it was nominated for one music award, which it lost to Fiddler on the Roof.
So, the bottom line is you will want this. You will want this now. You will want this before now. You will not want to be silly and wait for two dollars off. You can thank me later. And of course who could ever have imagined that twenty years later I'd become friends with Tony Walton and a few years after that, become friends with and produce two albums for Twiggy?
Oh, and without further ado, and just in time for a belated Valentine's Day, here is the new Kritzerland CD release – Monster from Green Hell, a classic bad science fiction horror thing from 1957. The music, however, is by Kritzerland favorite, Albert Glasser, who scored almost all of Mr. BIG's classic films, Mr. BIG being Bert I. Gordon. If you love cheese this will be for you – it's really loud and fun in that 1950s way. The cover alone makes this worth purchasing. And here is that cover.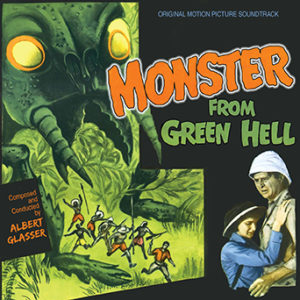 Yesterday was a day. In fact, it was a TUESday. I think I only got about seven hours of sleep thanks to my loudly gabbing neighbor. I answered e-mails, I got the last of the music to the singers, so that's all set now, thankfully. I decided that Tuesday was a Wacky Noodles ind of day, so I made half a package of bow tie pasta (about eight ounces) and that was yummilicous in the extreme. I had several telephonic calls, and then I had to prep the release announcement.
After that, I picked up some packages and then came home again. Throughout the day, I'd been listening to the marvelous symphonies of Kurt Atterberg. After I watched the movie, I began the Leif Segerstam cycle of Sibelius, the one I got for free streaming on Amazon. And I must say, it's right at the top of the heap with the best of them. I also got the much-lauded Osmo Vanska cycle on BIS – praised by everyone and their mother with drooling accolades from all these know-it-all Sibelius people who, the more I read, really know nothing. They all praised the sonics – I listened to the first four minutes of the first symphony and the sonics are a joke and the performance isn't nearly as good as most of the others I've heard.  But then I listened to a bit of the fifth symphony and that one fares better, both performance and sound-wise, although as of the middle of the first movement, it certainly doesn't displace Segerstam or any of the other great performances I have.
Today, I have a few things to do, we'll announce our new release, I'll hopefully print out a LOT of orders, I'll eat something light but fun at home, I'll hopefully pick up some packages, and I have other stuff to do, and then I'll relax.
Tomorrow I have a lunch meeting, so that will be my first meal out in a week and I will eat very lightly, perhaps only a bagel. Friday I have a dinner with Muse Margaret and her ever-lovin' Richard. Saturday is the belated Sami birthday, and Sunday I do the final judging on that singing contest.
Well, dear readers, I must take the day, I must do the things I do, I must, for example, announce our new release, hopefully print out a LOT of orders, eat, hopefully pick up packages, do stuff, and relax. Today's topic of discussion: It's Ask BK Day, the day in which you get to ask me or any dear reader any old question you like and we get to give any old answer we like. So, let's have loads of lovely questions and loads of lovely answers and loads of lovely postings, shall we, whilst I hit the road to dreamland, so happy to have seen The Boy Friend sparkling anew.