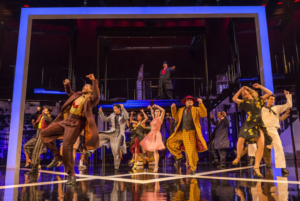 One of the lively dances from Zoot Suit (all photos by Craig Schwartz)
Luis Valdez, founder of El Teatro Campesino and writer/director of the 1978 play with music Zoot Suit, says in his program notes for the current revival at the Mark Taper Forum, "On opening night, when the character of El Pachuco, memorably played by Edward James Olmos, swaggered onto the Taper stage, Chicano theatre became American theatre." The play was a sold out sensation at the Taper and moved to the Aquarius Theatre on Sunset Blvd. for an extended run before an ill-fated Broadway run of only 41 performances in 1989. The play did get filmed for posterity however. I was there in that opening night audience in 1978 and it was a very unique and special experience. There was so much energy, so much passion, so much anger yet so much hope for a better tomorrow it was palpable. Valdez exposed the seedy underbelly of racial prejudice in 1940s Los Angeles, the out of control police, the yellow journalism of the press. A dust up between two rival Chicano gangs led to a death. Over 20 members of the 38th Street Gang were arrested and tried in one court case by an overly prejudiced judge. The conservative billionaire William Randolph Hearst fanned the flames of racial purity as his papers raged against the pachucos, young Latinos that stood out by their distinctive way of dressing, their "drapes," their zoot suits.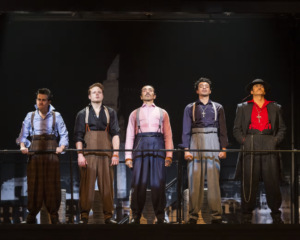 The defendants on trial
Playwright Valdez mixed fact with fantasy, the latter coming mainly in the character of El Pachuco (played now by Demian Bichir), who gets into the head of titular gang leader Henry Reyna (Matias Ponce) and encourages his rage and rebellion. Two white liberals—attorney George Shearer (an overly loud Brian Abraham) and Alice, a Jewish communist reporter (Tiffany Dupont giving a bland white bread interpretation of a fiery leftist)–come to the aid of the boys as they are railroaded by the legal system and end up sentenced to life imprisonment in San Quentin. Written 38 years ago, a lot of the sentiments are still valid in today's Trumpian dystopian society.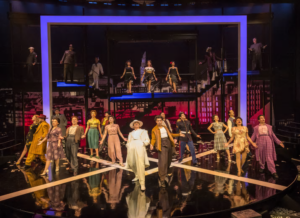 The Finale
Although Valdez is back at the helm, the show seems to have lost some of its roughness, its street cred. What has improved tremendously in the past four decades is the theatrical tech on display. Christopher Acebo's two-level scenic design easily transforms to a variety of sites and his stacks of bundled newspapers make effective furniture in court or prison or home. Ann Closs-Farley's period costumes are colorful and stylish. Philip G. Allen's sound design is top notch and Pablo Santiago's lighting is colorful and sharp. There is a lot of music in the show, songs composed by Lalo Guerrero with musical direction by Daniel Valdez. Maria Torres's choreography is a standout as is fight director Steve Rankin's work, especially in the staging of the Zoot Suit Riots of 1943 when cab loads of sailors and marines went into the barrios and stripped and beat up the pachucos. Zoot Suit may have lost some of its zip for those of us who witnessed it previously, but if you have never seen, don't miss it. It's a very informative and lively history of a sad time in the City of Angels.

Mark Taper Forum, Music Center in Los Angeles. Ends April 2. 213-628-2772 or www.centertheatregroup.org