Playwright Eugene O'Neill was a Nobel Laureate in Literature and a four-time winner of the Pulitzer Prize for Drama. His best known play, Long Day's Journey into Night, is considered one of the best American plays, alongside Tennessee Williams's A Streetcar Named Desire and Arthur Miller's Death of a Salesman. Most of his plays–Mourning Becomes Electra, The Iceman Cometh, Anna Christie, The Hairy Ape, Desire Under the Elms–involved some degree of tragedy or personal pessimism. Ah, Wilderness! is probably his most well-known "comedy" in that the leading character experiences a happy ending. As part of their 25th Anniversary Season, A Noise Within is presenting a lovely revival of the show. The action of the play takes place on the 4th of July, 1906 in a small New England town. Bathed in the soft, comforting warmth of Tom Ontiveros's lighting, this nostalgic confection is artfully directed with grace and style by Steven Robman. The play is often thought to be about the family and the life that O'Neill wished was his instead of the more realistic one he depicted in Long Day's Journey into Night.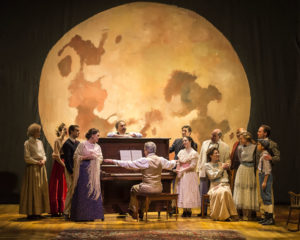 The cast under the moon (all photos by Craig Schwartz)
The Millers are an upper Middle Class family—father Nat (Nicholas Hormann) owes the town newspaper. He and his loving wife Essie (Deborah Strang) have raised four fine children and plan to send them all to college. Nineteen year old Arthur (Ian Littleworth) is already at Yale with seventeen year old Richard (Matt Gall) set to follow shortly. Mildred (Katie Hume) seems to be the most sensible of the lot while young Tommy (Samuel Genghis Christian) is content to set off his holiday firecrackers. Sharing their home are Nat's unmarried schoolteacher sister Lily (Kitty Swink) and Essie's alcoholic gambler newspaperman brother Sid (Alan Blumenfeld). The only hint of bittersweet tragedy in this play is the relationship of Lily and Sid, friendly and still loving but now estranged. Lily finally broke off their long engagement after Sid was never able to keep his promises to give up alcohol. He still proposes to her every day and she still gently rejects him.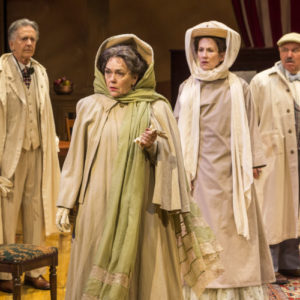 Nicholas Hormann, Deborah Strang, Kitty Swink and Alen Blumenfeld
Richard is the play's main character as we follow his misadventures on this most American of holidays. His mother has found his hidden cache of books by Wilde, Ibsen, Shaw and Omar Khayyam. Richard thinks himself a rebel but is dismayed to learn his father has read the same books and approves. But Richard's letter quoting some of the more salacious passages from The Rubaiyat to his young girlfriend Muriel (Emily Goss) has caused her father (Marcelo Tubert) to ground her and deny her permission to ever see Richard again. In an act of rebellion, Richard accompanies his brother's classmate Wint (Conor Sheehan) to the back bar of the Pleasant Beach House. It's a local house of ill repute, where for five dollars Richard could buy the company of Belle (Emily Kosloski), one of the working girls on site. Although Richard does get drunk, he stays true to Muriel and the two pledge their undying love under a big bright moon the next evening and everyone and everything ends on a cheery note.

Emily Goss and Matt Gall
The cast is strong and works together in smooth, clockwork precision. Gall does a good job of showing up the various shades of a young man coming to grips with his independence and Goss makes a lovely foil for him as Muriel. Blumenfeld gives a comic performance underlined with tragic highlights and is evenly matched with Swink. Hormann and Strang will make you wish your parents were more understanding and caring like them. Kelsey Carthew as the inept maid Norah and Kosloski as the flirty Belle add some delightful comic moments. Garry D. Lennon did the luscious period costumes. The set changes are accompanied with musical olios of popular songs from the turn of the last century, wonderfully performed by the cast.

A Noise Within, 3352 E. Foothill Blvd. in Pasadena. In repertory thru May 20. www.anoisewithin.org or 626-356-3100 ex 1.