Well, dear readers, I'm still going through this massive 25-CD Leonard Bernstein set and it really is something to treasure and endlessly fascinating to hear. For example, I don't think I'd ever actually heard the Jean Arthur/Boris Karloff Peter Pan, which is really kind of fun. In that same vein, I'm not sure I ever made it all the way through Mass, but listening to it all these years later, I really like it a lot – so weird and kind of fun, with some classic Bernstein tunes, almost like a greatest hits in terms of how familiar some of his riffs are. Another fun discovery was the Canadian Brass playing Bernstein, which is seriously fun. I'd never heard Chichester Psalms, which I quite enjoyed. The TV stereo recording of Wonderful Town is pretty wonderful. The original recording of Candide sounds great and is also grand fun, but I also really enjoy the 70s Hal Prince version, too. And Trouble in Tahiti's later recording here is very good, but I do think I prefer the original from the 1950s on MGM Records. The ballet, Dybbuk is striking and very interesting music, the On the Town studio cast album is stellar, and Harolyn Blackwell singing Bernstein has its moments. All in all, this is highly recommended by the likes of me and you cannot beat the price.
Yesterday was all kinds of everything. I was up at ten after almost eight hours sleep filled with the weirdest dreams ever. Once up, I saw that I had e-mails from the publisher and thank goodness the error was only in that galley they'd sent me to approve. The files that were actually sent to the printer and to their in-house ePublishing arm were absolutely correct. So, that was very excellent news. I then happily noticed that the book was live at Amazon, both hardcover and softcover, so I bought one of each. Then I spent an hour uploading the eBook version and getting that live, which it is. I'll have the Nook eBook file tomorrow and hopefully I can remember how to upload it there. I also got it listed on Goodreads. And happily, dear reader JohnG reviewed it on Amazon, since he was one of the proofers. I had two brief visits and then I went for food.
I had the Philly cheese steak sandwich and some onion rings for my meal o' the day. It was quite yummilicious. Jerry's Deli was dead as can be, I must say. Then I went and picked up a few packages and came right home. One of the packages surprised me – my test paperback. It looks great and the hardcover should be here shortly. Here is photographic proof.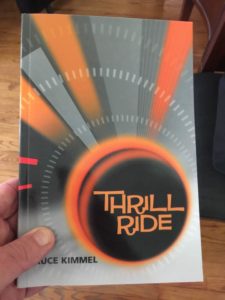 I actually went to order the books but my gal is out until Monday and I will only order from her because I know things will get done correctly. So I'll place that order first thing Monday morning. Then I did some work on the computer, downloaded a new copy of the script for the musical I'll be directing. Then I sat on my couch like so much fish.
Last night I watched as much as I could stomach of a motion picture entitled Lucky Stiff. This stiff was not so lucky and I lay it all at the feet of its director, who despites some stage successes hasn't the foggiest idea of how to make a movie, let alone how to shoot a musical number. This thing sat on the shelf for over three years, then finally had a run of a few days in a few theaters and played some festivals. I recorded the Lucky Still studio cast album and I quite enjoy the score – the book doesn't quite grab me. But who had the bright idea to take an off-Broadway show that ran less than twenty performances and make it a movie. I mean, what a head scratcher. Who did they think would want to see this? The two hundred people who may have seen it off-Broadway. Most of the performances irritated me no end, but again I just lay it all at the feet of the director. It's one of the worst-directed film musicals ever. I suffered through about sixty minutes of its seventy-eight minutes (of which I'm sure five minutes is end credits). Glad I saw it, but not really.
After that, I had some ice cream, some cashews, took a hot shower, and relaxed a bit.
Today I spend most of the day with the script of the musical, making notes, mostly for style ideas so the designers know the direction I want to go in in terms of the physical production. I'll eat, hopefully pick up packages, and perhaps watch a motion picture.
Tomorrow I have a production meeting at ten in the morning, close by, thankfully. After that, there's a chance I may see a show in the evening. Tomorrow, who knows what will be. Monday morning I order books, and I have to finish choosing the songs for the April Kritzerland show and get the singers their music – I still have one female to cast. The rest of the cast is very strong and the April show is always fun.
Well, dear readers, I must take the day, I must do the things I do, I must, for example, work on a script, eat, hopefully pick up packages, and relax. Today's topic of discussion: It's Friday – what is currently in your CD player and your DVD/Blu and Ray player? I'll start – CD, Leonard Bernstein. Blu-ray, the latest Twilight Time releases. Your turn. Let's have loads of lovely postings, shall we, whilst I hit the road to dreamland, happy for a day with all kinds of everything, save for the one slightly irritating e-mail that I instantly nuked.