Arthur Miller, Eugene O'Neill and Tennessee Williams are considered by most to be the three foremost American playwrights of the 20th Century. Of that trio, Mr. Williams has always been my particular favorite. So many of his characters were larger than life and their dialogue sounded nearly poetic. I first discovered his works at the movies which were quite sanitized and muted for the moral code of the 1950s but still there was something mysterious and maybe even forbidden lurking just under the surface. What actually did happen to Sebastian Venable on that blindingly hot, white day that his cousin Catharine can't quite remember in Suddenly, Last Summer? Why was Brick so sensitive about his relationship with his best friend Skipper in Cat on a Hot Tin Roof? The stage versions of these and other works by Williams don't have their sexuality scrubbed clean as you can see for yourself with Antaeus Theatre Company's stunning, gut-wrenching revival of Cat on a Hot Tin Roof in their new home, Glendale's Kiki & David Gindler Performing Arts Center.

Linda Park and Daniel Bess (all photos by Steven C Kemp)
The three-hour running time passes quickly in this three-act masterpiece. All the action takes place in a bedroom of a 1950s Mississippi Delta mansion as a family gathers for the 65th birthday of their patriarch. The action needs to take place in the bedroom because favored younger son Brick (Daniel Bess), while in a drunken stupor broke his ankle running hurdles on a track field in the early morning hours, can't navigate the stairs with his cast and crutch. The first act is virtually a dialogue between Brick and his wife Maggie (Linda Park) as they spar over their prickly relationship and failing marriage. For weeks Brick has lost himself in alcohol as he waits every day for his mind to click off and leave him in a blissed out state. He refuses to sleep in the big brass bed with his sexually starved wife. He is punishing them both because of the death of his best friend, college roommate, football teammate Skipper. He blames Maggie for Skipper's death and no amount of pleading or explanation can smooth his anger and hatred. The second act is virtually a two-hander between Brick and Big Daddy (Mike McShane), his domineering father who tries to find out the truth beneath all the mendacity spewed about the house. Big Daddy is just back from a clinic where he was diagnosed with terminal cancer but told he just has a spastic colon. Big Daddy despises his older son Gooper (Michael Kirby) and his extremely fertile wife Mae (Tamara Krinsky). He also professes disgust for his wife of 40 years, Big Mama (Julia Fletcher). Brick defends his relationship with Skipper, defining it as something special, until Maggie and others put a name to it, forcing Skipper to unsuccessfully try to prove them wrong. When he failed, he confessed his true feelings for Brick and ended his life. Big Daddy, who proudly boasts of owning 28,000 acres of the richest land this side of the Valley Nile, doesn't place blame. He said when he first came to the plantation as a young man, it was owned by two "old sisters," Peter and Jack, who slept in the same bed. Big Daddy says that he learned to grow crops on all that land as well as tolerance. But when Brick confronts the lies of his life, he also confronts Big Daddy with the reality of his mortality. The third act devolves into a family duel for the inheritance but ends on a hopeful, life-affirming note.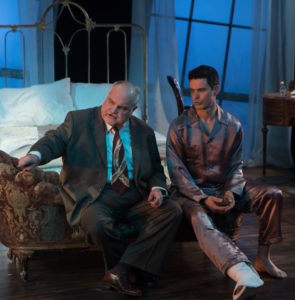 Mike McShane and Daniel Bess
Director Cameron Watson deftly manages to get his talented cast to release all their big emotions but still maintain their humanity, and at times even their comic sensibility. Park is the first Asian American actress to play Maggie and she is magnificent. Her honey sweet Southern accent and steaming sensuality enrich the character. She plays opposite her real life husband, Bess, who easily essays Brick's manly sexuality as well as the desperate nature of an alcoholic dying for his next drink. Their verbal and physical sparring is well choreographed. Bess also has a fine rapport with McShane and they make a very believable father/son duo. Fletcher brings a depth of richness and humanity to Big Mama while Krinsky devilishly delights as the buttinski Mae. They are a well-tuned out of tune family. Even though this production is nearly perfect there are a few small glitches. The bedroom is on the second floor of the mansion, surrounded by a veranda yet scenic designer Steven C. Kemp has festooned the front of the set with a trough of wood chips. This is the first production of the play I have ever seen that features full frontal male nudity. Brick usually only wears a towel for most of the first act since he just stepped out of the shower. But here Brick drops his towel several times, flashing a very much in heat Maggie. If there is one person Brick would never expose himself to at this point in his strained marriage, it would be his sexually frustrated wife. Small quibbles but quibbles nevertheless. However, this is one Cat on a Hot Tin Roof that will remain in my memory for a long time to come.
NOTE: As with all Antaeus productions, the roles are double cast and these were the actors in the roles at the performance I attended. You may see different actors but of equal caliber.

Kiki & David Gindler Performing Arts Center, 110 E. Broadway in Glendale. Ends May 14. 818-506-1983 or www.antaeus.org