Playwright William Mastrosimone is best known for his 1982 off-Broadway play Extremities about a rape victim and her vendetta of revenge against her rapist. Susan Sarandon originated the role of Marjorie and Farrah Fawcett proved she had acting chops when she took over the role which she later reprised in the 1986 film version. Shelley Hack played the leading role in the Los Angeles debut at the Coronet Theatre. According to director Stephen Rothman's notes in the program for Actor's Co-Op current production of the playwright's Cat's-Paw, 1986 was also the year Cat's-Paw debuted at Seattle Repertory Theatre. Mastrosimone revised and rewrote the play in 2011 but the subject matter still makes it feel like it could have been written a few months ago. EcoWarrior (he hates the term terrorist) Victor (Sean McHugh) is the head of the Earth Now group which kidnapped David Darling (Vito Viscuso) an EPA spokesperson five weeks ago. Their main complaint is the government's complicity in the poisoning of the earth's fresh water supply, starting with the toxins released years ago at Crystal River (think Flint Michigan). The Federal government has refused to negotiate with the group even though they have threatened to execute Darling. So on this momentous day a suicide bomber has detonated a car bomb in front of the Senate Building, killing 12 Senators among others. The DC area is in lockdown mode but Earth Now soldier Kathy (Ivy Beech) has managed to kidnap sensationalist TV reporter/interviewer Jessica Lyons (Deborah Marlowe) and brought her to their well-stocked bunker. Jessica has a reputation for her in depth interviews with Mafioso as well as jihadists. Victor wants to be her next guest star.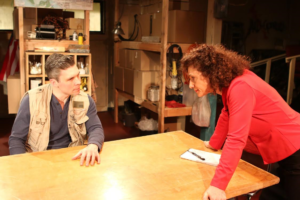 Sean McHugh and Deborah Marlowe (photo by Lindsay Schnebly)
Nobody likes a well written political play more than this reviewer. Give me a good solid production of Larry Shue's Wenceslas Square or Ariel Dorfman's Death and the Maiden any day over the political diatribes of a Dario Fo or Vaclav Havel and now Mastrosimone. The first two give both sides of the political situation and leave it to their audience to form opinions. The latter trio tends to florid overwriting and tirades of one-sided political views. Cat's-Paw is nearly two hours of speeches that relentlessly pounds the audience with its message. As a result of the well-meaning but misguided speeches, the plot is full of holes; one unbelievable incident after another. Earth Now seems to be a group of three diehard friends who hope their actions will inspire others to revolution to save the planet. Even though the reporter feels threatened by her bold kidnapping, she too readily gives in to conducting the interview under less than ideal conditions. Victor, who seemed so intent on making his case on video, spends a lot of time speechifying out of camera range and without a microphone. Victor's true identity was obvious to at least this viewer a full 20 minutes before the crack reporter made the connection. The Earth Now flag belatedly makes its appearance when most organizations brazenly use it as a backdrop for their 15 minutes of fame on video. After circumstances engender a break between Victor and Kathy, the audience has to listen to yet another long save-the-planet spiel, this one about baby seals, that has nothing to do with the current plot. Mastrosimone desperately needed an editor. Director Rothman attempts to ratchet up the tension in the confined space of the Crossley Theatre (kudos to David Potts's well stocked terrorist bunker) but the flaws in the writing defeat him. McHugh comes off too smug as Victor and on opening night was having trouble getting all the words of his many long speeches out coherently. Viscuso and Beech can't make much of their caricature characters. Marlowe fares best as the reporter who is always working every angle she is given.

Actor's Co-Op, 1760 N. Gower Ave. in Hollywood. Ends April 30. 323-462-8460 or www.actorsco-op.org