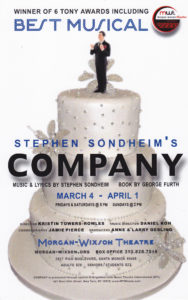 Stephen Sondheim's musical Company is my all-time favorite musical, although sometimes I say it is tied with the composer's Follies for number one. I first saw it when the National Tour with most of the original Broadway cast played the Ahmanson Theatre in the summer of 1971. I have seen more productions (great, good, mediocre or bad) of Company than any other musical, including some on college and community theatre stages. I even traveled to Prescott, Arizona in the summer of 1983 to see a production mounted by Northridge's Megaw Theatre that featured a cast of L.A.'s finest musical theatre performers. No matter how poor of a production—set, direction, singing, performances—I still marvel at the wit and insight of playwright George Furth's book and the genius of Sondheim's music and most especially his finely tuned lyrics. I seldom review community theatre productions these days although many of the local groups present better productions than a lot of the vanity-laden 99-seat endeavors. It's more a case of time and availability. I was invited to review the current production at the Morgan-Wixson Theatre in Santa Monica and since it was Company, I accepted. I had reviewed some of their productions—Once Upon A Mattress, Feast, A Little Night Music—back near the start of my reviewing career when I wrote for the community theatre publication Showcase Magazine. I had fond memories of those productions but as writer Thomas Wolfe said, "You can't go home again."
I'll dispense with the usual plot description because I think most readers are familiar with and have seen this classic musical sometime in the past 47 years. I don't have a problem with the revisions to the book and song list as a result of the 1995 Broadway revival by the Roundabout Theatre Company but I do have a problem with a director and/or choreographer messing about too much with the original direction by Harold Prince and the original choreography by Michael Bennett. The show is so solidly set in the world of 1970s New York City you really can't alter that very much. I really did have a problem with director John Doyle's 2006 revival which had the cast double as the orchestra. It was a gimmick that did not work at all for me. As a gimmick, I prefer Mazeppa to pump it with a trumpet. Which brings us back to the current production with direction by Kristen Towers-Rowles and choreography by Jamie Pierce and their concept or lack thereof. No program credit was given for the costumes but the men were mostly in their polyester suits. However most men did not sport full beards in 1970, porn mustaches were the thing. And the women did not all have long straight hair. Except for the use of a phone answering machine, this Company could be set in any time period. William Wilday's scenic design consisted of a two sets of stairs going up to a top platform that was evidently too high for the lighting design by Donnie Jackson to cover fully, and two circular platforms in front of the stairs. But the stairs weren't used all that much; most of the action was staged dead center stage or on the lip of the stage. I lost track of how many times Amy (Amy Coles) plopped herself on the floor center stage in her bridal gown. I also lost track of how many characters seemed to be teetering on the edge of precipices in Manhattan when really only one couple had scenes out on their terrace. Bobby (Equity Guest Artist Paul Luoma) even seemed to step over the edge in his finale to "Being Alive," seeming to be "Trying Suicide" instead.
Towers-Rowles hasn't seemed to encourage subtlety from her actors. The comic moments—Sarah (Jessie Harrison) and Harry's (Craig Sherman) karate exhibition and secret bourbon swilling and brownie scarfing and Marta's (Alicia Reynolds-Luoma) descriptive analysis of New Yorkers—are played very cartoonish, making these people more caricatures than characters. Devon Davidson delivered some real fun moments as the potted Jenny but the anger vented by Brian O'Sullivan as her husband David came out of nowhere. Instead of finding the emotional center of a scene, the actors seemed to have been encouraged to just raise the volume, shouting out most of their lines. The birthday boy, 35-year old Bobby, is the center of the show's action but Paul Luoma lacked the requisite charisma and stage presence to create a vital and mesmerizing Bobby. As a result his scene with mis-timed lover Kathy (Krystal Combs) lost its pathos while his comic seduction scene with April (Emila Sotello) lacked humor and eroticism. The erotic was also missing from what is usually the show-stopping dance number "Tick Tock," performed here by Combs. That was not choreographer Pierce's biggest mis-step however. He turned "Getting Married Today" into a Busby Berkley dance number with the cast twirling their bright umbrellas around the bride and groom. That number also had the strange choice of bringing in a second soprano (Amanda Greig) when the first soprano (Davidson) was a much better vocal choice. "Side by Side by Side" was turned into a cartoonish mishmash and most of the musical numbers featured more hand-raising than at a tent revival. Individual voices were not very strong but as a group they blended well enough and the show contains many choral numbers. The cast had to perform to musical tracks that reduced this robust score to elevator Muzak levels. If you have never seen Company, this is not the one to see.

Morgan-Wixson Theatre, 2627 Pico Blvd. in Santa Monica. Ends April 1. www.morgan.wixson.org or 310-828-7519.