Well, dear readers, I got news for you – it's Friday. And I must write these here notes in a hurry because I must be up at six in the morning to announce our new title. And so, here it is – the world premiere complete release of A Boy Named Charlie Brown, the 1969 animated feature, with music by Vince Guaraldi and songs by Rod McKuen. There was an LP back in the day but that was more a storybook thing, with talking over every single track. For lovers of Mr. Guaraldi's brilliant music, they could only say "Good grief" I really just want the damn music. And now we have the damn music, taken from the original scoring masters before any of the talking was laid over the tracks, in glorious stereophonic sound. Just as Two for the Road turned out to be a quick seller, we suspect this one will be, too – so get your Peanuts on and don't wait to order – it's the most wonderful, tuneful, music. Here's the cover.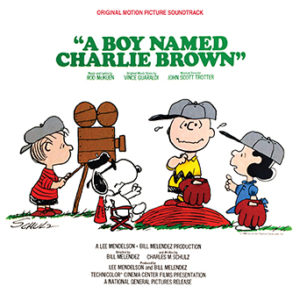 Yesterday was an okay day, I suppose. I got a little over seven hours of sleep and got up at ten, thinking the little visit that was happening was at eleven. But it wasn't and the visitors arrived at 10:10. Thankfully the visit was under thirty minutes and then I could get back to more important matters, like answering e-mails, having some telephonic calls, and other stuff.
Then I made about seven ounces of penne pasta with red sauce (with a splash of low-fat milk to make it more of a pink sauce) into which I put some sautéed red onions.   It was most yummilicious and I ate it all up over the next hour. After that, I went and picked up three packages, two of which contained one of the little doo-dads that those who ordered Thrill Ride will get. The third package was from the publisher – the hardcover test copy, which I already knew was fine having ordered on from Amazon.
I did some work on the computer, organized a few things, and then listened to a potential new project, one I'd like to do, but one that needs a bit of TLC – if we can give it that, then damn it all we'll do it. After that, I sat on my couch like so much fish.
Last night, I watched a motion picture on a Blu and Ray entitled Chilly Scenes of Winter, starring John Heard and Mary Beth Hurt, along with Peter Riegert and Gloria Grahame. I first saw it during its brief fun in 1979, when it was entitled Head Over Heels. I really liked it a lot, especially Ms. Hurt. There was, even back then, something very off-putting and creepy about John Heard's character. The film was a huge flop. In 1982 it was re-released as Chilly Scenes of Winter, with its final few minutes chopped off (the happy ending) – critics liked that version better and everyone, of course, acts like it was suddenly a big hit, but of course it wasn't. I don't think the Head Over Heels version has been available on video ever. I liked the Chilly Scenes of Winter version, too – not sure I liked it better, but I liked it. Seeing it all these years later, the Heard character is pretty insufferable in his obsession and craziness about Mary Beth Hurt's character. But I still like the film – the dialogue is very good, director Joan Micklin Silver keeps it all simple and moving along and there's a wonderful score by Ken Lauber that has whistling, guitar, and harmonica solos by the great "Toots" Thielmans. The transfer on the Twilight Time Blu-ray is standard issue MGM/UA – i.e. it pretty much looks like what the release prints did, which is just fine. I recommend this film – it's of a different era, one I very much prefer.
After that, I put the motor car in the garage, then wrote the first half of the Kritzerland April show commentary. We should be putting up the event page for the show at some point today. I also listened to several nice pieces of music whilst working away.
Today, I shall announce our new CD release then perhaps go back to bed. Hopefully I'll print out a LOT of orders, I'll finish writing the commentary, I'll eat, I'll hopefully pick up some packages, and then at some point I'll relax.
Tomorrow evening I'm supping with our very own Rob Stevens and then we're seeing a community theatre production of Company. Long ago, in a galaxy far, far away I did two back-to-back shows at this theater – The Manaechmus Twins and Feast. In fact, Rob Stevens saw Feast there and gave us a wonderful review, so that's how long Rob's been at this – that was in 1974. Sunday I'm not sure what's happening, Monday I have a lunch, and the rest of next week is very busy.
Well, dear readers, I must take the day, I must do the things I do, I must, for example, announce a new CD release, I must hopefully print out a LOT of orders, I must eat, I must hopefully pick up some packages, I must finish writing the commentary, and I must relax. Today's topic of discussion: It's Friday – what is currently in your CD player and your DVD/Blu and Ray player? I'll start – CD, many things. Blu-ray, more Twilight Time to watch. Your turn. Let's have loads of lovely postings, shall we, whilst I hit the road to dreamland, happy that we can all say "Good grief" some wonderful music is finally available.