Well, dear readers, let's just get down to the nitty-gritty or, at the very least, the gritty-nitty, shall we? So, let me just announce the new Kritzerland CD release, the wonderful score to Jules Verne's Rocket to the Moon, by my wonderful friend and brilliant film composer, John Scott. Here's the album cover.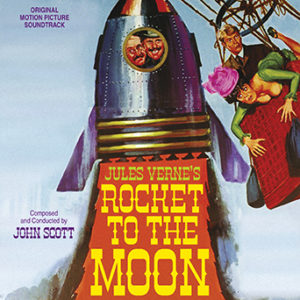 And here's a photograph of John that I took seven years ago at one of neighbor Tony Slide and Bob Gitt's parties.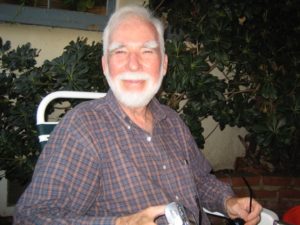 I met John in 1988 at a record store on 3rd Street near La Cienega. We hit it off immediately. At the time I'd just finished directing that weirdo thriller on which I replaced the original director, Prime Suspect. They had no money for a composer, so I also wrote the score. I had no trouble coming up with a theme and stuff, but I really struggled with any action cue. I mentioned it to John, and he said he'd be glad to help, gratis. I'd just met this person five minutes before – that is what I call a gracious man. We've remained friends ever since, and when he needed a narrator for his gothic piece called An Inhabitant of Carcosa, he asked me and I gladly said yes. So, it's about damn time we have a John Scott soundtrack on Kritzerland.
Yesterday was a day that kind of just was here and gone. I was up early and the piano tuner was back attending to some funky notes, although the problem I'd called him about was not in evidence. After he left, I did some work on the computer, had some telephonic conversations, and then rustled up a batch of Wacky Noodles – maybe six ounces. It was most yummilicious. I can't really remember much else about the afternoon, other than I didn't even leave the house. I did, of course, listen to music – in fact, I finished volume two of that big New York Philharmonic set of American music – the last two CDs were a bit of a trial – modern stuff I just don't respond to – some nonsense from George Crumb that required four conductors, that kind of atonal thing. I'm always happy to listen, but it's a trial. However, the final piece on the final CD was kind of delightful – a tonal and wonderful clarinet concerto by William Bolcom. I have a bunch of Bolcom CDs in the closet that I may now have to go unearth. At some point, I sat on my couch like so much fish.
Last night, I watched a motion picture on the Flix of Net entitled The Woodsman, the story of a pedophile let out of prison after twelve years, trying to fight his demons and work himself back into society. I didn't care for the direction and the script occasionally is a bit to facile for its own good, but there are several scenes that were really top-notch. Kevin Bacon plays the lead role and he's absolutely fantastic in it, his finest work. His real-life wife, Kyra Sedgwick plays his newfound love interest. But the best scene in the film belongs to Bacon and eleven-year-old Hannah Pilkes as someone Bacon follows into a park, almost succumbing to his old ways – her performance is amazing and very touching and when you finally realize what HER deal is, it's just heartbreaking. Also in the film is a young Michael Sheehan as a therapist. Worth a watch just for that one scene alone.
I then watched another motion picture on Netflix entitled Flash of Genius, the story of the man who invented the intermittent windshield wiper and who gets screwed over royally by the Ford Motor Company, who steal his idea, give him no credit, and ignore him when he tries to make it right. He, however, won't give in or give up and spends over a decade trying to get the Goliath into court, which he eventually does. It's an interesting story, not that well directed or written, but I was interested enough to watch until the end. I'm not sure Greg Kinnear was the ideal person to play the part, but the character is not that sympathetic and so while you want him to come out on top and have a happy ending, you also want to kick him in the shins.
After that, I just relaxed and listened to music and got everything ready for our announcement.
Today, I'll announce our new title, hopefully print out a LOT of orders, eat something light and fun, hopefully pick up packages, and do whatever else needs doing.
Tomorrow we have our second Kritzerland rehearsal, which required a bunch of last-minute changes in scheduling, which is never fun – so we start a bit later in the day and end a bit later. Friday I'm having my hair cut and then seeing Sami's high school show, Saturday is our stumble-through, and Sunday is sound check and show.
Well, dear readers, I must take the day, I must do the things I do, I must, for example, announce a title, hopefully print out a LOT of orders, eat, hopefully pick up packages, do other stuff, and relax. Today's topic of discussion: It's Ask BK Day, the day in which you get to ask me or any dear reader any old question you like and we get to give any old answer we like. So, let's have loads of lovely questions and loads of lovely answers and loads of lovely postings, shall we, whilst I hit the road to dreamland, happy to have announced our first John Scott soundtrack – Great Scott!