Well, dear readers, we had us our second Kritzerland rehearsal and it was ever so much fun, especially so because Rupert Holmes was with us. It was so great to see him again and we had so much fun yakking, and the singers absolutely adored him. I think he was very happy with all of them. He gave them some pointers, I gave a few myself, and the afternoon just flew by. So, that part of the day was some kind of wonderful and I even made it through Guy Haines' two songs. My voice isn't as strong as I'd like it, but it was there, I hit all the notes, and then I just kept my mouth shut as much as possible. So, please keep sending those most excellent vibes and xylophones for no sickness and a strong voice.
Before I go any further, I'm thrilled to announce the new Kritzerland release. This was very hard to pull off because it involved not just Fox, which is always easy, but another record label, even though they didn't really have anything to do with the actual score tracks. That's because at the time of this film, the composer, Henry Mancini, had an exclusive deal with RCA and therefore we had to go through Sony to get this all to happen. The major part of that deal was that they'd press the albums for us – it's more money than if we did it ourselves and it includes, I think, a royalty for them, but I love this score so much that I felt it was worth doing, even though we probably won't make much money on it, should it sell out, which we're hoping it will. It's one of my favorite Mancini scores and the original LP was a rerecording, one his easy listening re-recordings, which is what he did back then. Here, for the first time we have the original tracks – they're in mono because the only music-only materials in the Fox vaults was a mono tape. But the film was mono anyway. And so, our new release is Two for the Road, that brilliant film written by Frederic Raphael, directed by Stanley Donen, starring Audrey Hepburn and Albert Finney. Here's the cover.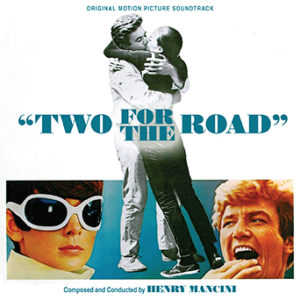 Prior to yesterday's rehearsal I'd slept close to ten hours, got up, was very congested, took all my preventatives, and then went and had some chicken soup and a bagel, after which I came right home and relaxed. I had to have a couple of telephonic calls, I listened to the gal who recorded the younger girl voices and found a couple of errors – wrong words – wrong intention on a couple of lines – so she's coming back again today to fix that stuff. It's kind of fun hearing the book aloud, and she's quite good, this young gal – Brittney Bertier – she was a standby for Inside Out and I've used her in lots of Kritzerland shows. Then I got ready for rehearsal and that happened.
After rehearsal, I relaxed, heard the end of the book, answered e-mails and got everything ready for the new CD announcement and took more of all my preventatives.
Today, I shall relax and rest as well as rest and relax, I shall hopefully print out a LOT of orders, I shall take all my preventatives, I shall have some chicken soup and a bagel, I shall bank, I shall hopefully pick up packages, and then it's more resting and relaxing and probably watching a motion picture.
Tomorrow, I cancelled she of the Evil Eye, so I can sleep as much as I need to, relax, have some soup and a bagel, and then we do our stumble-through at five. After that, I continue to fight the good fight with all my preventatives and relax. Sunday I'll rest and relax then mosey on over to The Federal for sound check and then we do our show. Next week I buckle down, Winsocki and start thinking about what I want to do with this new musical in terms of its look and staging. We're about to start having meetings with all the creatives and I want to be able to be clear to them how I want the show to be, style-wise.
Well, dear readers, I must take the day, I must do the things I do, I must, for example, relax and rest, hopefully print out a LOT of orders, take all my preventatives, eat, bank, hopefully pick up packages, and relax. Today's topic of discussion: It's Friday – what is currently in your CD player and your DVD/Blu and Ray player? I'll start – CD, Two for the Road. Blu-ray, who knows? Your turn. Let's have loads of lovely postings, shall we, whilst I hit the road to dreamland, happy to have had Holmes in the home.