Well, dear readers, last night I had me some hot voodoo. Yes, you heard it here, dear readers, last night I had me some hot voodoo. That is because I finished watching a motion picture on Blu and Ray entitled Blonde Venus, starring Miss Marlene Dietrich, Mr. Herbert Marshall, and Mr. Cary Grant, and directed by the one-of-a-kind Josef Von Sternberg. Of all the movies the director made with Miss Dietrich, this is my favorite and that's saying something, as I love them all. But Blonde Venus has such a wonderful and memorable script and such great performances and is so completely unique, that I really never tire of watching it. And it has several cabaret numbers done by Miss Dietrich, including the totally wacky and brilliant Hot Voodoo number. I can say without fear of contradiction that there has never quite been a number like it on the screen. The dialogue crackles and has many quotable lines and there has never been another screen actress like Miss Dietrich. She's what a movie star is – the camera and the way Mr. Von Sternberg and his cameraman shoot and light her is pure cinematic art, as great as any great painting. This Blu-ray is from France and looks pretty damn good. And it plays as a region A disc so you don't even have to have an all-region player.
Gee, I seemed to have jumped the gun there, so now I need to go backwards to the beginning of the day. It must have been that hot voodoo that made me jump the gun. Yesterday was a perfectly okay day. I was up at nine, printed out orders, and then got ready for a production meeting with my lighting and sound people, along with our general manager. It was a very long meeting, and I'm not sure the lighting guy knew what to make of me, as I have a very specific way I like to tech a show, but I know I won him over in about ten minutes, all with humor. In fact, for the last thirty minutes of the meeting we were all howling with laughter – it's going to be a fun team.
After that, I did some work on the computer, printed out a few more orders, then went and picked up quite a few packages that I knew had been delivered. They included, of course, the Thrill Ride books, which I'll spend today signing and preparing for shipment tomorrow. Can't wait for everyone to get them and read the book. After that I went and had a Philly cheesesteak sandwich and some fries for my one and only meal o' the day. It was very tasty. Then I came home with the packages. One of them included new speakers for the computer. I got new speakers in early December and really quite liked them – the Audio Engine A2s. My only complaint, which you'll see in the notes where I wrote about them, was a slight muddiness in the mids and highs – nothing terrible, but I wished for a more spacious and open sound. Still, I've been enjoying them. Then I happened to read about a new Audio Engine speaker that actually came out about two weeks after I bought the A2s. And this new speaker got absolute raves from every audiophile site I could find. So, I made a call to someone who's been drooling over the A2s and that person agreed to purchase them, so the difference between what I'm making there is not substantial and I have credit to cover the rest of the difference, so these speakers are basically free. They're called Audio Engine HD3 – there were three choices of finishes – rose, walnut, and black. I chose the walnut because those looked the prettiest.
The Audio Engine speakers are a breeze to set up. First off, I already had the recommended little desk stands so they fit right on those. These are just slightly bigger than the A2s, but just very slightly. So, there's just a wire that connects the two speakers together, a direct USB cord going from the back of one speaker into the computer – these are also Bluetooth, although I won't be using that probably – no reason, but there's a little antenna you screw in. Then there's the power plug and that's all there is to it. In the computer audio preferences you select the speakers and voila.
So, I listened to the track I'd just been playing on the A2s and I instantly heard the difference – and finally got the spacious, warm, open sound I'd been missing. Plus these just seem much more accurate musically for all kinds of music. I spent a few hours playing cast album tracks, soundtracks, classical, jazz, and some classic rock and it all sounded great. There's a little switch on the back that adds some low end if you're not using a subwoofer. The default was for the no low end and subwoofer, but since I'm not adding a sub I flicked the switch to the position called "normal" – and that added some very natural and very tight and clean low end, just perfect.
Then I watched the remainder of Blonde Venus and it made me very happy. I then went to the opposite end of the film spectrum, with a movie on the Flix of Net entitled White Girl. I knew I would hate every minute of it, and I was very correct. But I like to see what the indie world is like. This is directed by a woman and it's based on her experiences as an idiotic teen, and yes, I'm being VERY judgmental. The movie is wall-to-wall drugs and sex, with no real point other than the sheer idiocy of the teen girl. You can't like her, she has zero redemption, and she's just a pig, if you ask me. I hate drugs and I'm not a fan of promiscuity. Naturally, it got some good reviews from idiot critics praising it as brave. I find nothing brave about movies like this, and I don't even know who would want to view such things, which is why it made zero at the box-office. The actors all have to behave like terrible people and they do that very well, I suppose. This one gets a highly NOT recommended by the likes of me, whereas Blonde Venus gets my absolutely highest recommendation.
Then I listened to more music – the manufacturer says there's a forty to fifty hour break in period for these speakers, but they sound amazing right now, after just six hours or so of playing music. I tried some Sibelius and other stuff I knew had good sound – everything sounded better. And I had a new CD to try out – some Shostakovich symphonies (5, 8, and 9) by a conductor named Andris Nelsons. I'd read a couple of absolute love-letter reviews of this disc. I had a complete set of the symphonies but didn't like that set at all – it did nothing for me musically. So, I just figured I didn't love the music except for Symphony 11 as conducted by Stowkowski. Well, what a difference a conductor makes, and a state-of-the-art recording with a world-class orchestra, the Boston Symphony Orchestra. These are wonderful performances and they made me appreciate the music much more. There's also a suite of music from the Russian film of Hamlet that's very good. I'm hoping this conductor has his way with all the symphonies. And boy did this stuff sound good on the HD3s, which immediately also get my highest recommendation. Why here is an actual photograph of me writing these here notes whilst listening to my new speakers – they don't show up that well, but you can get the idea of the size.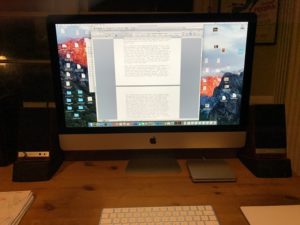 Today, I can pretty much relax until the second Kritzerland rehearsal, whose schedule has been completely upended but hopefully will be fine. I'll sign all the books that need to be signed, then I'll go have something to tide me over until I can eat after rehearsal, as I'm sure some of the long distance drivers will want to eat.
Tomorrow I'm getting a haircut, then I'll be seeing Sami's high school show with Barry Pearl's ever-lovin' wife, Cindy (Barry's out of town) – we'll eat before the show. Saturday we have our stumble-through, and I'm sure some of us will grab a bite to eat after. Then Sunday is sound check and show. I will, of course, have a full report.
Well, dear readers, I must take the day, I must do the things I do, I must, for example, relax, sign books, eat, hopefully pick up packages, and have our second rehearsal. Today's topic of discussion: Even though I hate drugs and most films about drugs, there have been many, including one I do like, The Man With the Golden Arm. What are your favorite films about drugs of any kind? Let's have loads of lovely postings, shall we, whilst I hit the road to dreamland, happy to have had me some hot voodoo.