Well, dear readers, Kritzerland at Sterling's 75 was one for the Kritzerland hall of fame. The show simply could not have gone better. There wasn't a single lyric flub in the entire show and this cast was simply perfection – Sarah Uriarte Berry, Carly Bracco, Kay Cole, Marc Ginsberg, Robert Yacko – each one doing a brilliant job on Rupert's wonderful songs. Sarah gave Streisand a run for her money on Queen Bee, did a rousing show-stopping Don't Quit While You're Ahead, and a soaring Perfect Strangers with Carly. Carly did an adorable and heartfelt Nearsighted and was simple and beautiful on Everything. Marc did a beautiful Letters That Cross in the Mail and a funny and touching I Don't Need You, and, of course, opened the show with Robert Yacko doing the rousing An English Music Hall. Robert's two solos were also wonderful – his beautiful rendition of The People That You Never Get to Love, and then his thrilling The Phantom of the Opera. Kay had her wonderful way with Moonfall, and Guy Haines was a no-show but folks were very kind to me with their comments about my singing Echo Valley 2-6809 and Terminal. But the icing on our Sunday sundae was Rupert himself singing The Old School, Beef Lo Mein, a bit of Him and then Escape, which was also our ending sing-a-long. John Boswell was his usual brilliant self, and Grant Geissman and Randy Landas did fantastic work, completing our trio. But of course the real stars of the show were the songs – just one great song after another and we had an absolutely fantastic oversold audience. As I've said many times, I know exactly what the audience is going to be like within the first twenty seconds of the show and I knew they were going to be great, and some of the patter's laughs were really huge, which I love.
My favorite patter of the evening, which garnered really big laughs every step of the way, went something like this: "As I've said, Rupert and I call each other the East Coast me and the West Coast he because we've done so many of the same things: We've both written songs, musicals, plays, TV, movies, and novels. Of course, he's won a Tony, while I and 9,000 others have won a Scenie. He's won an Edgar, while I've won a Robby. He's had a million-selling single while I'm just single." It's my favorite kind of patter to write. I also improvised a couple of laughs, too. At some point during Rupert's ending part of the show, in talking about Escape he said that they'd probably put a Pina Colada on his tombstone. So, when he finished and I came up and brought everyone out for their bow and then the sing-a-long, just before we began the sing-a-long I said: "You know we always like to leave you with a sing-a-long but I just want to say that for Rupert's tombstone they'll put a Pina Colada – on my tombstone they'll put Dancing Dildos." It got a riotous laugh.  Here is a photograph of that exact moment.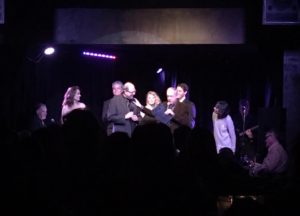 Many fun folks in attendance, too. I don't believe I could have been happier. While I actually felt perfectly healthy, this past week has been tough on my voice – thankfully my two songs were early on or I don't know that I could have done them. I had almost no low end to my voice, but I got through them, thankfully. Here is an actual photograph of our merry troupe.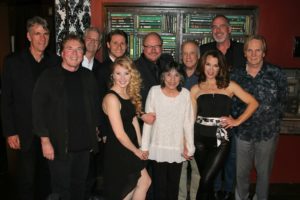 Left to right: Randy Landas (bass player), Grant Geissman, Robert Yacko, Marc Ginsberg, Carly Bracco, Rupert, Kay Cole, li'l ol' me, Sarah Uriarte Berry, and John Boswell.  Here's me, Sami Staitman (on a rare night off from Kritzerland), and Rupert.
And here's the ubiquitous me and Sami photograph – I think we have one of these from every show she's done since she was twelve.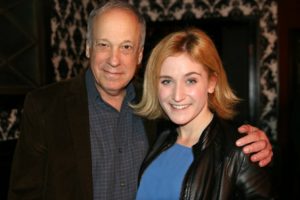 After the show, a few of us went to Little Toni's – I had a salad and a sandwich, my first real meal in a week. Prior to all that, I got nine hours of sleep, took all my preventatives (and thank you all for your continuing most excellent vibes and xylophones because they sure as HELL worked), relaxed, and finished watching Jurassic Park 3, which was unbearably terrible. They brought back Sam Neill from the first film (and Laura Dern in a couple of scenes – they were both missing from the second film, but that one had Jeff Goldblum and Richard Attenborough), but no Jeff Goldblum. The story was rancid, the supporting cast was pretty bad (even the usually excellent William H. Macy was wasted in this), but one has to lay the blame squarely on the screenwriters and the director. He thinks he's using the Steven Spielberg playbook, but he's no Spielberg, which just goes to show you can imitate and copy, but that doesn't mean you know how to tell a story. Even with bad material like the first sequel, Spielberg knows how to keep it interesting, moving along, and he knows how to tell a story. The first two films are just over two hours and move like firecrackers. The third is about eighty-four minutes (sans end credits) and feels three hours long.
Today, I go with Kay Cole to Costco to get stuff for her CD launch party tonight. Then I'll relax for a bit, then at five-thirty I'll be at the party venue to set up. The party starts at seven, and Kay will sing at 7:45 and again around 9:15, probably four to five songs. We're expecting quite a nice crowd of about eighty folks.
Tomorrow, I have to read through the new musical I'm directing and make notes about style and what I want the show to feel like, how it should flow, and what kind of set and lighting will be best to make that happen. I have meetings and meals, and I'm hoping I can sup with Rupert before he has to go back to NY. It's a fairly busy week. I am laying off all preventatives for at least a couple of days to clear out my system from all that stuff.
Well, dear readers, I must take the day, I must do the things I do, I must, for example, go to Costco, relax, then attend a CD launch party. I will, of course, have a full report for you. Today's topic of discussion: What are your all-time favorite BIG monster movies, and that includes stuff like King Kong and Jurassic Park? Let's have loads of lovely postings, shall we, whilst I hit the road to dreamland, still over the moon about Kritzerland at Sterling's 75.