Code Duello (the code of dueling and being a "gentleman") was adopted in Ireland in 1777 and was soon the norm through all the civilized countries. There were 26 rules that were to be followed to protect a man's honor. With Rules of Seconds, John Pollono has written an intriguing play about honor, the Code and the cruelty of gentlemen. The play is receiving its World Premiere at The Los Angeles Theatre Center, presented by Latino Theater Company in association with The Temblors. Although set in 1855 Boston, the dialogue has a modern sound to it with an undertone of bitter comedy and irony.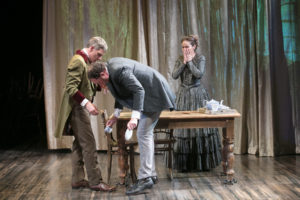 The tea on the boot incident (all photos by Grettel Cortes Photography)
The Narrator (Ron Bottitta) recites various rules to set up scenes in this fast moving, well directed production helmed by Jo Bonney. Walter Brown (Jamie Harris) is a very successful businessman whose latest transaction is to purchase the failing business of the Leeds family. The patriarch is dead, the youngest son has been banished and mother Martha (Amy Brenneman) and eldest son Nathanial (Matthew Elkins) have been reduced to near poverty, selling off their pigs while forced to eat their horse. Brown isn't just increasing his business holdings he is settling an imagined slight and long held grudge against Martha. It seems he was taken with her wild beauty at a wedding party when he was 17 and she was even younger. She dismissed his request for a dance and his life spiraled downward on that fateful day. But it also motivated him to become a success and exact his revenge. Martha claims to have no memory of the occasion. To complete the signing of the business deal, Brown expects a handshake from Nathaniel, but Nathaniel has a phobia about being touched and in his nervousness spills a cup of tea on Brown's expensive boots. A challenge to a duel is extended and the plot thickens.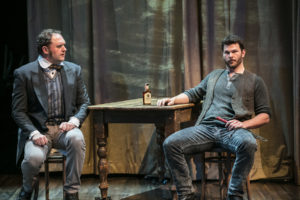 Matthew Elkins and Josh Helman as brothers Nathaniel and James
Nathaniel has always been sheltered by his mother and seeks out assistance from his younger brother James (Josh Helman), who he finds in a bar conducting a duel with a Chinaman (Feodor Chin) over the death of a blue heron. Nathaniel shames his brother into aiding him and, after a rocky reunion with his mother, James tries to negotiate a bloodless settlement of the duel. But Brown is mean and vicious and determined to maintain his reputation as a master duelist. Martha then tries to use her feminine charms on Brown, counting on him to still be fascinated by her. Brown leads her on until he destroys her honor and she now wants revenge on him. There seems to be no recourse except to complete the duel. The climax ends with the stage resembling as abattoir, the result of a double duel, involving the Seconds as well as the Principals, on the field of honor.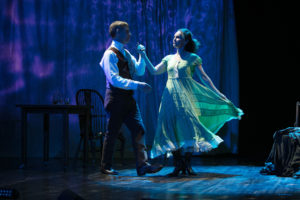 Jamie Harris commits the gravest insult to Amy Brenneman's honor
In Rules of Seconds, Pollono has created a fascinating narrative and given us some characters to cheer and to hiss. The running time is just over two hours and contains an intermission. The writer may be better cutting or trimming a few extraneous scenes and having a tighter one-act. The short second act is jam packed with filler. It begins with a flashback to a momentous day for the Leeds family when James announces his engagement to the Irish Catholic Hannah (Jennifer Pollono). His father is so upset by the event that he insults Hannah, causing James to challenge him to a duel. That could easily be explained in a few lines of dialogue rather than the lengthy scene that just slows the forward momentum of the play. There is also a scene between two minor characters (well played by Andrew Lees and Damu Malik) involving the possibility of homosexuality that comes out of nowhere and ends up going nowhere, just taking up time and putting the brakes on the action before the climatic duel.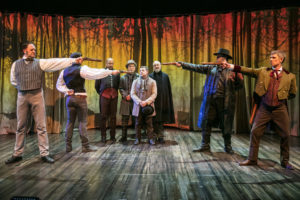 The climatic double duel
The acting company is fine with strong performances by Helman as the reluctant hero and Harris as the dastardly villain. Elkins deftly inhabits the skin of Nathaniel while Brenneman and Pollono provide the strong feminine presence to this very manly play of words and actions. Director Bonney fine tunes the action as it reaches the heights of Jacobean Tragedy. A bloody good time was had by all.

The Los Angeles Theatre Center, 514 S. Spring St. in Los Angeles. Ends April 15. 866-811-4111 or http://thelatc.org