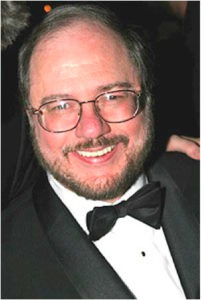 Rupert Holmes is a true Renaissance Man—a mystery novelist-playwright-composer-arranger-screenwriter-conductor-singer-songwriter. He's won two Edgars, two Tonys and a Robby as well as ASCAP's George M. Cohan Award. On Sunday, March 5 at Sterling's Upstairs at The Federal, Kritzerland's 75th monthly outing offered The Songs of Rupert Holmes featuring a stellar cast of singers. It was a change of style for the long-lived Kritzerland series, veering into the works of a pop music composer rather than its usual Broadway writers. Holmes has written the mystery plays Accomplice and Solitary Confinement as well as the one-man Say Goodnight, Gracie and adapted John Grisham's A Time to Kill for the stage and wrote the book for the Kander/Ebb musical Curtains. He's written the books for two film to stage musicals—Second Hand Lions and The Nutty Professor—which have had regional productions but have not made it to the Great White Way as of yet.
Holmes's one Broadway musical, 1985's The Mystery of Edwin Drood, contains one of my favorite scores of that decade. Producer/host Bruce Kimmel started off his tribute evening by having Robert Yacko and Marc Ginsburg perform the rousing "An English Music Hall" which opened the show in its original Central Park debut. It was later cut but was used to open Act Two in the 2012 Broadway revival. It was a fun and spirited way to begin the show. "Moonfall," one of the most hauntingly beautiful ballads ever written for a musical, was sung by Kay Cole, who recently recorded it on her brand new solo CD Souvenir. Carly Bracco and Sarah Uriarte Berry joined their melodious and soaring soprano voices for "Perfect Strangers", which is probably the only Broadway love song written for two sopranos. It proved to be the highlight of the evening. Berry also did a wonderful job on a solo version of the lively group number, "Don't Quit While You're Ahead." Yacko returned with a commanding turn in "The Phantom of the Opera," the title tune from Holmes's planned follow up to Drood which he abandoned when Lloyd Webber's ubiquitous Phantom hit the London stage. From the sample heard, I'm sure most of the audience would have preferred to listen to what Holmes might have crafted from that tale.
Holmes had a lot of his early pop compositions recorded by Barbra Streisand who also sang two of his songs in her film version of A Star Is Born. Berry channeled a sexy siren in "Queen Bee" while Bracco did a lovely job with the plaintive "Everything." Holmes is an expert at writing story songs and Ginsburg did a great job with the bad timing of lovers in "Letters That Cross in the Mail" and Kimmel himself sung "Echo Valley," which Holmes had penned in the 1970s for David Cassidy to croon on TV's The Partridge Family. Holmes proved to be a very charming and funny performer when he ended the evening by singing four of his tunes including the comic lovelorn "Beef Lo Mein" and his number one sensation "Escape," better known as The Pina Colada Song. Extraordinary musical director/pianist John Boswell also got to sing the tribute to "Studio Musician" as he fronted a three-piece combo with bass player Randy Landas and guitarist Grant Geissman. A good time was had by all.