If you attend a lot of theatre, you have probably seen A Doll's House, a three-act play by Norwegian playwright Henrik Ibsen. The play was first performed in 1879 and in 2006, the centennial of Ibsen's death, it was the most performed play in the world. Even those who have never seen the play usually have heard about the iconic ending—the slamming of the door as Nora Helmer leaves her husband Torvald, their three little children and her unhappy marriage to discover herself. Have you ever wondered what happened to Nora after the door slammed? Some theatre people have, most impressively producer/director Hal Prince, book writers/lyricists Betty Comden & Adolph Green and composer Larry Grossman with their 1982 five-performance Broadway flop A Doll's Life. The musical had its World Premiere at the Ahmanson Theatre here in Los Angeles. I saw the show—don't remember much about it except for a really large door that kept moving around the stage and some scenes set in a fish cannery. Playwright Lucas Hnath has now created A Doll's House, Part 2 which had its World Premiere at South Coast Repertory in Costa Mesa in early April ahead of its Broadway opening (with different director and cast) on April 27.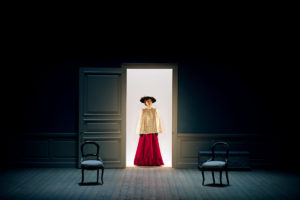 Nora (Shannon Cochran) returns through the door she slammed 15 years earlier (all photos by Debora Robinson)
There is a big door featured in the SCR production courtesy of Takeshi Kata and Se Hyun Oh's overwhelming scenic design. The ceiling, let alone the sky, seems out of limits for these characters. Hnath has written a bold, audacious, stark and spare work where every word has import. The action takes place just 15 years after Nora first slammed that door but yet the characters speak in a very modern idiom that works perfectly for them and for the audience. Shelley Butler directs with such a sure hand she seems a karmic twin to playwright Hnath. The action begins with a pounding on that large door and the audience titters in excitement because they know who is on the other side. When Anne Marie (the always delightful Lynn Milgrim) opens that door to reveal the strong, modern, sure-footed and straight-backed woman in the vibrant red dress (courtesy of costume designer Sara Ryung Clement) the audience knows it is in for a verbal thrill ride. Nora (the amazingly focused Shannon Cochran) has returned to the home of her former husband to ask a favor. But first she and her former nanny catch up on 15 years of gossip and adventure.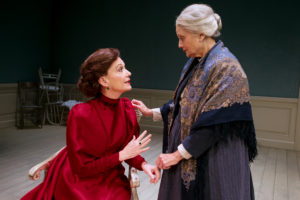 Shannon Cochran and Lynn Milgrim
Nora is now a famous feminist author, though under a pen name. She has written a novel based on her own life and encourages women to follow her example, leave their unhappy marriages and discover themselves. Many have done so including the wife of a prominent judge who did not like the result. He has discovered Nora's real name and the fact that her divorce was never finalized. He is now threatening her with lawsuits since as a married woman she illegally entered into contracts and led a sexually open lifestyle. He won't relent until she denounces all her feminist beliefs which Nora feels she cannot do. Instead she has come back to find out why her husband never got the divorce she asked for, since in those times there were few avenues available for a woman to file for divorce.

Shannon Cochran and Virginia Vale
Ann Marie really doesn't want to get involved. Nora's former nanny, Ann Marie stayed on in Torvald's household to help raise the three children, now all grown and on their own. She suggests that Nora ask her daughter Emmy (Virginia Vale) to intercede with her father on Nora's behalf. Theirs is an uncomfortable meeting since Emmy was so young she really doesn't remember having a mother; always figured she was just dead. But she did once check the town's death records and found no proof which leads her now to suggest forging a death notice to solve Nora's problem as well as her father's and her own. It seems everyone in town has just supposed Nora died and Torvald was a widower. Emmy's own impending marriage might be at risk if the truth be discovered and a divorce decree issued after all these years.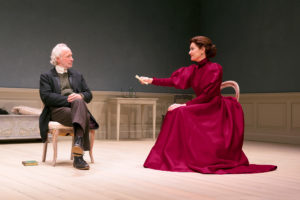 Bill Geisslinger and Shannon Cochran
Nora's visit with her still legally wed husband Torvald (Bill Geisslinger) is even more fraught with emotion. Torvald read Nora's book and objects to how he was portrayed. They spar and finally come to a sort of understanding if not a reconciliation. The quartet of actors is splendid, especially Cochran who never leaves the stage. Milgrim's comic sensibility is priceless. Hnath's precise writing and Butler's assured direction combine for 90 minutes of sheer delight. Productions like this may give sequels a good rep.
\

Next up at SCR will be Amy Freed's The Monster Builder, May 5-June 4. www.scr.org