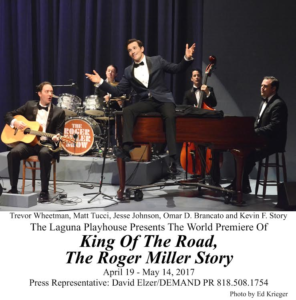 Roger Miller was an American singer-songwriter, musician, and actor, best known for his honky-tonk influenced novelty songs such as "Dang Me," "You Can't Roller Skate in a Buffalo Herd," and "Chug-A Lug" and he had his greatest success in the mid 1960s. He would later write and sing songs for the Walt Disney animated film Robin Hood and win a Tony Award for his score of the Huckleberry Finn musical Big River. His most famous song was "King of the Road," which is the title of the World Premiere musical biography currently at the Laguna Playhouse. The book by Cort Casady and Mary Miller (his third wife and widow) is a fairly pedestrian and by-the-numbers bio that is unwieldy in its format. Act One is set in 1966 during a taping of Miller's short-lived NBC TV series while Act Two takes place in 1991 on stage of the Birchmere Theatre in Alexandria, Virginia shortly before Miller's death of lung cancer. Between performing numbers (featuring a great on stage band consisting of Kevin F. Story on piano, Matt Tucci on drums, Omar D. Brancato on bass and Trevor Wheetman on guitar) there are flashbacks to Miller's life offstage.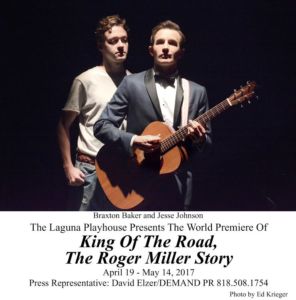 Miller's father died when he was a year old and his mother was unable to support him so she sent him to live with an aunt and uncle in Erick, Oklahoma. The feeling of abandonment stayed with him even after his success and his reunion with his birth mother. He began by writing songs for other country artists but finally started to record his own songs. He also adopted a party lifestyle and his drug use labeled him a wild child. This is covered in scenes with his younger self (Braxton Baker) during Act One. His drug use is supposedly what caused NBC to cancel his series after 13 weeks.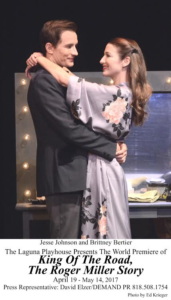 Jesse Johnson proves to be a triple threat with his acting, guitar playing and singing in the title role. He is seldom off stage and he completely owns the role. He possesses charisma to spare and he has enough swagger to give Miller that country boy charm and humor that everyone falls for. Lindsey Alley and Brittney Bertier play backup singers as well as the various women in Miller's life. Bertier gets to stand out a bit as wife #3 when she finally gets to solo on "I'll Cry Just for You," a song Mary Miller wrote. Director Andrew Barnicle keeps the momentum flowing but the play's structure really is problematic. King of the Road seems best suited to fans of Miller's songbook as the songs are well performed and display a range from Miller's honky-tonk beginnings to the finesse of his Broadway score. It's the non-singing parts of the show that really need finessing.

Laguna Playhouse, 606 Laguna Canyon Rd. in Laguna Beach. Ends May 14. www.lagunaplayhouse.com.