Well, dear readers, we had us a rather bang-up and incredible Kritzerland at Sterling's 76 last night. It wasn't a sell out, but it was pretty full and they were a great audience. I knew they would be thirty seconds into the patter and they were quite boisterous, laughed a lot, and cheered a lot. The opening number, a What If parody got screams of laughter – I couldn't believe how well it landed and I was worried about it because it was quite a variation on what we usually do with the What Ifs. Our standard What If is always what if such and such a composer instead of writing their big hit show had written some other show they were completely wrong for – that's the standard What If. For this variation, it was What if the Stephen Sondheim of 1962, instead of writing A Funny Thing Happened on the Way to the Forum back then, he'd written Sweeney Todd. Then it was Robert Yacko coming out and doing the Comedy Tonight number except as Sweeney Todd. It went something like this (and yes, we'll have a video, too).
Playgoers, I bid you welcome. The Federal is a temple, and we are here to worship the gods of comedy and tragedy. Tonight, I am pleased to announce – a tragedy.
Something with razors
Something with meat pies
Something for everyone
In Sweeney Todd tonight
We've got Johanna
We've got Judge Turpin
Watch out! The blood will flow in
Sweeney Todd tonight
Nothing that's cute
Nothing that's sweet
You'll see it's true
You are what you eat
You'll find the story
Gets pretty gory
You'll find that nothing turns out right
Company tomorrow, Sweeney Todd tonight
It all takes place in London – a great big hole like a great big pit and the vermin of the world inhabit it – first, Johanna, stolen by Judge Turpin, who likes to flog himself while singing cut songs – second, Mrs. Lovett, a dotty old woman who makes meat pies peppered with actual shepherd – and finally, Sweeney Todd – Sweeney is probably my favorite character in the piece.  A role of enormous insanity and madness, and played by an actor of such … let me put it this way … I play the part!
People get shaved here
No one gets saved here
No one finds happiness
In Sweeney Todd tonight
Old Mrs. Lovett
Thinks nothing of it
To bake a little priest
In Sweeney Todd tonight
Todd gets revenge
Turpin's the prize
One thing's for certain
Everyone dies
No pretty sets here
No safety nets here
Nothing that's breezy and/or light
Barber chairs and Judges
Barbers who hold grudges
Blood that keeps on flowing
Body count keeps growing
Vanity
Insanity
Vulgarity
Sincerity
Close shaves
Graves
Wrongs
Songs
Killing
Grilling
Filling
Trilling
Jig-jigs and muffs
Slit throats galore
And we will leave you
Hungry for more
Straight from the harbor
One crazy barber
One big epiphany takes flight
Merrily tomorrow, Sweeney Todd, Sweeney Todd, Sweeney Todd, Sweeney Todd Sweeney Todd tonight
Tonight – it's Sweeney Todd tonight!
At the end the two "tonight" words are to the tune of Tonight – big laugh, as you'll see and hear in the video. There were a couple of lyric flubs but it all went smashingly and got the show off to a great start. The cast did an amazing job with everything – could not have been better, really – everyone shone brightly in all their numbers: Will Collyer, Jennifer Foster, Hadley Belle Miller, Kerry O'Malley, Jenna Lea Rosen, Hayley Shukiar, Nick Tubbs, Robert Yacko, and Bruce Vilanch, who was hilarious.
So, I alluded to the fact that I'd written Hayley a running bit and it worked so well and she is such a great little kid, whose comic timing is extraordinary for someone her age – you'll see it in the video. The bit was, I'd be introducing the next song and she'd come out and ask if she could do a different song than the one I'd chosen for her – one that really resonated with her and that spoke to her. I try to tell her we're not really set up to do that sort of thing but she just launches into the song – the first of which was And I Am Telling You I Am Not Going. People were screaming and Hayley did it brilliantly. I gave her some Jennifer Holiday vocal and hand gesture things and boy did she deliver them. A few songs later she comes out again, asking to sing a different song – this time it's Rose's Turn, and she also plays the trumpet part – it was hilarious. The final time it's Buenos Aires and then I have a full on Jack Benny moment and tell her she's gonna sing the song I chose – which is Tomorrow from Annie. She gets to do the full song of that, which was great. Even though each bit was fully scripted, you would never have known it. Then normally she would have left and I would have gotten up to do the next patter. Instead, she stayed on and in the middle of her applause, John Boswell began the vamp of Little Girls and on came Bruce Vilanch – who glares at Hayley, who then runs off. Bruce does the first time through Little Girls, and then we opened it up for him to do his comedy stuff – which was grand and very funny – and then he finishes the song.
Here is a photograph of our merry troupe.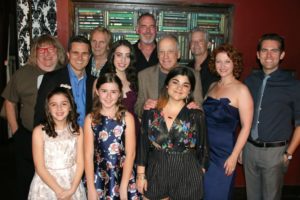 After, we got many lovely compliments, and then a few of us went to Little Toni's and I finally had a real meal – a sandwich and a salad. We were there for quite some time, then I came home.
Prior to all that, I got about six and a half hours of sleep, got up, answered e-mails, then went out and did a couple of errands. Then I came home and relaxed and watched another hour of The People vs. Fritz Bauer, which I'm really enjoying. Then it was time to go to The Federal for sound check and show. Getting the sound right was quite the ordeal – not our usual guys – and I will admit to getting very terse about it, but in the end it was fine and sounded great.
Today, I'm hoping I can have a bit of a day off, actually. I'll at least think about the May Kritzerland and who to cast, but I need to relax a bit. I also have to read the new version of the musical I'm directing and get back to the writers. And I hope Sony gives me the payment information so we can get Two for the Road here by the end of the week. If they let me know early enough, I'll wire transfer the money so they have it instantly. I'll eat, I'll hopefully pick up some packages, and yes, relax.
The rest of the week is all meetings and meals and getting ready to cast two shows, three if you count the LACC auditions.
Well, dear readers, I must take the day, I must do the things I do, I must, for example, think about the May Kritzerland, read the new version of the musical, wire transfer some money, eat, hopefully pick up some packages, and then relax. Today's topic of discussion: What are your favorite chewy candies? Let's have loads of lovely postings, shall we, whilst I hit the road to dreamland, happy to have had a wonderfully wonderful Kritzerland at Sterling's 76.