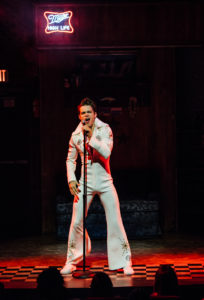 Casey (Andrew Burnap) as an Elvis Impersonator (all photos by Jeff Lorch Photography)
Can an Elvis Impersonator reinvent himself as a drag queen? Better yet, can an impoverished married straight man with a child on the way become a successful star drag act? Upon this thin premise hangs Matthew Lopez's hilariously outrageous The Legend of Georgia McBride at The Geffen Playhouse. Women grab your best gay friend; men put on your sequins and heels and head out for a rip-roaring good time. It's more fun than an evening at the Old Queen Mary club in Studio City, legendary Finocchio's in San Francisco or the current Lips in San Diego.

Miss Tracy Mills (Matt McGrath)
Casey (Andrew Burnap) is a handsome young man doing his Elvis impersonations for a crowd of seven in Panama City, Florida. He's good but I guess Elvis is finally passé on the Florida panhandle. Eddie (Nick Searcy), the bar's owner, hates to fire Casey but he has to make money so he's trying something different by booking in his cousin and his drag act. Casey stays on as bartender because he really needs the money now that his wife Jo (Nija Okoro) is pregnant. The fabulous Miss Tracy Mills (the imperious Matt McGrath) has a drag cohort, Miss Rexy (Larry Powell). But when Rexy gets drunk and the show must still go on, Casey volunteers to get into Rexy's bra and panty hose and a star is born.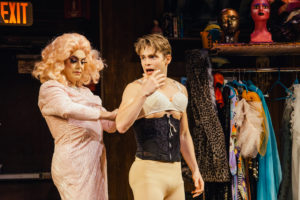 Matt McGrath helps Andrew Burnap get ready for his drag debut
Casey struggles at first in his heels and gowns but once he discovers his true identity as country western drag act Georgia McBride, he's tucking in his package and packing them into the bar. Rexy is fired and Tracy and Georgia become a Drag Dynamic Duo. Lopez has written a very funny play, especially the backstage and onstage shenanigans. The offstage marital tribulations provide a bit of a drag (no pun intended) to the fun times, but thankfully they don't occupy too much time in this just under two-hour one-act laugh fest. Director Mike Donahue keeps the action going at a fast clip and the show's numbers, thanks to E.B. Brooks's costumes, Tiphanie Grace's wigs and makeup and Paul McGill's choreography, provide plenty of razzle dazzle. Donyale Werle's scenic design and Josh Epstein's lighting are also fabulous.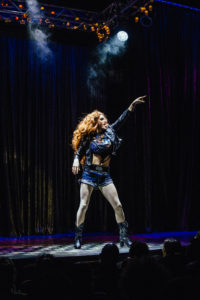 Miss Georgia McBride (Andrew Burnap)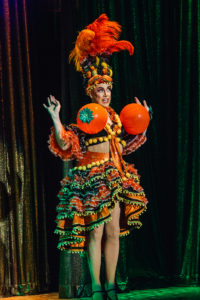 Matt McGrath
McGrath has attitude to spare as the seen-it-all, done-even-more Miss Tracy. Burnap is a find as Casey, sweetly innocent from start to finish and as comfortable in an Elvis jumpsuit as in a halter top, mini skirt and thigh high boots. There is about a 15 minute show-stopping show within a show as the two divas pull out all the stops and strut their stuff on stage. Miss Tracy does a Broadway medley that goes from Beth Howland to Harvey Fierstein that you have to witness to believe. There are a few nitpicky script problems—like a black drag queen doing Edith Piaf—but it does lead to a great phrase that makes any French lyric sync correctly. My advice is to just relax, let you hair down and enjoy the joy that is The Legend of Georgia McBride.

The Geffen Playhouse, 10886 Le Conte Ave. in Westwood. Ends May 14. 310-208-5454 or www.geffenplayhouse.org.