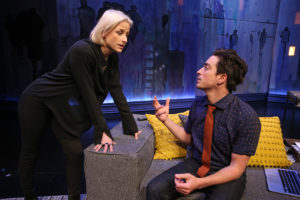 Mamie Gummer and Ben Feldman (all photos by Debora Robinson)
Ethan (Ben Feldman) shows up at the home of long-married couple Ron (Matthew Arkin) and Deborah (Amy Aquino) to ask for the hand of their daughter Alice (Mamie Gummer) in marriage. Nice old fashioned gesture, right? But Ron and Deborah are confused: Alice and Ethan broke up two years ago and as Ethan explains, they haven't seen each other since. But Ethan has determined that Alice is the one for him and he is desperate to woo her back, even when he finds out she is now living with Nelson (Dominique Worsley). Is Ethan a hopeless romantic or a borderline psycho stalker? That is the premise playwright Michael Mitnick sets up in The Siegel which received its World Premiere at South Coast Repertory in April. It is an interesting and very funny twist on the standard romantic comedy script usually seen on stage or screen.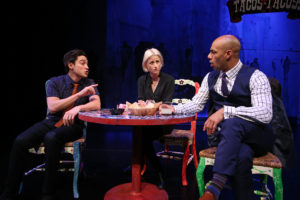 Ben Feldman, Mamie Gummer and Dominique Worsley
Ethan shows up unannounced at Alice's and proposes. She thinks he's crazy but Nelson bonds with Ethan and soon the three are out having drinks and dinner at a Mexican restaurant. Alice is stunned at the growing bromance between her past and present lovers. She calls her father, much to her mother's disappointment, for help and advice. Soon Ethan and Ron are knocking back beers and exchanging pleasantries while Alice becomes even more distressed by the man from her past that has made himself so large in her present. Nelson feels a bit threatened and also proposes. Alice finally seeks her mother's advice but then ignores it and agrees to one final date with Ethan. Ethan pleads his case once again and reluctantly accepts Alice's refusal. Everyone seems shaken up by the turmoil. Alice and Nelson's relationship is in question while Ron and Deborah, who were feuding earlier, seemed reconciled to try to repair their frayed marriage. Ethan returns home to Jordan (Devon Sorvari), his bride-to-be in three months. Although seemingly content with his impending nuptials, he just felt he had to make one final tilt at the windmill that was Alice.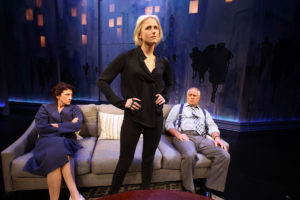 Amy Aquino, Mamie Gummer and Matthew Arkin
Director Casey Stangl delicately and deftly kept all the balls in the air as this one-act piece of fluff played out. Her cast perfectly inhabited their characters and brought them to emotional and comedic life. Michael B. Raiford's turntable scenic design was an added bonus to this charming production.

Next up at SCR will be their final offering of the 2016/2017 Season, Amy Freed's The Monster Builder through June 4. www.scr.org.